Houston Rockets: 2021 NBA Draft report card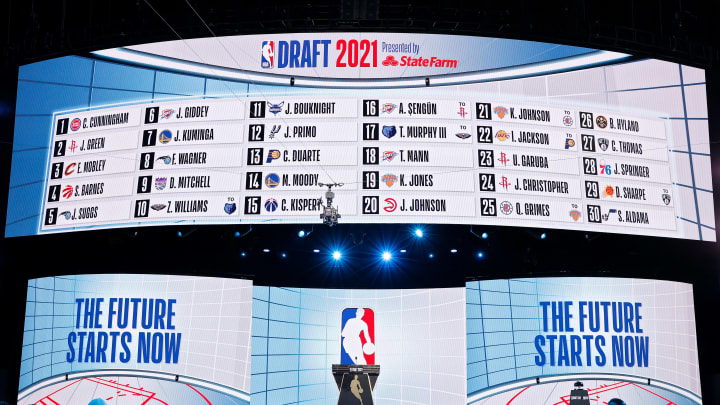 2021 NBA Draft / Arturo Holmes/Getty Images
Turkey - Netherlands : EuroBasket 2022 qualifiers / Anadolu Agency/Getty Images
Houston Rockets 2021 NBA Draft report card: 16th Pick - Alperen Sengun
To land Alperen Sengun the Rockets had to trade two first-round picks, but that comes with a serious caveat. The Rockets sent the Detroit Pistons' highly protected 2022 first-round pick and the Washington Wizards' highly protected 2023 first-round pick. The Detroit pick is at least lottery protected (top-14) until 2026 and the Wizards' pick is lottery-protected in 2023 before the protections are slowly chipped away each year. There's a chance that these become high-value picks, but a much greater chance they end up lower than 16th.
Even with the surrendered draft capital, Sengun is an awesome selection. He was just named the Turkish League MVP as an 18-year-old. The Turkish League is the third-best league in the world behind the NBA and the Spanish league and is certainly better than the NCAA. 
If Sengun was a freshman at Kentucky averaging 19.2 points and 9.4 rebounds on 64.6-percent shooting, his averages in the Turkish league last season, there is a snowball's chance in hell that he'd be available at 16. There's a real chance the teams that picked six through 15 will be kicking themselves as they watch Sengun bully and spin his way to 20 and 10 night after night. 
His defensive potential has been questioned due to his lack of length but it's much easier to find a defensive-minded center than it is to find one who can go get a bucket on their own. Multiple draft experts had Sengun ranked as the tenth best prospect. If that's true, then the Rockets essentially end up with two top-10 picks. 
Sengun was a tremendous value at 16th, has the upside to be an elite offensive center, and 20 and 10 fits on every roster. That's why the Rockets get an A+.