Houston Rockets: 2021 NBA Draft report card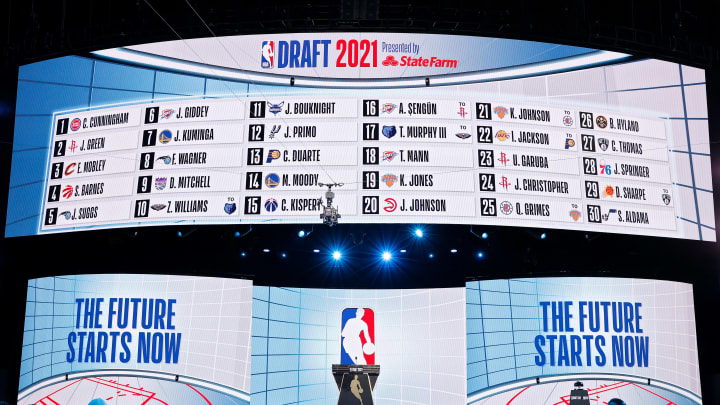 2021 NBA Draft / Arturo Holmes/Getty Images
2021 NBA Draft / Arturo Holmes/Getty Images
Houston Rockets 2021 NBA Draft report card: GPA 
The Rockets had an excellent 2021 NBA Draft. They landed a franchise cornerstone in Jalen Green and two excellent prospects well below their projected draft spot. The only thing holding them back was the curious selection of Josh Christopher. 
Houston Rockets 2021 NBA Draft 24th pick: Josh Christopher: C-
Houston Rockets 2021 NBA Draft 23rd pick: Usman Garuba: A
Houston Rockets 2021 NBA Draft 16th pick: Alperun Sengun: A+
Houston Rockets 2021 NBA Draft 2nd pick: Jalen Green: B+ 
In three years, this quartet could form the bulk of the Rockets' starting lineup. With the addition of a 3-and-D wing, this group would have inside-out scoring and the ability to switch nearly everything on defense. 
The 2024 Rockets could have Green dropping 25 a night, Sengun posting an efficient 20 and 10, Garuba locking down everyone, and Christopher as a swashbuckling spark plug scorer. The potential is there, it just has to be realized.  
As with every draft class, the hard work starts now. No prospect is a sure thing. It's just as likely that all four of these young men bust, that they end up Hall of Famers. The day after the draft is the day to dream. This is a draft class that Rockets fans can dream on.  
Earning a B+ over four picks, with a real shot at an A, is a great first draft from Rafael Stone. The Rockets landed prospects with real upside, who fit their roster, and got them at a good value. If the Rockets keep drafting like this, a third championship could have its origins with the 2021 NBA Draft.