Houston Rockets: 4 Things to get excited about from the Rockets' 4 Rookies After 4 Games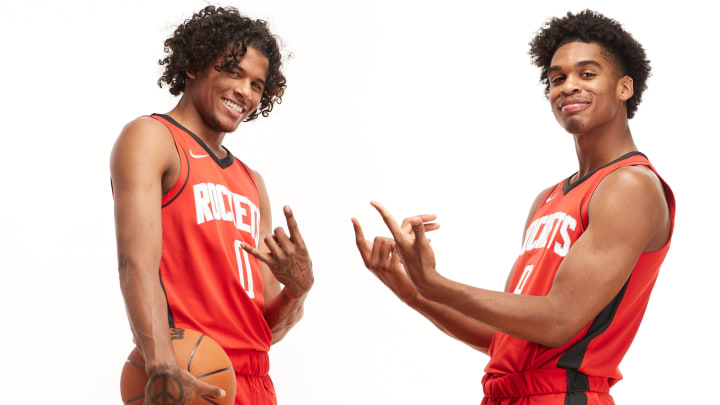 2021 NBA Rookie Photo Shoot / Joe Scarnici/GettyImages
The Houston Rockets rebuild has got off to an excellent start. Their 1-3 record is obscured by some solid underlying metrics, they're 20th in offensive rating and 14th in defensive rating. However, their record at the end of the season is of little concern to the front office. What this season has always been about, is the growth and development of their rookie class. 
The Rockets 2021 draft has a chance to be special. The franchise made four selections and might have struck gold with each prospect. The Rockets' used the second pick on Jalen Green, traded for the 16th pick to land Alperen Sengun, used the 23rd pick on Usman Garuba, and secured Josh Christopher with the 24th. 
Not a whole lot can nor should be made of four games and even less should be made about a player's future. However, this is all the NBA data we have on the Rockets rookies and each prospect has something to hang their hat on. These are four things to get excited about from the Rockets' four rookies after four games. 
Houston Rockets Rookie Usman Garuba: 22.1% Block Percentage
Some scouts viewed Usman Garuba as the best defensive prospect in the draft. In only 14 NBA minutes, he's making those scouts look awfully good at their job. The long Spaniard has blocked three shots. His block percentage of 22.1-percent is simply incredible. Last season, Myles Turner led the league with an 8.8-percent block percentage. Garuba won't keep this up, but it is a great sign for his NBA future. He was billed as a defensive plus and thus far he's been exactly that. 
Houston Rockets Rookie Josh Christopher: Looks NBA ready
The biggest question mark from the Rockets' draft was Josh Christopher. Many experts had a second-round grade on him and it turned a few heads when he was selected with the 24th pick. Christopher, like Garuba, has played very little, only 15 minutes, but he looks like an NBA player. His defense has been solid and he has hit enough of the shots he has taken to warrant an expanded role as the season goes on. Christopher doesn't need to be good right now, but it's very encouraging that he already looks like he belongs in the NBA.