NBA News
Rockets: 2 John Wall trades that would accelerate the rebuild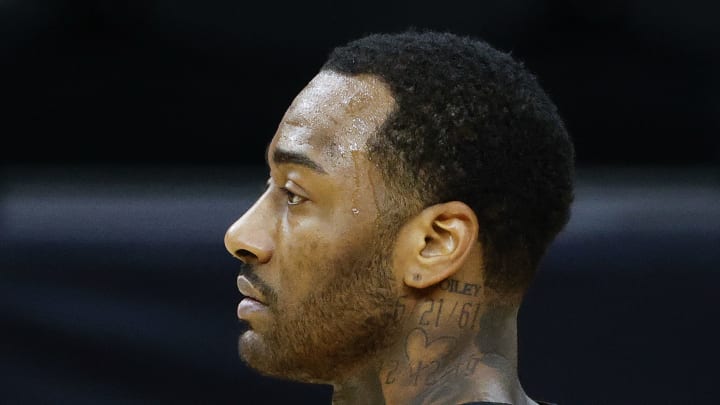 Houston Rockets v Philadelphia 76ers / Tim Nwachukwu/Getty Images
Los Angeles Clippers v Houston Rockets / Carmen Mandato/Getty Images
Houston Rockets trade #1.
Since forming the superstar duo of Paul George and Kawhi Leonard, it's been clear that the LA Clippers have been missing one thing: a true point guard and/or primary facilitator. In fact, in each of the last two seasons, the Clips were led in assists by someone coming off of their second unit, with their assists leader failing to surpass the 6 assist mark. To put that into perspective, Wall would have led the Clippers in assists this past season.
The Clippers even relied heavily on Lou Williams to create offense for others in 2019-20, which is comical, considering how Williams is known for his ability to get buckets and create offense for himself, Having a pass-first point guard like Wall would be especially useful for a team that was the best 3-point shooting team in the league (41.1 %), as Wall could easily find the Clippers' shooters and create scoring opportunities for them.
In addition, George and Leonard have shown the ability to play off-ball, as Leonard made a whopping 47.2% of his threes in catch-and-shoot scenarios in 2020-21, while George made 43% of his threes in such scenarios. Wall would also certainly love to be in the Los Angeles market, as it will be his first chance to play in a major market, where there will be many endorsement opportunities off the court. 
In addition, George is very fond of Wall, which can be detected from his comments on about the Houston Rockets guard.
"Me and John go way back to when we first started in the league. He's somebody I'm going to always root for. 

He's a brother to me and I couldn't be more happy to see him back on the floor and doing what he loves to do, and continuing to make those plays that everyone loves him for, We both had similar paths.

Started off leading our organizations until big injuries and had setbacks. We just had a mutual respect and bond from the get-go."
Unsurprisingly, Wall shared the same sentiments towards George, which he also explained after the Rockets and Clippers last faced one another.
"Me and Paul George have been guys for a long time. That's one of the close friends that I have in this league. Me and him competed when he was in Indiana and I was in D.C. for awhile.

That's a guy that I check on, a guy I hang out with sometimes in the summer when I'm in LA. So that's somebody I call a brother."
Wall also added that he and Leonard have a good relationship as well.
"Me and Kawhi have a great connection, We don't talk alot, but whenever we see each other, it's mutual respect."
Unsurprisingly, Wall liked a social media post, entailing a trade to the Clips. But not only that, the Clippers could easily absorb Wall's outgoing 2021-22 salary of $44.3 million with Serge Ibaka, Patrick Beverley, and Luke Kennard, who combine for $36.7 million in salary for next season.  A deal would look like this.
Such a deal would be contingent on Ibaka opting into the final year of his deal, but it would be hard to walk away from a guaranteed $9.7 million, especially for a player on the other end of 30, who could possibly miss significant time, as he recovers from back surgery.
Beverley would be on an expiring deal and could be later moved to a contender in need of one of the best 3-and-D players in the league, especially with no long-term commitment to such player. Kennard, on the other hand, just signed a $41 million extension in December and is under contract through 2024, with a team option in 2024-25.
Kennard's contract is outlined below:
-2021-22: $12.7 million
-2022-23: $13.7 million
-2023-24: $14.8 million
-2024-25: $14.8 million (team-option)
Although Kennard's contract isn't ideal, he's only 24-years-old and is coming off of a career year from long-range, where he made 44.6% of his threes. Kennard also continued his stellar shooting touch in the postseason, as he made 41.2% of his attempts in the playoffs.
This deal would be a win-win for all parties, as it would help Wall get back on a contender in a major market, and would help the Clippers land a proven star player who has a good relationship with their star players already. For the Rockets, it would help them unload Wall's contract without having to make much long-term commitments, as two of the players they would land would come off the books after next season.
With Monday's news that Leonard suffered what was described as a partially torn ACL, the Clippers could be even more intrigued to add Wall, and especially if George signs off on the move, which he almost certainly will.