How The Houston Rockets Can Improve Impressively Next Season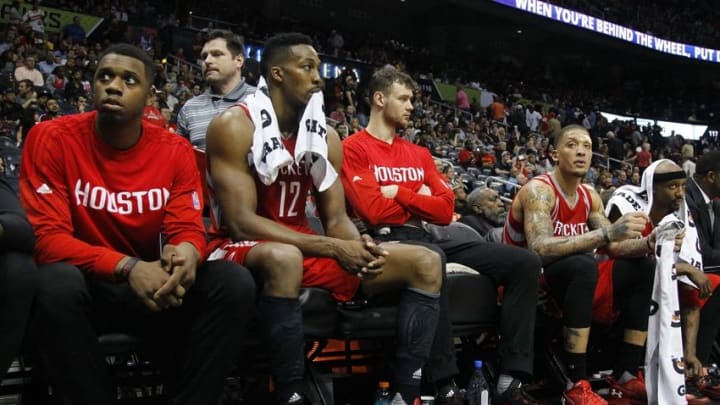 Mar 19, 2016; Atlanta, GA, USA; Houston Rockets forward Terrence Jones (6) and center Dwight Howard (12) and forward Donatas Motiejunas (20) and forward Michael Beasley (8) and guard Jason Terry (31) react on the bench against the Atlanta Hawks in the fourth quarter at Philips Arena. The Hawks defeated the Rockets 109-97. Mandatory Credit: Brett Davis-USA TODAY Sports /
What a roller coaster ride for the Houston Rockets this year. No real winning rhythm was established and it has the team eyeing a seventh or eighth seed, or even on the outside looking in. There is a silver lining that can be realized when thought about in depth. Unfortunately the lining is for next year and not now. Patience is key for Red Nation.
In a way, I suppose you can label this year a rebuilding year but it's unlikely Houston will retain their first round draft pick as it's contingent on a non post season record. Though there will still be a second round draft pick in play, free agency will be key for the franchise.
During the last off season Houston Rockets General Manager, Daryl Morey thought resigning the majority of the teams core players that helped them get to the Western Conference Finals was a good idea. It seems like we got all the milk from that cow.
With a view to breaking down each position and the head coach this writer looked at all the possible solutions, and recognized there is some real potential.
Individual breakdown:
Head Coach
Just 11 games into this season Head Coach Kevin McHale was fired and J.B. Bickerstaff was named the interim head coach. Since then we have been waiting on Bickerstaff to stamp his will on the team, but with the end of the season nearing it just hasn't happened.
Houston plays the same as they did with McHale, with just a bit more mid range jumpers. I do not think Bickerstaff has done enough to resume head coaching duties next season A potential candidate I would like is former Bulls coach Tom Thibodeau. The former Chicago Bulls coach is a defensive coach that would benefit the Rockets greatly. It's worth noting that he was a Rockets assistant coach from 03-07.
The current squad features players ideally suited for a stronger defensive team like Trevor Ariza, Patrick Beverley, Corey Brewer and Clint Capela As for the teams stars Howard is addressed separately below, and  James Harden would benefit from a defensive coach for obvious reasons.
This coaching addition would really change the identity of this team which could be exactly what is needed. Imagining yours truly was wearing Daryl Morey's shoes, I'm contacting Thibodeau and telling him to keep his eye on Houston.
Guards:
One question looms when thinking about guards. Does the franchise target another ball handler that James Harden likes? Or do they stop beating a dead horse? Harden has been so difficult to play with for a player who is supposed to be a point guard. Patrick Beverley seemingly fills the role given his penchant for limited ball handling and defensive prowess. Moreover, he's a great teammate who most importantly accepts the role Harden allows in sharing the backcourt.
If Houston stick with Bickerstaff at coach, the Rockets will never have a true point guard. That's why it's imperative a new coach is retained; in order to cut the BS and actually coach this team. There are a couple of improvements that can be made at this position. Guards the author likes who will be free agents are Jerryd Bayless and Brandon Jennings.
Bayless who is playing for the Bucks right now is a great scorer who plays under a great coach in Jason Kidd. Jennings sticks out to me because he can score, pass well, and is experienced lobbing to a big guy in Andre Drummond, so would be a natural fit to continue utilizing that asset in Houston.
As for the role of shooting guard, it's not a ridiculously important issue given Harden plays the majority of the minutes averaging 37.7 minutes per game which tops the NBA in player usage. In terms of a back-up this columnist suggests the squad finally utilize the young colt K.J. McDaniels as Harden's regular backup.
Forwards:
Trevor Ariza is the people's champ. He's the perfect example to demonstrate actions speak louder than words, as he just goes out there and gives it 100%.
In terms of Ariza's back-up, there is a priority to find a regular back-up for the defensive small forward. The current choice of Corey Brewer has proven himself to be far too inconsistent. Through his 8-years as an NBA professional Brewer has proven himself to be a strong producer especially early in his tenure when traded to new teams, so Morey should look to package him in a trade.
The coveted choice is obviously Harden's former Thunder super star Kevin Durant. Yet the odds of that occurring is highly unlikely from this writer's perspective. Assuming Ariza remains the starting small forward a good reserve addition would be someone like the Blazers'  Allen Crabbe. It's been a break out season for the Blazer second year player whre he has averaged 10.4 points, 2.7 rebounds and 1.2 assists per game in 26 on court usage.
In terms of the power forward, Houston already have that guy on staff in the form of  newly acquired Michael Beasley who has gelled seamlessly with the Rockets and averaging a solid 14.6 points, 5.4 rebounds. The astounding part of that equation is he's doing this in just 18 minutes per game!
As for the existing power forward the Rockets will definitely want to retain Donatas Motiejunas and sign him to his rookie extension. The problem is Motiejunas is a unrestricted free agent having not signed his extension at season start.  Now he's dealing with the issues created by the Pistons passing on the trade citing medical issues which could affect his remuneration.
Given those issues it's unknown how teams will view Motiejunas in free agency. One thing is certain the Rockets won't want to get into another negotiation similar to the Chandler Parson's debacle. What will need to be determined is what Motiejunas ceiling is, especially considering the back injury and whether the reported herniated disc situation could become chronic. Ultimately, the Rockets can match any offer, but if his medical records back up D-Mo's claims negotiations could get complicated.
More from Space City Scoop
As for the other power forwards on the roster, it's unlikely the team will resign the oft maligned Terrence Jones , nor should they want to. Rather they should look to retaining Michael Beasley and utilizing the impressive rookie Montrezl Harrell more prominently. These three players would put Houston in good stead at the power forward position.
Center:
Let's just end the suspense and rip the band-aid off right now. Dwight Howard will not be back next year. Boom, quick and easy.
With a view to who would fill his sneakers the logical replacement is the ever impressive Clint Capela. Another option this writer sees as a possibly free agent solution is Al Jefferson.
Jefferson is 31 years old so he's getting up there in age but he can still play. He can pair up with Beasley and Harden for a nice mid range lineup.
So, there you have it, a guideline to making the Houston Rockets stronger, more versatile and more impressive for the 2016-17 season.  Let us know what you think in the comments section.
Next: East Coast Trip sparks renewed hope
Space City Scoop is always looking to add new talent to our writing team. Currently we're looking for individuals with a specialized focus. The first area of focus is perfect for someone who is constantly surfing the web for breaking news on injuries, trades, insider info etc. This individual would select the top news items and provide timely quick hits to keep SCS readers in the loop.
The other area of focus is someone who possesses a strong social media background who likes to interact with Clutch City Fans. You'll promote SCS team content on facebook and twitter while also making sure to promote the best content coming from H-Town fans. If you have this capability and are interested check out this link and fill out an application.