About Space City Scoop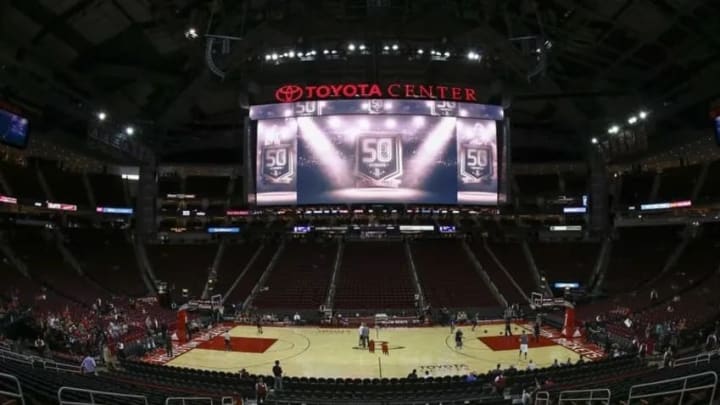 Oct 30, 2016; Houston, TX, USA; General view inside Toyota Center before a game between the Houston Rockets and the Dallas Mavericks. / Troy Taormina-USA TODAY Sports
Welcome to Space City Scoop, the Houston Rockets news and opinions site brought to you by the FanSided Network. Space City Scoop is dedicated to providing top-notch Rockets news, views, and original content. This site also serves as a community for like-minded fans to come together to catch up on the latest news and to discuss their passion.
MEET THE TEAM
Former college baseball player and sports fanatic. All things MLB, NBA, NFL, and top-flight European soccer. Sorry, Hockey.
I am a longtime Houstonian, as I was both born in Houston and raised in Houston. I am also a longtime Rockets follower, and enjoy writing.
Follow @a_duckett 7,612 followers

Follow @ShouryaKash13 56 followers
My name is Hasan and I am a houstonian native. I'm a huge fan of the Houston Rockets and I love discussing and writing about the team. I am a co-host of a basketball podcast called Hoop Emcees.
Follow @Hasan_Lipskin 191 followers
I am Assistant Basketball Director at Overtime Heroics, Contributing writer at Space City Scoop and Clutch City Control Room.
Follow @HTOWN4LIFE40 2,502 followers
Hayden Gray is a basketball podcaster and writer who is passionate about sharing his passion for the game he loves with as many people as possible. A lifelong Houston sports fan, Hayden will always claim the 2018 Rockets were a hamstring away from being remembered as an all-time great team, responsible for saving the competitive integrity of the NBA. You can listen to Hayden cover the NBA every week on "Droppin Dimes: A Basketball Podcast" wherever you get your podcasts!
Follow @haydenmgray 641 followers
I am a native Houstonian and a graduate of the University of Houston. I love few things more than the Rockets and NBA basketball. I follow just about everything the team and the players do, have been watching basketball for years, and have many thoughts to share on a variety of topics relating to the Rockets.
Follow @SpaceCityEmpire 202 followers
I'm a 22 year old guy that loves his Houston Sports. I'm also attending college with hopes to one day make a living writing and discussing what I love!
Follow @MCamarena98 44 followers
If you are a fan of hot takes pertaining to the wonderful world of sports, you came to the right place. Enjoy!
Follow @aaant13
441 followers
Follow @SirJoseph10_FG 914 followers
WRITE FOR US
We aren't called FanSided for nothing. Our network of sports, entertainment and lifestyle sites are powered by fans that want to cover their passions! Whether you are just looking to get your start in online media or you want to contribute to your favorite site as a hobby, FanSided wants to hear from you.
Whatever your goal, FanSided can help your voice be heard. If you are interested in writing for any of our sites, please be sure to check out our openings page and submit a proposal.
ABOUT FANSIDED
The idea of FanSided was born in 2007, when two brothers felt that their favorite team, the Kansas City Chiefs, was being under-covered by the mainstream media. Taking matters into their own hands, they launched Arrowhead Addict, a move that would spawn the creation of FanSided in 2009, a network of over 300+ fan-powered unique sports, entertainment and lifestyle sites dedicated to team-specific, sport-specific, genre-specific, and fanbase-specific coverage.
From sports, movies and TV to lifestyle and tech, FanSided has you covered.
ADVERTISE/CONTACT US
Let's stay in touch. If you'd like to advertise with us, partner with us or have feedback, please fill out our contact form.
Email us: spacecityscoop@fansided.com
Write us: Sportority Inc., 462 7th Avenue, Floor 4, New York, NY 10018