Houston Rockets Draft Prospect Series: Cheick Diallo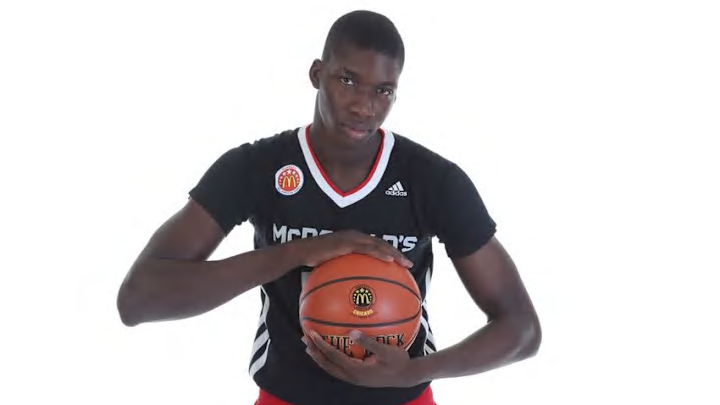 A relatively unknown prospect, the Malian Cheick Diallo from Kansas is still very much a gamble. From glimpses of great defensive prowess and physical exuberance some teams might be lured into going all-in on the former Jayhawks player – a bet that might pay huge dividends in the near future.
Draft Prospect
Intro
The physically gifted Cheick Diallo is a prospect coming out of the vastly respected Kansas Jayhawks system. That in itself could be enough for a couple of teams to take a chance on the Power Forward.
But after some strong showings and very positive feedback from the NBA Draft Combine, Diallo's stock seems to be growing rapidly. Many cite Diallo as having a similar potential to Bismack Biyombo and with the Raptors center performing so well in the post season it may be why Diallo has seen his stock rise lately.
Despite the fact that Diallo played limited minutes for the Jayhawks last season there's a lot of faith that with the right coach and with much needed D-league experience the African player can develop into a top notch defender: to the likes of Draymond Green.
Specifics
(as per NBA Draft Combine)
Height: 6'9″
Weight: 219 lbs
Country: Mali
Position: Power Forward – Center
Age: 19
Reach: 8'11″
Wingspan: 7'4″
College or Pro League: Kansas, Freshman
Stat line: 27 Games, 7.0 Minutes Per Game, 3.0 Points Per Game, 2.5 Rebounds Per Game, 0.9 Blocks Per Game, 56.9 FG%, 55.6 FT%
Current Rank
Draft Express: 18
NBA.com Scott Howard-Cooper:  28
NBAdraft.net: 21
Chris Rolling Bleacher Report: 25
Fox Sports: 24
The Skills
After a season warming the bench for the Kansas Jayhawks, Cheick Diallo backed up the hype around him with some strong showings in the NBA Draft Combine.
There we were able to see a potential defensive phenom in the makings. And even as a relatively undersized player Diallo can make up for it due to his off-the-charts physique, length and quickness which in turn makes him an above average rebounder and rim protector.
Further he is also great switching on the pick and roll and given his great mobility can guard players from different positions. Finally his explosiveness and leaping skills makes him a huge threat as a shot blocker as well.
His offensive game definitely needs some polish as Diallo is able to only finish with a limited number of plays such as put backs, dunks and easy layups. Given that his jump shot obviously will need some major work. With no sign of much offense the questions will be asked as to whether he'll be able to add much versatility to his game.
Another aspect of his game that needs improvement are his free-throw numbers which barely surpasses the 50% mark.
Honors and Awards
McDonald's All-American Game MVP (2015)
McDonald's All-American (2015)
First-team Parade All-American (2015)
Jordan Brand Classic MVP (2015)
The Fit
Anyone that watched the Houston Rockets play last season saw that the team needs every help they can get in the defensive department.
That plus the imminent departure of Dwight Howard makes it even more of a priority to boost the defensive aspect of the team with more defensive oriented players.
Nevertheless one has to wonder if Cheick Diallo is not too one-dimensional to play for Houston right now. It's a given that he must spend heavy minutes in the d-league before being ready to play in the league.
However the real problem is that Diallo presents no real threat with his jump shot or the outside ball thus making it very challenging siding him alongside Clint Capela. Draymond Green excels with the Warriors not only due to his defense but because of his top notch ball handling skills and outside shots.
Therefore in order for Diallo to become a player with an overall better future in the league he desperately needs to improve his offensive skills and long shots as even though he might be a physical monster he still lacks size to hang with the big guys, the Towns and the Aldridges of the NBA.
Final Thoughts
More from Space City Scoop
It's very unlikely that Cheick Diallo falls all the way to the second round on Draft Night, especially with his fast rising stock with teams marveling at the Malian's defensive prowess.
Despite that, if available I have no reason to believe that Diallo should be the Rockets priority. A player that clearly needs a lot of time to be ready for the league is not exactly what the Texan team needs right now.
Further his position as a power forward is one that the Rockets have long been trying to lure a stretch four to fill. So not exactly up Diallo's alley.
With Donatas Motiejunas and Michael Beasley already in house the Rockets are better served pursuing players like Ryan Anderson in Free Agency and leaving their Draft Pick spots to be filled by point guards a long time necessity for the team.
Next: Draft Prospect Guerschon Yabusele
Next: Draft Prospect Chinanu Onuaku
Next: Draft Prospect Demetrius Jackson
Space City Scoop is always looking to add new talent to our writing team. Currently we're looking for individuals with a specialized focus. The first area of focus is perfect for someone who is constantly surfing the web for breaking news on injuries, trades, insider info etc. This individual would select the top news items and provide timely quick hits to keep SCS readers in the loop.
The other area of focus is someone who possesses a strong social media background who likes to interact with Clutch City Fans. You'll promote SCS team content on facebook and twitter while also making sure to promote the best content coming from H-Town fans. If you have this capability and are interested check out this link and fill out an application.