2016 Houston Rockets Draft Prospect Series: Juan Hernangomez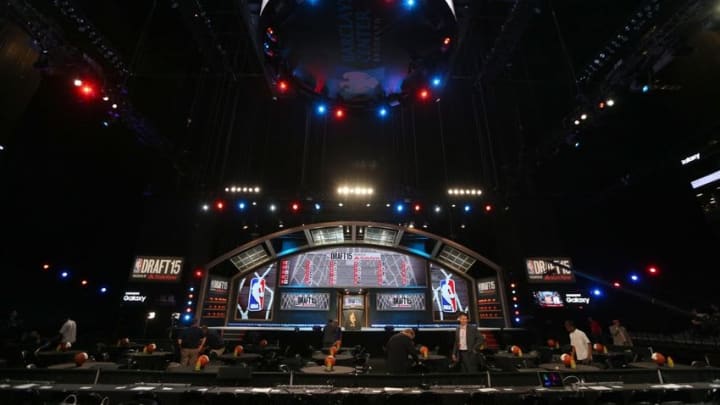 Jun 25, 2015; Brooklyn, NY, USA; General view of Barclays Center before the start of the 2015 NBA Draft. Mandatory Credit: Brad Penner-USA TODAY Sports /
If there was one player Houston Rockets GM Daryl Morey should be tempted to move up for it's forward Juan Hernangomez.  The youthful Spaniard has a full bag of offensive tricks. Moreover his grit, motor and commitment to improving defensively is a rare mix of qualities. Factor in the potential for him to segue into playing both forward positions with his prowess at playing uptempo ball and Hernangomez feels like a cookie cutter draft pick for Mike D'Antoni's system.
Draft Prospect:
Specifics:
Height: 6'9″
Weight: 220 lbs
Country: Madrid, Spain
Position: Small/Power Forward
Age: 20
Wingspan:7′.2″ (rumored)
College or Pro League: Estudiantes, ACB Spanish League
Stat line: 34 Games,  9.7 Points Per Game,  5.7 Rebounds Per Game,  0.6 Assists Per Game
Current Rank:
Please note, the rankings below come from the most up to date versions as the time of writing. That said not all the mock drafts provide second round ranks or updates often only extend to the end of the first round.
Therefore, if you check a ranking and note the number has changed it's likely due to updates and a shift in the rankings.
ESPN Chad Ford: 20
Draft Express: 20
NBA Scott Howard Cooper: 26
Bleacher Report: 35
The Skills:
Juan Hernangomez is a young'un having just turned 20, yet he's playing with real men in the Spanish League.
It's a family affair for the Hernangomez clan. Brother Willy was drafted by the Knicks  and currently plays with Spanish team Real Madrid Baloncestois.
In the 80's his father Guillermo played with CB Estudiantes. And, not to be outdone by the males in the family his sister Andrea played with Estudiantes.
La cadete Andrea Hernangómez juega dsesde mañana con la #U15F el Torneo de la Amistad http://t.co/fJsDN45Uub pic.twitter.com/F4JJs413O2
— Movistar Estudiantes (@ClubEstudiantes) July 16, 2015
Other notable NBA players who've come out of the Spanish ACB League are Serge Ibaka, Kristaps Porzingis, Ricky Rubio and Ersan Ilyasova to name a few. He registered the second best PER of the last decade behind only current Bulls forward Nikola Mirotic.
Many analysts project Juan to be the best of the lot with untapped potential and an extremely high ceiling.  He showcases all the qualities you would want from a player at his position including fluidity, athleticism, speed and can play at the rim or stretch the floor.
He's noted for having great foot speed and offensive versatility and due to his quickness scouts believe he'll be able to easily transition from the power forward role to the small forward with relative ease.
Though his shot from beyond the arc is a work in progress it's progressed with experience improving each season.
He is gritty, intense and driven with no back down which summons memories of Mirotic's first season in Chicago. With all these qualities his desire to go the extra mile on defense is a quality rarely seen from a youngster with so much offensive upside.
Weaknesses:
As much as Hernangomez looks to have a high ceiling there are a number of areas he needs improvement in:
Better ball handling and coordination when moving with ball
Work on learning more schemes to allow him to become a better ball distributor as this area is sorely lacking in his current bag of tricks.
Develop consistency from deep
Work on creating driving moves to combine with his catch and shoot specialty
Practice lateral slides and spend time on defensive fundamentals
Honors and Awards:
As per Wikipedia:
The Fit:
More from Space City Scoop
Unlike many international youngsters Hernangomez has readily applicable skills for the NBA and with his penchant for wanting to get dirty on the defensive end he's a rare commodity at his position.
Sure he needs more experience but he could turn out to be a name mentioned as one of the best from this year's draft a few years down the road. With the right team there is opportunity for him to flourish especially if they utilize a D'League affiliate to help him acclimate to the NBA game.
He's also the type of player Houston Rockets GM could trade up for without it costing much since he's ranked anywhere from 20 to the pick just prior to Houston's first at 37.  With his defensive abilities (or perhaps that's better phrased as passion to deliver on that end) even if he takes time to progress in the NBA offensively he'll still contribute. Plus the Rockets could divide his time with the Vipers so he learns the system.
I'm high on this player especially in D'Antoni's system as one of his top qualities was the ability to run the floor in transition. If I was Morey I'd be taking a long hard look at the Spaniard.
Next: Draft Prospect Guerschon Yabusele
Next: Draft Prospect Chinanu Onuaku
Next: Draft Prospect Demetrius Jackson
Space City Scoop is always looking to add new talent to our writing team. Currently we're looking for individuals with a specialized focus. The first area of focus is perfect for someone who is constantly surfing the web for breaking news on injuries, trades, insider info etc. This individual would select the top news items and provide timely quick hits to keep SCS readers in the loop.
The other area of focus is someone who possesses a strong social media background who likes to interact with Clutch City Fans. You'll promote SCS team content on facebook and twitter while also making sure to promote the best content coming from H-Town fans. If you have this capability and are interested check out this link and fill out an application.