2016 Houston Rockets Draft Prospect Series: Georgios Papagiannis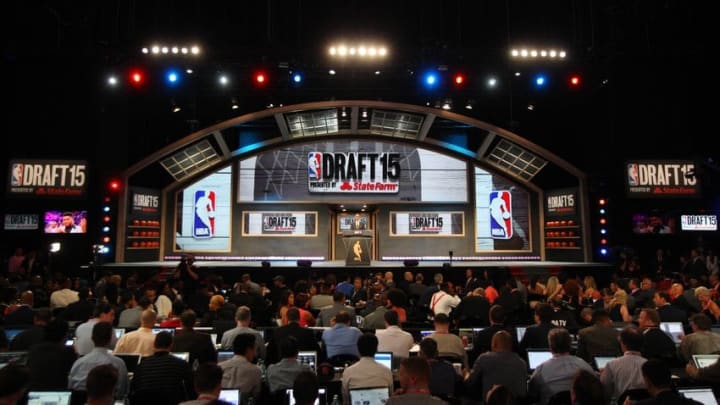 Jun 25, 2015; Brooklyn, NY, USA; NBA commissioner Adam Silver addresses the crowd before the first round of the 2015 NBA Draft at Barclays Center. Mandatory Credit: Brad Penner-USA TODAY Sports /
he 2016 NBA Draft will take place on Thursday June 23rd with the Houston Rockets selecting 37th and 43rd. While the Rockets are without a first round pick given GM Daryl Morey's tendency to orchestrate trades it would be unwise to count him out of making a deal to move up. With that Space City Scoop is featuring a Draft Prospect Series covering 60 of the top ranked prospects. Next up is Georgios Papagiannis
Draft Prospect:
Specifics:
Height: 7'2″
Weight: 276 lbs
Country: Greece, Marousi
Position: Center
Age: 18.9
College or Pro League: Greek League –  Panathinaikos
Stat line: 29 Games,  5.5 Points Per Game,  2.5 Rebounds Per Game, 0.4 Assists Per Game
Current Rank:
Please note, the rankings below come from the most up to date versions as the time of writing. That said not all the mock drafts provide second round ranks or updates often only extend to the end of the first round.
Therefore, if you check a ranking and note the number has changed it's likely due to updates and a shift in the rankings.
ESPN Chad Ford: 74
Draft Express: 35
NBA Scott Howard Cooper: 51
Bleacher Report: 58
The Skills:
Most notably the young Greek starting playing internationally at such a young age (14) contributing to National teams when most kids are just figuring out if they want to play the game seriously.
His obvious attributes are his size, rebounding and since he started so young his offensive skill set is advanced especially for a big men who typically take longer to develop.
This past season he successfully worked on his conditioning and toning his body, the result was his improved ability to run the court and more agility on the court.
As per Draft Express:
His best asset offensively at this stage is his combination of size and agility. Possessing terrific hands and proving quicker off his feet than one might expect, Papagiannis is an excellent target for drop passes and lobs inside, and a good offensive rebounder when he's competing.
Shooting an impressive 72% around the rim in the half court and transition combined, the young big man finishes very consistently around the basket thanks to his coordination and ability to play effortlessly above the rim. Finishing the season with more dunks than layups on the year, his ability to convert lobs off of two feet was impressive at times.
Weaknesses:
Papagiannis is your typical old school center which has inherit issues, not the least of which is his inability to guard the perimeter and quicker players. This situation is compounded by his apparent lack of motor and discipline to be improved defensively.
The other major area for the young Greek is he is so go in side the paint he has done little to develop his game outside of it and therefore lacks much offensive versatility.
The main concern should be his motor and conditioning though he did make strides this season to lose weight.
Honors and Awards:
As per Wikipedia:
Club career
Greek national team
2013
TBF International Under-16 Tournament
:
2013 FIBA Europe Under-16 Championship
:
2013 FIBA Europe Under-16 Championship: All-Tournament Team
2015 FIBA Europe Under-18 Championship
:
, All-Tournament Team
The Fit:
More from Space City Scoop
Another grab and stash prospect with potential. That said, although his sheer size and offensive prowess at the basket is alluring unless he can show a commitment to defense and expanding his range it offers questions as to how well he'll fit the new small ball NBA.
It's also worriesome that a guy his size with decent agility isn't stronger at protecting the rim which leads one to believe it's a matter of desire.
While Dwight Howard opted out of his contract and the club may need to replace him if he leaves it's unlikely Morey will want to risk his pick(s) on a layer not committed defensively.
Next: Draft Prospect Guerschon Yabusele
Next: Draft Prospect Chinanu Onuaku
Next: Draft Prospect Demetrius Jackson
Space City Scoop is always looking to add new talent to our writing team. Currently we're looking for individuals with a specialized focus. The first area of focus is perfect for someone who is constantly surfing the web for breaking news on injuries, trades, insider info etc. This individual would select the top news items and provide timely quick hits to keep SCS readers in the loop.
The other area of focus is someone who possesses a strong social media background who likes to interact with Clutch City Fans. You'll promote SCS team content on facebook and twitter while also making sure to promote the best content coming from H-Town fans. If you have this capability and are interested check out this link and fill out an application.