Houston Rockets: Power up the rankings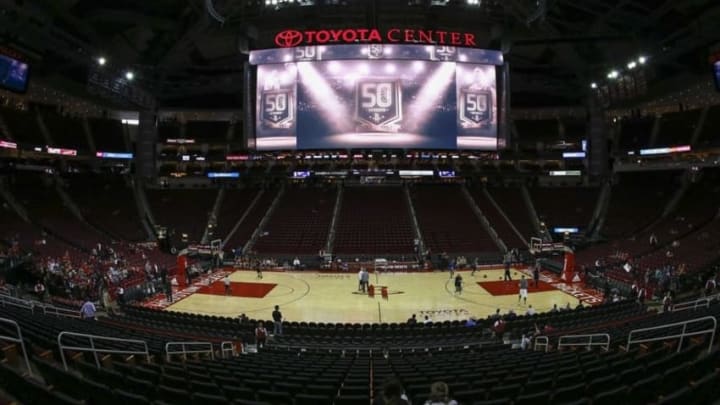 Oct 30, 2016; Houston, TX, USA; General view inside Toyota Center before a game between the Houston Rockets and the Dallas Mavericks. Mandatory Credit: Troy Taormina-USA TODAY Sports /
Oct 30, 2016; Houston, TX, USA; General view inside Toyota Center before a game between the Houston Rockets and the Dallas Mavericks. Mandatory Credit: Troy Taormina-USA TODAY Sports /
Oct 30, 2016; Houston, TX, USA; General view inside Toyota Center before a game between the Houston Rockets and the Dallas Mavericks. Mandatory Credit: Troy Taormina-USA TODAY Sports
The Houston Rockets garner national attention and climb up the media's power rankings
James Harden and the Houston Rockets are finally starting to get the attention and respect they deserve. CBS sports has the Rockets listed at No.1, while other outlets have the team listed in the top 5 of their current power rankings.
A serious departure from the normally contentious relationship between the media and the Rockets, one which has been longstanding. In fact, this was clearly evident when Harden wasn't voted to an all-NBA team last season. But, it's funny how winning and enjoying the game can change even the most apprehensive mind.
To be clear, I'm not sure when the media disdain began with the Rockets. However, with the Rockets celebrating their 50th season in franchise history, it's easy to see how some of the highlights that molded this franchise, may have unknowingly inspired the media backlash.
For instance, the path to the 1986 NBA finals was paved with victories over the "Showtime" Lakers. Olajuwon and Sampson led Houston in decisive wins and got to face the legendary Larry Bird and the Boston Celtics. Now, obviously the world wanted a rematch between the two powerhouse teams. The same two teams that basically represented the NBA for decades. The Rockets interfering with these plans may be when the hate initially started.
The next NBA powerhouse the Rockets vanquished, was the team that resides in the city that many consider to be, the mecca of basketball. The New York Knicks. This championship run was tarnished by all things O.J., so Houston celebrating their first championship may have been perceived as in bad taste.
More from Space City Scoop
Or, was it the sweep and dismantling of the young, up-and-coming Shaq and the Orlando Magic. This NBA finals trip resulted in the Rockets second title and the first for the Dream and Drexler as a duo.
I'm not sure if it's in these moments that the hatred began to fester. But, it's in these moments that our city found jubilation. It's these exact moments that created Clutch City and made the league take notice.
The current incarnation of Clutch City is undefeated in December and look to continue to build on the recent success they have had. Harden is playing at an MVP level and the sharp shooting supporting cast is on fire.
Next: Houston Rockets get narrow win over Nets
The Warriors, Spurs, and Cavs struggled last week which would explain the shift in power rankings. Still, I will relish this moment and look forward to seeing what this team is truly capable of. Let's go Red Nation!