Don't Worry, the Houston Rockets Are Not Going Anywhere Else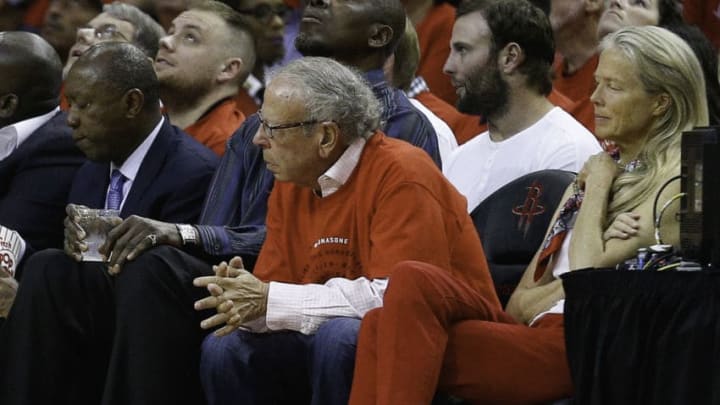 HOUSTON, TX - APRIL 25: Houston Rockets owner Les Alexander looks on during Game Five of the Western Conference Quarterfinals game of the 2017 NBA Playoffs at Toyota Center on April 25, 2017 in Houston, Texas. NOTE TO USER: User expressly acknowledges and agrees that, by downloading and/or using this photograph, user is consenting to the terms and conditions of the Getty Images License Agreement. (Photo by Bob Levey/Getty Images) /
There is a ton of buzz this afternoon due to the announcement of Les Alexander selling the Houston Rockets.
When it was said that a major announcement was coming at 2 p.m. CT, many people figured it would be about advertising or jerseys or both. However, what everyone received was news that the Houston Rockets are up for sale.
This news shocked the world and sent fans and people everywhere wondering what was going on with the team. While there are many question marks with this process, one thing is for sure: the Rockets are looking to stay in Houston.
It Makes Sense to Stay in Houston
It is always scary when a team you root for is changing ownership. There are so many unknowns that go into the method and you just hope that your favorite team does not move cities. Thankfully, the Rockets are in good shape and have every reason to stay in H-Town.
The Rockets are a very successful team right now in one of the biggest cities in America. It would be bad for new ownership to change the location of a successful and growing team. There are other cities and markets that are looking to get an NBA team, such as Seattle or Las Vegas, but they will have to wait a little bit longer.
Also, the Rockets and the Toyota Center have a lease until after the 2032-2033 season according to this source. The Houston Rockets are here to stay, thankfully.
Alexander Will Sell to Someone Looking to Stay in Houston
According to Lainie Fritz of KPRC Houston News, the Rockets will be in good hands.
They are committed to finding buyer that will keep team in Houston. #Rockets
— Lainie Fritz (@KPRC2Lainie) July 17, 2017
Some wealthy Houston businessman will hopefully look to buy the team and keep them in the city. According to Mark Berman, Tilman Fertitta might just be that guy.
Tilman Fertitta (@TilmanJFertitta) expresses interest in buying the #Rockets franchise. pic.twitter.com/msTBBbM3i8
— Mark Berman (@MarkBermanFox26) July 17, 2017
He looks like the right man for the job.
The Rockets were lucky to have an owner like Les Alexander for all these years. He brought the franchise two championships and will leave the team in great shape.
For more information about the Rockets, be sure to follow us on Twitter and like us on Facebook.