Houston Rockets: James Harden and Chris Paul Play in a Pickup Game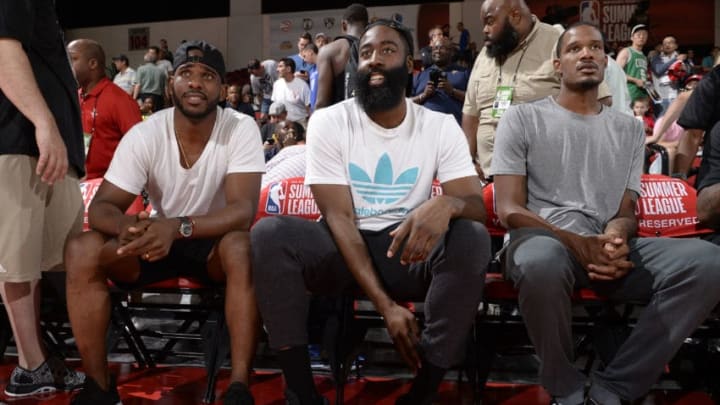 LAS VEGAS, NV - JULY 8: Trevor Ariza /
CP3 and the Beard are already starting to work on meshing their game together.
Bleacher Report posted a video on their Twitter account that shows multiple Rockets playing in a pickup game together. Most notably in the group of Houston players: Chris Paul and James Harden. They were also joined by the likes of Trevor Ariza and Bobby Brown.
The two stars for the Rockets are beginning the process of sharing the ballhandling responsibilities between them. As the team begins to incorporate Chris Paul into the system, look for more of these type of videos to surface. Paul and Harden seem to be 100% focused on making this partnership work, and it should be fantastic for the Rockets. Here's the video:
CP3 and Harden putting in work in their first pickup game together ? (via @youballtraining) pic.twitter.com/P9G6PtIcE4
— Bleacher Report (@BleacherReport) July 26, 2017
While this video does not show the two pass to one another, it does show that they are sharing the point guard role. There is only so much you can take out of a pickup game, but it is a good start for the Rockets.
How the Two Will Play
It is certainly good that Chris Paul and James Harden are already working hard. The two sharing the point guard role will be tough to figure out. Mike D'Antoni will certainly have a hand in working with the two, but seeing them work it out by themselves too is very encouraging. Should this duo work, the Rockets will be an even more dangerous offensive force.
Paul and Harden will both start the game, of course. About halfway through the first, one of the two will likely sit while the other stays with the bench unit. Last season, Harden played the entire first and third quarters, will he do that again? D'Antoni will likely keep on whoever is playing better that game. A bench unit of Harden/Paul, Gordon, Tucker, Mbah a Moute, and Nene is very dangerous and is better than some team's starting lineup.
Additional footage from the pickup game:
https://twitter.com/houstonrockets/status/890272684566867969
D'Antoni has emphasized having a Hall of Fame caliber point guard on the court at all times. With Harden and Paul, he will definitely get that.
Be sure to follow us on Twitter and like us on Facebook to stay up to date with the latest Rockets news!