Houston Rockets Help Out in Hurricane Harvey Relief Efforts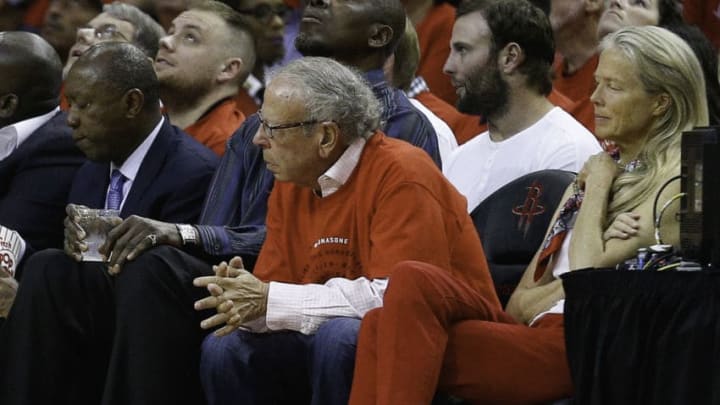 HOUSTON, TX - APRIL 25: Houston Rockets owner Les Alexander looks on during Game Five of the Western Conference Quarterfinals game of the 2017 NBA Playoffs at Toyota Center on April 25, 2017 in Houston, Texas. NOTE TO USER: User expressly acknowledges and agrees that, by downloading and/or using this photograph, user is consenting to the terms and conditions of the Getty Images License Agreement. (Photo by Bob Levey/Getty Images) /
The Houston Rockets have been very active in helping out during the events of Hurricane Harvey.
This weekend, tragedy struck with Hurricane Harvey. Cities like Corpus Christi and Houston were flooded and many people have needed rescue from unliveable areas. As we continue to keep Texas in our thoughts, let's take a look at some of the good that members of the Rockets are doing.
Les Alexander
Houston has been home for Les for many years. Today, it was announced that the soon-to-be former owner of the Rockets is generously donating $4 million in Hurricane Harvey relief funds.
Les has always been a great member of the community and recently donated $4 million to charity this March. Even while the team is being sold, Alexander continues to be one of the best owners in sports and is helping out people who need it.
Even though he has not spent much time in Houston, CP3 has still decided to donate $50,000 to the relief fund of J.J. Watt. According to J.J., Paul's donation was the one to put the fund over the $500,000 mark, the original goal. It has now since raised over $800,000.
The generosity of @CP3's $50k donation is actually what put us over the $500k mark. Phenomenal stuff from donations both large and small.
— JJ Watt (@JJWatt) August 28, 2017
Chris Paul will fit right in with Houston, a city that has shown great generosity this weekend.
Clint Capela has been a social media hero during this tragic event. He asked for people to send him places in need and he has been tweeting them out on his larger account.
Tweet me and I'll share as many emergency situations as I can. Stay safe Houston.
— Clint Capela (@CapelaClint) August 27, 2017
Capela has been super active in this quest, already tweeting out over 30 people who need help. His work is truly helping people and he deserves some recognition for being an incredible person. Thank you, Clint.
Around Houston
Other Houston sports teams are helping out as well. Astros owner Jim Crane is donating $4 million to relief funds to match Les.
Jim Crane, the ownership group and our Foundation will donate $4 million to the relief efforts aiding the victims of Hurricane Harvey.
— Houston Astros (@astros) August 29, 2017
Bob McNair of the Texans is donating another million to help out.
Mr. McNair and the #Texans are pledging $1 million dollars to the United Way of Greater Houston Flood Relief Fund. #HoustonStrong pic.twitter.com/emzPzGdnr7
— Houston Texans (@HoustonTexans) August 28, 2017
As previously mentioned, J.J. Watt is helping a ton in raising money. Funds are coming in from all over the world in support of the Houston area. The Rockets and other Houston area sports teams are all in support and are showing how we can be #HoustonStrong.
Be sure to let us know if we missed any efforts by Rockets players or personnel. Stay safe everyone.
Please send your love and prayers to the people in Texas. ?? #PrayforTexas pic.twitter.com/qjZsiZa2jO
— James Harden (@JHarden13) August 27, 2017
Donating to Harvey relief efforts: How, when, what to give https://t.co/XCLVAE9m2n via @houstonchron
— Jonathan Feigen (@Jonathan_Feigen) August 28, 2017