Rockets News
Rockets vs. Grizzlies preview: New look Grizz roll into town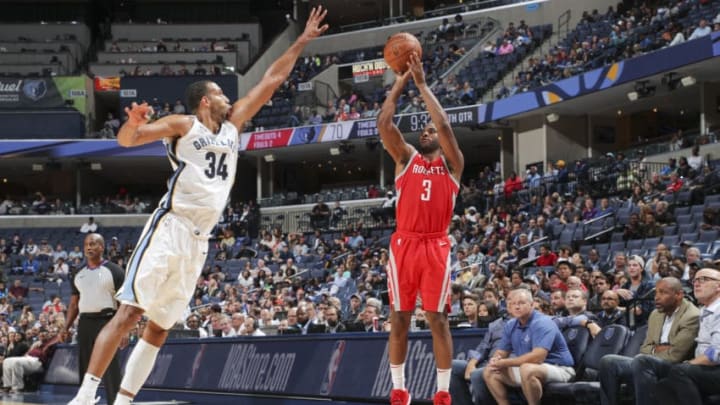 Photo by Joe Murphy/NBAE via Getty Images
The Houston Rockets are familiar with the Memphis Grizzlies. However, this is not the same "Grit & Grind" squad of years past.
After a great home opener, the Houston Rockets (3-0) are off to a great start. The squad opened up their two-game homestand with an impressive home victory against the Dallas Mavericks. Now the Memphis Grizzlies (2-0), coming off a victory against the Golden State Warriors, roll into town playing a bit differently.
While it is still early, the Grizzlies are off to a fine start. Surprisingly, Memphis ranks 10th in offensive rating to begin the season. In their victory against the Warriors, the Grizzlies got a balanced scoring effort that included 34 points from star Marc Gasol. Along with Gasol, the Grizzlies had five players score double-digit points. In addition to those players, rookie Dillon Brooks looks solid to start off and contributed with 9 points of his own off the bench.
In the victory over Dallas, James Harden had 29 points and 7 assists, while Eric Gordon started and had 18 points of his own. Nene came off the bench and provided 14 points on 6/6 shooting. While it would be great to see Chris Paul out there, the Rockets look just fine without him.
As always, the Rockets need to prepare for Gasol and Mike Conley. However, this Rockets squad looks good defensively and will face a good test against a tough opponent. This Memphis team means business and should not be taken lightly. Conley is among the best defenders at the point guard position, and Clint Capela will have his hands full against Gasol.
In addition to Gasol and Conley, Memphis has some other interesting options offensively to help. Tyreke Evans and Mario Chalmers provide some nice outside scoring, while a healthy Chandler Parsons looks to get back on track. When healthy, Parsons is a nice scoring option to have. He's long, can drive to the paint, and shoot the 3-pointer.
Therefore, expect a close and physical game against the pesky Grizzlies. It will be interesting to see how the Memphis defense approaches the Rockets offense. Mike D'Antoni has experimented with P.J. Tucker, Luc Mbah a Moute, and Trevor Ariza all on the court at once. Tucker played well as the center in the Rocket's small-ball lineup against the Warriors and Mbah a Moute provides great length.
Both squads look a little different, but no doubt, this is still a fun rivalry. The Grizzlies are beginning to catch on to the pace and space game. However, the Rockets are experts at this style of play and look to continue their winning streak. One thing that coach D'Antoni will hope for is improved 3-point shooting. As much as the Rockets focus on the 3-pointer, they have not shot it well to start the season.
Injury Report
Chris Paul remains out and is considered day-to-day.
Ryan Anderson is questionable with some back pain. Look for Tucker or Mbah a Moute to start in his place should he sit out.
For the Grizzlies, Jamychal Green is out with a left foot/ankle injury, Ben McLemore is recovering from foot surgery and Wayne Seldon is out with a right foot injury.
Where to watch
Tip-off is at 8:00 PM Eastern or 7:00 PM Central and will be available through League Pass. For residents of the Houston area, the game will be on AT&T Sportsnet Southwest. You can also follow the game with the Rockets app for Android or IOS.