Rockets News
What Isaiah Canaan brings to the Houston Rockets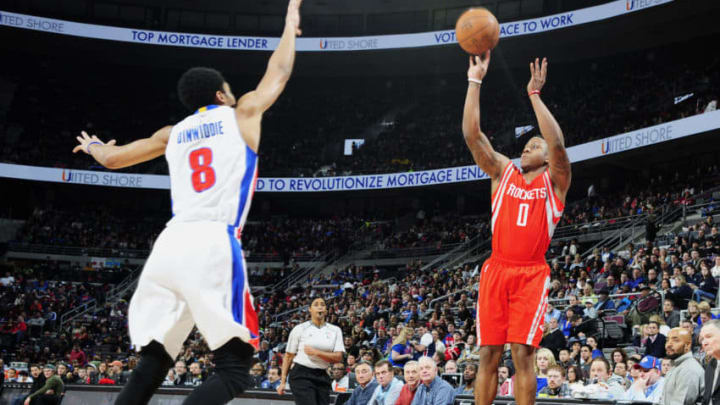 AUBURN HILLS, MI - JANUARY 31: Isaiah Canaan
The Rockets were in desperate need of a backup point guard with Chris Paul being out. Now, they found one.
Isaiah Canaan has returned to the Houston Rockets. He agreed to sign with the Rockets on a one-year deal that is non-guaranteed. He will greatly help out the squad as they attempt to play without Chris Paul.
Isaiah Canaan began his career in Houston when he was drafted with the 34th overall pick in the 2013 NBA Draft. He is a sharpshooter who can really knock down the long-range shot when he is on his game.
What he brings
While in Houston in 2014, Canaan shot a career-best 38% from deep. When he got traded to Philadelphia, he really showed that he was fearless in taking the 3. He attempted 7.4 of them per game in just 26 minutes a night.
He also takes care of the ball pretty well. Per 36 minutes, he has averaged just 1.9 turnovers per game throughout his career.
Last year with Chicago, he struggled from 3 but is looking to bounce back after a solid preseason with Oklahoma City.
Why the Rockets need him
Canaan is what the Rockets desperately need right now. Without Paul, the team is rolling out Demetrius Jackson as the backup point guard. No offense to Jackson, but he is timid to shoot and is not very good from 3. Canaan, on the other hand, is willing to take any shot and can knock them down.
The offense is stagnant when James Harden and Eric Gordon are not on the floor. Canaan has shown the ability to create for others before, but mainly he will be bringing in the ability to create his own shot. He won't be averaging a ton of points per game, but he will be bringing more than the current production from backup guards.
Last night, the Rockets went 9/38 from downtown, including 1/7 from the bench. Some of the bench players were hesitant to shoot but that will not be the case with Canaan. Look for the bench shooting to improve with CanaanBall in there. He can also drive to the paint and finish fairly well.
Take a look at the highlights of this game he had in Houston a few years ago (user's channel here):
Isaiah Canaan is already somewhat familiar with the D'Antoni offense, too. Mike was an associate coach with the Sixers whenever Canaan played there.
When Chris Paul inevitably returns, Canaan deepens the already-great bench of the Rockets. Should there be another injury of some sort, he can be there to help out.
Be sure to follow us on Twitter and like us on Facebook for more!