Rockets vs Grizzlies: Third Time The Charm?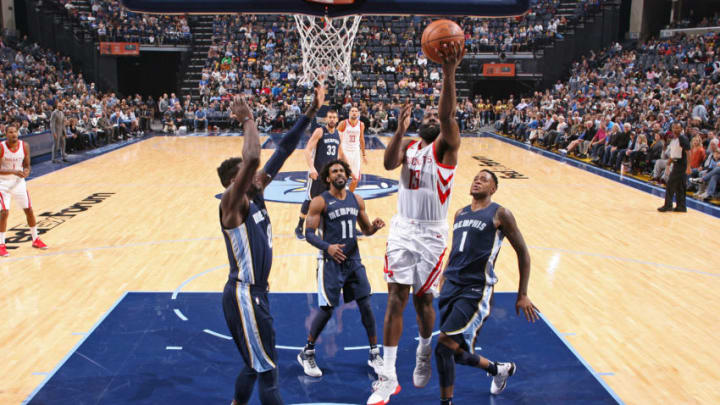 MEMPHIS, TN - OCTOBER 28: James Harden /
Tonight the Houston Rockets will play against the Memphis Grizzlies for the third time this season.
The matchup record currently stands at 0-2 with the Grizzlies on top. Unfortunately, thus far, the Houston Rockets have not been able to figure out the Grizzlies but Saturday night could be different.
WHY?
Eric Gordon: The last time the team faced the Grizzlies, Eric Gordon was out with an illness. Gordon has become an offensive weapon for the Rockets, in addition, he especially makes an impact with 3-pointers. Therefore, having Gordon on the court gives a huge boost to the Rockets offense that could really be a key factor in defeating the Grizzlies.
I know I tweet this every game, but true again tonight. Eric Gordon has scored more points in every game this season than he averaged as 6th man of the Year. Rockets 23-4 past 2 years when he scores 20 or more.
— Jonathan Feigen (@Jonathan_Feigen) November 10, 2017
Dominating Rebounding:  The Rockets had a total of 52 rebounds. HOW CRAZY!!!! 28 of these rebounds were on the defensive side, which is great. It is important that Capela and others get those rebounds in order to create more possessions. The more possessions the Rockets receive, the better chance of scoring more points, which the Rockets NEED.
Rockets have been the NBA's best defensive rebounding team this season, but absolutely crushing it on boards on both ends tonight.
— Jonathan Feigen (@Jonathan_Feigen) November 10, 2017
Projected Starters
Rockets:
Grizzlies:
F – J. Martin
F – J. Ennis III
G- M. Conley
G – A. Harrison
C – M. Gasol
Injury Report
Rockets: 
Luc Mbah a Moute: He was ruled out against the Cavaliers on Thursday. Luc Mbah a Moute is day-to-day because he is still suffering from knee soreness. If he is still experiencing the soreness, he will probably be ruled out again tonight.
So will the third time be the charm?
I sure do hope so. James Harden had an amazing game Thursday night and hopefully, that will continue against Memphis.
Thus far, the Houston Rockets are ranked 5th offensively and 9th defensively, while the Grizzlies are ranked 3rd defensively. Therefore, if the team can play solid on both ends of the court, then I am confident they will WIN this game.
Next: Houston Rockets: The Clint Capela era is upon us
Tune in tonight at 7:00 PM Central.