NBA Draft: Houston Rockets Should Select LiAngelo Ball with Their 46th Pick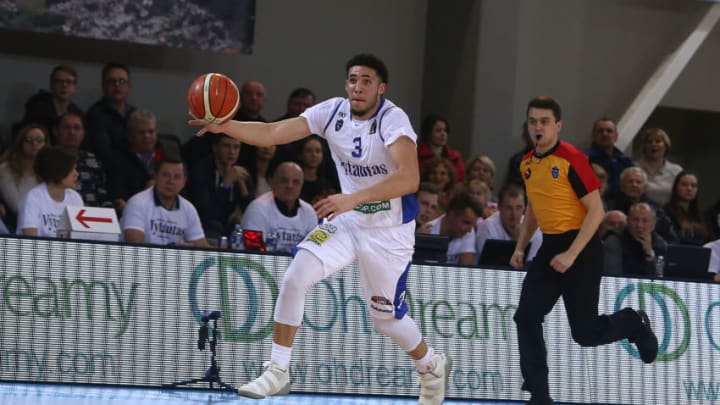 PRIENAI, LITHUANIA - JANUARY 09: LiAngelo Ball of Vytautas Prienai in action during the match between Vytautas Prienai and Zalgiris Kauno on January 9, 2018 in Prienai, Lithuania. (Photo by Alius Koroliovas/Getty Images) /
Despite what has been said about him and his family, LiAngelo Ball would be a great selection for the Houston Rockets in Thursday's draft.
The NBA Draft is one day away, and the Houston Rockets are set to make their selection with the 46th pick of the second round on Thursday, at the Barclays Center in Brooklyn, New York.
While Houston will surely miss out on the chance to draft DeAndre Ayton, Marvin Bagley, and Trae Young, the Rockets will still have a chance to draft one of the most gifted players coming out of the draft.
Say what you want about his obnoxious father, but the Rockets should take a serious look at selecting LiAngelo Ball with their pick. Giving the year he had in what could have been his freshman year at UCLA, selecting Ball in the second round is a low risk yet high award opportunity for the Rockets.
Despite leaving college early after his infamous shoplifting scandal, his talents as a basketball player should not go overlooked. Many have already projected that he will go undrafted and will have to work his way on to an NBA team in the summer. But Ball has the potential to become the biggest steal in this year's draft.
Stats
Appearing in 14 games playing for the Vytautas Prienu of the Lithuanian league, Ball showcased his potential in the Euro League averaging 12.6 points, on 41.5 percent shooting from the field. His most memorable game as a member of the Prienu came on March 25, when Ball scored a career-high 28 points while knocking down six three-pointers in a loss to the Nevezis Kedainiai.
Even though they have created the NBA's most memorial offense, the Rockets can always use more shooters to upgrade their team. And Ball is one of the top three shooters coming out of this year's draft. Playing alongside James Harden, Chris Paul, and even Eric Gordon, Ball can play off the ball while giving the Rockets an additional three-point shooting threat who can space the floor.
At 6'5 and 251 pounds, he has the size develop into a solid defender on the perimeter in a system ran by Jeff Bzdelik.
Outside of his shooting ability, Ball has already got a taste of what life of a pro basketball player is like. Something that could give him an advantage over the other prospects in the draft.
According to Ron Kroichick of the San Francisco Chronicle, Ball told reporters that his time overseas has helped him prepare for the next chapter of his basketball career following his workout with the Golden State Warriors.
Next: Top 15 draft picks in Rockets history
While it may still be a long shot for Ball to get selected by any team, here's hope the Rockets would select a young and promising player who would be able to make a positive impact in Houston.