Rockets: De'Anthony Melton will match up against Collin Sexton in second round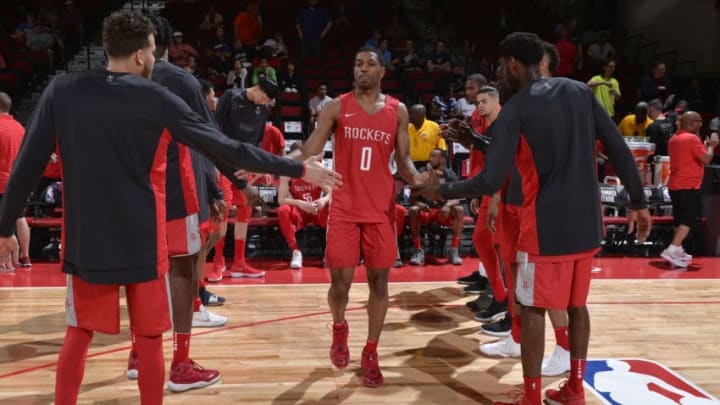 LAS VEGAS, NV - JULY 6: De'Anthony Melton #0 of the Houston Rockets is introduced before the game against the Indiana Pacers during the 2018 Las Vegas Summer League on July 6, 2018 at the Cox Pavilion in Las Vegas, Nevada. NOTE TO USER: User expressly acknowledges and agrees that, by downloading and/or using this photograph, user is consenting to the terms and conditions of the Getty Images License Agreement. Mandatory Copyright Notice: Copyright 2018 NBAE (Photo by David Dow/NBAE via Getty Images) /
The Summer League playoffs are well underway, with the Rockets advancing to the second round after a win on Wednesday night.
The Rockets are still undefeated in the Las Vegas Summer League after their most recent win against the Nets a couple days ago. They have been led by rookie point guard De'Anthony Melton, who has been electric in his first professional games.
Melton's stats have been pretty fantastic. He is first on the team in scoring (16.5 points per game), first on the team in steals (2.8 per game) & second, even as a guard, on the team in rebounding (6.5 per game).
His best game came against the Los Angeles Clippers and lottery pick Shai Gilgeous-Alexander. Melton had 26 points, 10 rebounds, 5 assists, 2 steals & a block, playing a great all-around game for the Rockets.
The shooting touch has also been there for the second rounder. He had a rough start in his first game as he was getting used to the speed of the game, finishing 0/6 from 3. However, since then, Melton has been incredible from deep, shooting 10/23 or 43.5%.
A new challenge arises for Melton
De'Anthony Melton has been spectacular so far, but he'll have another challenge as the Rockets enter the second round. They are playing the Cavaliers and No. 8 overall pick Collin Sexton.
Summer Rockets will face the Summer Cavs at 3:30 (CT) Saturday at Thomas & Mack. Good matchup at the point with De'Anthony Melton against Collin Sexton, who went for 25 with seven assists today. https://t.co/n6OjHx30mJ
— Jonathan Feigen (@Jonathan_Feigen) July 12, 2018
Sexton has been great in the Summer League as well, averaging over 18 points with around 3 rebounds and 3 assists, too. Sexton is also a skillful defensive player, so this will be another test for Melton.
This will also be a challenging game for the undefeated Rockets. They are facing a team that has three players averaging over 18 points a night. They will have to come ready to defend and be able to hit their shots. Melton, even when he's struggling, is always ready to play some defense, thankfully.
Next: 3 reasons why James Ennis is a perfect fit
If De'Anthony Melton wants to continue his splash in the Summer League, tomorrow is a big opportunity to do so against a top prospect in Collin Sexton. We can't wait to see how he responds to the challenge.