Houston Rockets: Interview with general manager Daryl Morey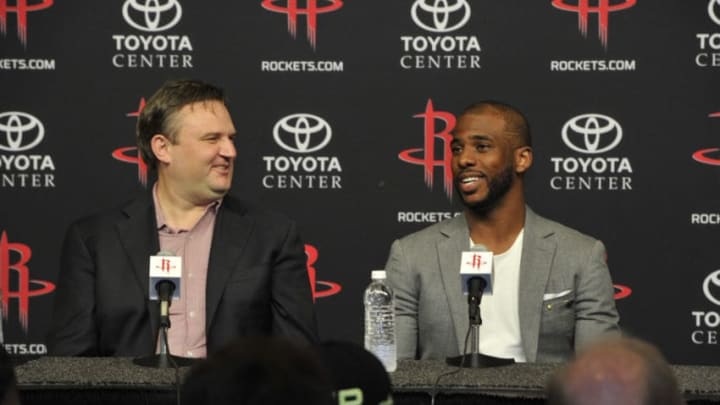 General Manager Daryl Morey of the Houston Rockets introduces Chris Paul as he speaks to the media during a press conference on July 14, 2017 at the Toyota Center in Houston, Texas. NOTE TO USER: User expressly acknowledges and agrees that, by downloading and/or using this photograph, user is consenting to the terms and conditions of the Getty Images License Agreement. Mandatory Copyright Notice: Copyright 2017 NBAE (Photo by Bill Baptist/NBAE via Getty Images)
HOUSTON, TX – JULY 14: General Manager Daryl Morey of the Houston Rockets introduces Chris Paul as he speaks to the media during a press conference on July 14, 2017 at the Toyota Center in Houston, Texas. NOTE TO USER: User expressly acknowledges and agrees that, by downloading and/or using this photograph, user is consenting to the terms and conditions of the Getty Images License Agreement. Mandatory Copyright Notice: Copyright 2017 NBAE (Photo by Bill Baptist/NBAE via Getty Images)
I had a fantastic opportunity to interview the general manager of the Houston Rockets and NBA Executive of the Year, Daryl Morey. He provided some great answers and information about the summer and upcoming season, as well as some non-Rockets related subject matter.
Let's dive right into the questions that I was able to ask Daryl regarding a wide array of topics! It was a great time talking to him.
Michael Knight: First off, one of the most important things of the offseason was the re-signing of Chris Paul. His first year next to Harden was quite successful, to say the least. How do you think they'll continue to grow as they enter year two together?
Daryl Morey: I think they'll just get better. I think people watched their play together last year and how it improved over time and pretty much peaked in the playoffs. Obviously, the injury to Chris derailed us from reaching our final goal there, but those two, their chemistry, I think, is going to be something people talk about forever in NBA history.
"…but those two [James Harden and Chris Paul], their chemistry, I think, is going to be something people talk about forever in NBA history."
-Daryl Morey
Knight: Like always, the Rockets have had active offseason so far. How are you liking these additions to the team?
Morey: We're really thrilled about Chris Paul being back, obviously that was our No. 1 priority to make that happen. I think one thing that's been our trademark is trying to add players that are a little bit under-the-radar that people don't perceive as good as we think they can be, [Michael] Carter-Williams and James Ennis being two of those and Gerald Green we think in his second season can take another step forward. He was sort of born to play in this offense.
And then we have a rumored move that we can't talk about that people seem to be split on, but people were pretty split on our Chris Paul acquisition last year and that worked out pretty well.
Knight: Time and time again the media seems to be split on the Rockets, but you guys always seem to prove them wrong.
Morey: Yeah, you'd think they would look at history a little bit, but we've had our share of mistakes so it's fair for people to take a critical eye and that's part of the role of people following the game and it's our job to keep, sort of, beating the odds a bit.
Next: Capela update and LeBron going to the West
CLEVELAND, OH – FEBRUARY 3: Clint Capela #15 of the Houston Rockets tries to block LeBron James #23 of the Cleveland Cavaliers during the first half at Quicken Loans Arena on February 3, 2018 in Cleveland, Ohio. NOTE TO USER: User expressly acknowledges and agrees that, by downloading and or using this photograph, User is consenting to the terms and conditions of the Getty Images License Agreement. (Photo by Jason Miller/Getty Images)
Knight: A lot of people are talking about how Clint Capela is still not signed. How are those negotiations going and should we expect a deal anytime soon?
Morey: We can say [the negotiations] are going back-and-forth. I think restricted free agency is pretty difficult. For sure, Clint is going to be a very wealthy guy no matter what happens at the end of all of this. We're looking forward to getting him back on the Rockets as soon as we can.
Knight: What do you think about another superstar, LeBron James, joining the already-tough Western Conference?
Morey: I think until the recent trade between the Spurs and the Raptors that every All-NBA player in the last x-number of years was in the Western Conference. I think the Ringer did the best video on this I've seen in a long time with the Eastern Conference being a bunch of players prancing through lilacs and the Western Conference was a Mad Max kind of world (video referenced).
We're used to dealing with it and, hopefully, next year we do as well as we did last year in terms of navigating a top seed.
Knight: The offseason is far from over. What other additions, besides the one you can't talk about, are the Rockets looking to make this summer?
Morey: I think we're always active in the trade market if we see something. We don't have anything imminent there, but before February we always try to add something to the team. I think that has a decent chance [of happening].
In terms of signings, probably not much left. We do have our past draft picks or recent draft picks to sign so we have to get those done. But signings-wise, I don't think you'll see anything until later in the year in the buyout-type season.
Next: The younger players
LAS VEGAS, NV – JULY 9: Vincent Edwards #6 of the Houston Rockets helps De'Anthony Melton #0 of the Houston Rockets from the floor during the 2018 Las Vegas Summer League on July 9, 2018 at the Thomas & Mack Center in Las Vegas, Nevada. NOTE TO USER: User expressly acknowledges and agrees that, by downloading and or using this Photograph, user is consenting to the terms and conditions of the Getty Images License Agreement. Mandatory Copyright Notice: Copyright 2018 NBAE (Photo by Garrett Ellwood/NBAE via Getty Images)
Knight: Speaking of those younger draft picks, what has impressed you the most about De'Anthony Melton so far? He's looking like a real steal.
Morey: Everyone says this, but it's true: We were very high on Melton and were thrilled when he was available. We were trying to move up to get him and it's a good thing that we didn't. We were high enough on him to make sure we got him.
He was one of the better Summer League players we had. That can go both ways, though. We had Carl Landry years ago do badly and then he ended up being one of the best draft picks and we've had guys who have done great and tailed off. His work ethic will be very important and he's going to have to show us what he can do in training camp and beyond. But so far, he's impressed the coaching staff, which is half the battle as a young player.
Knight: What roles do you expect [Melton] and Vince Edwards to have next year with the Rockets? Will they have opportunities to earn some minutes or will they mostly tune their skills in the G League?
Morey: We were a 60-win team and hope to be a one-seed again and that's a really tough rotation to crack for a young player. So I would say most likely our young players will at least get a year in the minor leagues, similar with how it happens with baseball. But you know, we've had some surprises, guys like Chandler Parsons contributing right away. It's not out of the question, but it's very long odds to be a first-year player and contribute on a 60-win team.
Next: General questions and eSports talk
HOUSTON, TX – June 1: Houston Rockets GM Daryl Morey is interviewed as the Rockets announce D'Antoni as their new head coach on June 1, 2016 at Toyota Center in Houston, Texas. NOTE TO USER: User expressly acknowledges and agrees that, by downloading and or using this photograph, User is consenting to the terms and conditions of the Getty Images License Agreement. Mandatory Copyright Notice: Copyright 2016 NBAE (Photo by Bill Baptist/NBAE via Getty Images)
Knight: You obviously work pretty much around the clock with the draft and free agency. Has that calmed down a bit at this point in the offseason or are you still having long days?
Morey: It's better, pretty much from the second week of June to the middle of July it is, what you said, pretty much a 24/7 affair. After the middle of July, once most of the big free agents are off the board and most of the money has been spent, it does slow down a bit.
Knight: Yeah, I saw that you were at the eSports event and the Dodgers game. I also saw your post about being on a boat, right?
Morey: Yup, captaining a boat. These are all very important things that I need to be doing.
Knight: What's been your favorite non-Rockets thing this offseason?
Morey: There hasn't been much [non-Rockets stuff], but I'm really, really excited about our Clutch Gaming franchise, so probably anything related to that. I think eSports are going to be right there with the NBA in the future in terms of overall fan interest and ability to draw eyeballs, so that's something I watch as a fan and I wish I could get more involved and try to help but that's why we've got some good people who are running that.
Knight:  Besides winning the ultimate goal of a championship, what other aspirations do you have for the team this year?
Morey: I think the main thing is that getting the one-seed is important, so we're going to be shooting for that again. I think to take down Golden State, which is arguably the best team that's ever played NBA basketball, you're probably going to need homecourt. We do think the one-seed is important, so we'll be shooting for that. I think taking it one step at a time, that's the next goal and to have a great regular season again to put ourselves in the best position to knock off all these tough Western Conference teams.
Next: Melo taking the minimum creates flexibility
Thanks again to Daryl Morey for the interview! He definitely shared some great and interesting things about the upcoming season and the rest of the offseason.