Rockets: Tilman Fertitta "would love" to add Jimmy Butler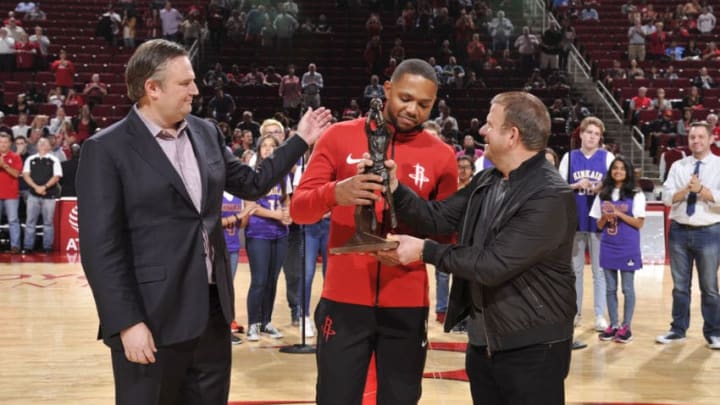 HOUSTON, TX - OCTOBER 23: The Houston Rockets new owner Tilman Fertitta and GM Daryl Morey present Eric Gordon #10 of the Houston Rockets with the 6th Man of the Year Award before the game against the Memphis Grizzlies on October 23, 2017 at the Toyota Center in Houston, Texas. NOTE TO USER: User expressly acknowledges and agrees that, by downloading and or using this photograph, User is consenting to the terms and conditions of the Getty Images License Agreement. Mandatory Copyright Notice: Copyright 2017 NBAE (Photo by Bill Baptist/NBAE via Getty Images) /
The owner of the Houston Rockets specifically name-dropped a player that has been in the news in recent weeks: Jimmy Butler.
Tilman Fertitta fears no tampering fine. He recently spoke about wanting to add superstar Jimmy Butler to the Houston Rockets if given the opportunity to do so this offseason.
Butler has been in all sorts of trade rumors this offseason surrounding who he will suit up for next season. He still hasn't played a preseason game with his current team, the Timberwolves, and just recently returned to tell them once again to trade him.
Jimmy Butler has returned to Minnesota and reiterated his trade desire in a meeting with president/coach Tom Thibodeau on Monday, league sources tell me and @JonKrawczynski.
— Shams Charania (@ShamsCharania) October 9, 2018
His displeasure with Minnesota has made several teams interested in his talents, including the ever-aggressive Rockets. That extends throughout the organization as team owner Tilman Fertitta has this to say to SB Nation's Steven Godfrey:
"We would love to see Jimmy come home to Houston…We're not going to give up unreasonable assets, to break up this team, to get Jimmy Butler. But we would love to have him."
Unreasonable assets
The main thing that sticks out from Fertitta's quote is that he is not willing to give up "unreasonable assets" to get the All-Star. The current trade rumor is that the Rockets are not willing to give in and trade P.J. Tucker in the deal. Is this the asset that Fertitta is discretely discussing?
It could also mean that the Rockets don't want to give up the main asset in the deal, Eric Gordon. While he would be tough to trade, the deal wouldn't go down without his inclusion in it. If the Rockets aren't willing to trade EG, then they are not going to get Jimmy Butler (barring a Daryl Morey miracle, which is always possible).
By the looks of things, the Timberwolves are being very stingy in their demands for the four-time All-Star, as they have every right to be. They traded a great deal to acquire Butler, and they probably want to make sure they get their fair share on the way out. Still, they must give in to one team's demands if they want to get him off their team like he is requesting.
The Miami Heat are the other main competitor to the Rockets in this deal. They have been aggressive as well, but have been unwilling to include their young player Josh Richardson. Should they fold to the demands of the Timberwolves and add him to the trade, that's likely where Butler will be traded.
If the Rockets don't get Jimmy, there's no need to worry. This team is constructed very well with or without him.