What the Rockets did well against the Pelicans in opening loss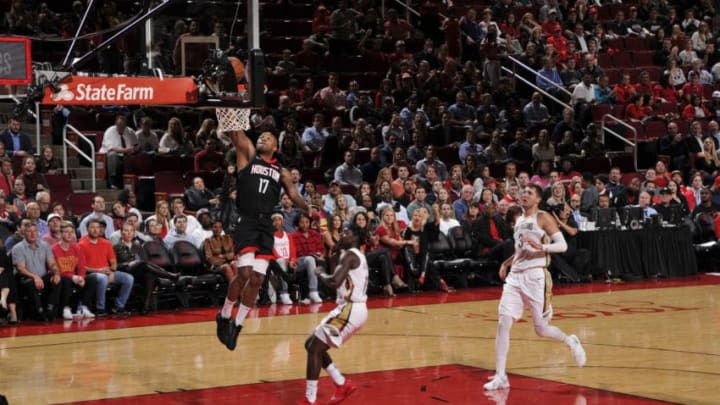 HOUSTON, TX - OCTOBER 17: PJ Tucker #17 of the Houston Rockets shoots the ball against the New Orleans Pelicans during a game on October 17, 2018 at Toyota Center, in Houston, Texas. NOTE TO USER: User expressly acknowledges and agrees that, by downloading and/or using this Photograph, user is consenting to the terms and conditions of the Getty Images License Agreement. Mandatory Copyright Notice: Copyright 2018 NBAE (Photo by Bill Baptist/NBAE via Getty Images) /
The Houston Rockets opened their season with an unfortunate loss, but that doesn't mean there weren't some good things that happened. Here are three aspects of Wednesday's game that the Rockets should look to continue as they move forward.
The Houston Rockets didn't play well in Wednesday night's blowout loss to the Pelicans. For a team that many are hoping and expecting to be a top-two seed and make a run at the Warriors in the Western Conference, losing 131-112 in the season-opener is less than ideal, especially considering the game was in Houston.
But just because the squad didn't play well overall, doesn't mean that there weren't some good things that happened.
P.J. Tucker Draining Threes
When the Pelicans swept the Trail Blazers in the first round of last year's playoffs, their defensive strategy was to cover Damian Lillard and C.J. McCollum as tightly as possible and dare anyone else on the team to beat them.
This is exactly what New Orleans did to James Harden and Chris Paul on Wednesday night, holding them both under 20 points and limiting their overall impact.
This left P.J. Tucker, often the one setting ball screens for the Rockets' stars, with open looks all night long as his man went to double the ball-handler.
Here are all of the possessions where Tucker pops as the roll man. Watch the Pelicans defense. pic.twitter.com/VZczVF2K4l
— Dave DuFour (@DaveDuFourNBA) October 18, 2018
As fellow contributor Andy Yanez mentioned, Tucker played really well on both ends of the floor. He shot 6-11 from the field and 4-7 from three-point land in a 19-point effort.
It's likely that other teams will take notice of the Pelicans' defensive scheme. If they do and it's used, Tucker will find himself open more times than not for a trey, so it's important that he continues to knock down the long ball as he did in game one.
Limiting Turnovers
As I watched the Rockets in the preseason, I grew a little uneasy about the frequency with which they were coughing up the ball. I shouldn't have been, of course, as the preseason is, well, the preseason.
Against New Orleans, Houston committed only 12 turnovers, compared to 13.8 in 2017-18 and 19.0 in the preseason, per NBA Stats.
Harden led the team with four, which will be about what he averages this season, while Paul handled the ball well, as usual, turning it over only once.
The low number of turnovers meant that the squad was able to put up a lot of shots, which is promising. The quality of many of those shots certainly wasn't the best, making me cringe more than a couple times, but that will improve as the season progresses.
On-Ball Post Defense
I know, you're probably wondering if I even watched the game. The Rockets were outscored in the paint 76-44 and Anthony Davis had 32 points, after all. But hear me out.
What I saw on Wednesday was that most of those points in the paint came not as a result of traditional post-ups, but off of lobs, fast-break points, and blow-bys by the Pelicans' perimeter players.
New Orleans did score a few buckets off of post-ups, but not nearly as many as one would expect against the small-ball Rockets, even when Houston didn't have a big man on the floor. Chris Paul was pesky down low, Carter-Williams and James Ennis both held their own and effectively contested most shots inside, and Harden has always been an extremely underrated post defender.
Last season, James Harden allowed the fewest Post-Up Points per Possession (0.73) of any player who defended at least 80 Post-Ups. #KiaTipOff18 pic.twitter.com/s6r90dFfuC
— NBA.com/Stats (@nbastats) October 17, 2018
When the Rockets ran into trouble was when they would double-team Davis for no apparent reason, most of the time when he was guarded by Tucker. As Jeff Van Gundy mentioned in the broadcast, Tucker is strong and tough enough that he is not going to get backed down, even by Davis.
When the second defender would come, rotations were either slow or nonexistent by Houston, and Davis would simply find the open man. He finished with a career-high eight assists as a result.
What the Rockets need to do is trust their post defenders, play behind bigs and force them to shoot over the top, giving help only when necessary to avoid leaving shooters open.
Moving Forward
At the very least, this game gave the Rockets a chance to integrate the new pieces they added in the offseason into the lineup. Was it pretty? No. But was a game like this necessary? I think so.
Hopefully, the Rockets can learn from the pros and cons of Wednesday, as well as find their legs as they take on the Los Angeles Lakers on Saturday.