Clint Capela playing at an All-Star level for the Houston Rockets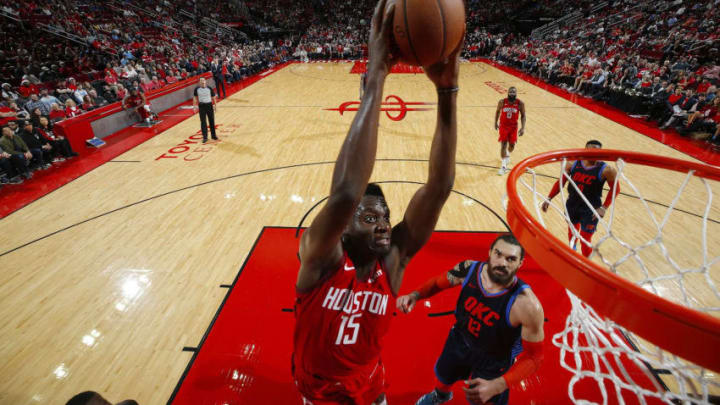 HOUSTON, TX - DECEMBER 25: Clint Capela #15 of the Houston Rockets dunks the ball during the game against the Oklahoma City Thunder on December 25, 2018 at the Toyota Center in Houston, Texas. NOTE TO USER: User expressly acknowledges and agrees that, by downloading and or using this photograph, User is consenting to the terms and conditions of the Getty Images License Agreement. Mandatory Copyright Notice: Copyright 2018 NBAE (Photo by Jeff Haynes/NBAE via Getty Images) /
The young center for the Houston Rockets is enjoying his best season yet. Especially during this hot stretch, he is playing at an All-Star level for the team this year.
The Houston Rockets have gotten a huge boost from center Clint Capela this season. After signing a huge five-year, $90 million extension in the summer, he has lived up to every expectation and improved once again.
While some areas of his game have gotten worse as he's become a bigger player, he has still brought more to the table this year in a bigger role. Every single year in the league, Capela gets better and helps the Rockets more. Could he be rewarded with an All-Star appearance this season?
Conditioning
The main reason for Capela's improvements this year has to do with his conditioning. In the past, the Rockets were unable to play him big minutes because he would tire out quickly and become ineffective. This year is a much different story.
Clint is averaging a career-high (easily) in minutes at 33.7 per game. Previously, his best was last season at 27.5. The six extra minutes per game of his elite rebounding has been a huge reason for the turnaround, aside from the brilliance of James Harden. While his ability to defend guards on the perimeter has dwindled, dropping back on defense has allowed him to become an even more incredible rebounder.
Recent stretch
Recently, he has showed the league that he deserves to be an All-Star. He is averaging 20.3 points and a ridiculous 21.7 rebounds per game over his last three games, all victories without Chris Paul over great teams.
The centers he went up against? LaMarcus Aldridge, Steven Adams & Al Horford. He is showing out, as always, against great centers in the league and proving that he belongs in the conversation.
Earlier this season, he did similar things against Andre Drummond. He played back-to-back games against him and put up 27 points/15 rebounds in the first and 29 points/21 rebounds in the second. He steps up big time against the big time centers.
Can he be an All-Star?
If Clint Capela continues to show out and put up these kind of numbers, it'll be pretty tough to keep him out of the All-Star Game this year. He has easily been the second-best Rocket this year and should continue to do so should Chris Paul play similarly when he's healthy.
Unfortunately, it's tough to see him getting into the game without some help. Karl-Anthony Towns, Rudy Gobert, Anthony Davis & Nikola Jokic all likely have better cases than Capela and are much bigger names. If someone ends up sitting out the game, though, Clint maybe could find his way in.
Let's hope that Capela continues to play strong and help the Rockets win games, All-Star or not. He'll face off against Anthony Davis tonight at 6:00.