Houston Rockets: Kenneth Faried at the power forward position?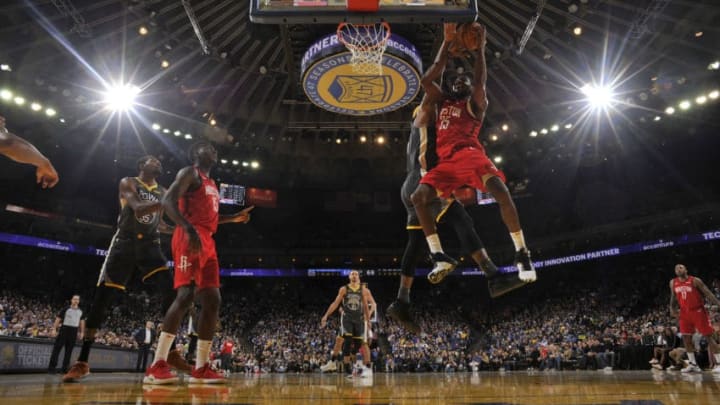 OAKLAND, CA - FEBRUARY 23: Kenneth Faried #35 of the Houston Rockets shoots the ball against the Golden State Warriors on February 23, 2019 at ORACLE Arena in Oakland, California. NOTE TO USER: User expressly acknowledges and agrees that, by downloading and or using this photograph, User is consenting to the terms and conditions of the Getty Images License Agreement. Mandatory Copyright Notice: Copyright 2019 NBAE (Photo by Bill Baptist/NBAE via Getty Images) /
The Houston Rockets have been using an unorthodox lineup for their roster construction in the last couple of games, and it has surprisingly worked. Can they continue to find success with it?
The Houston Rockets found themselves in trouble when center Clint Capela went down with an injury in the middle of January. An already-poor rebounding team was losing their top rebounder and there were questions on where they could find the production on the glass.
They ended up taking a chance on the overlooked Kenneth Faried, who had hardly been used since he's Team USA days with the Denver Nuggets. Faried was riding the bench for the mediocre Brooklyn Nets and couldn't find any minutes. They bought him out and he signed with the Rockets.
The Manimal has thrived here. In 14 games, 12 of them starts at a somewhat new position for him, center, Faried is averaging career-highs of 16 points and 9.9 rebounds a night on 60.9% shooting.
With Clint Capela back, though, he has been relegated back to the bench. At first, it seemed that he would just become the backup center and take the minutes of Nene, but the Rockets might have some bigger plans for him as the team has tried him out at his natural position.
Kenneth Faried at power forward for the Rockets?
Before the game against the Lakers, Coach D'Antoni made it clear that the Rockets would try some lineup combinations that saw Kenneth Faried move back to his natural position at power forward. This was a confusing announcement and one that kind of took everyone by surprise.
The Houston Rockets are an organization that values their spacing around James Harden and Chris Paul. That allows them to drive freely and kick it out to both corners if needed with shooters that have a good chance of knocking down the shot. For the team right now, P.J. Tucker is the guy that starts at power forward and he has a high percentage from the corner.
Faried is not someone who has historically been able to fill that role. He's a high energy guy that can bring hustle and heart to a team, along with some incredible offensive ability around the rim. That's the key, though, around the rim. Before coming to Houston, he had made three total 3-pointers in his entire career.
Shooting ability
The Rockets have apparently found that he actually has a pretty decent shot. He's been allowed to freely shoot from deep and is 5/11 from out there, including 2/4 last night in a big win over the Warriors and 1/1 against the Lakers.
Much of this shooting has come when he is playing power forward. His size advantage over P.J. Tucker is nice to have out there for added rebounding and hustle, and now he can knock down shots, apparently. If he's able to keep that up, that's a dangerous weapon to have off the bench as the Rockets head down the stretch of the season.
✔️ @KennethFaried35's second 3 of the night ✔️ @CP3 13 assists pic.twitter.com/NmG4yfzgm7
— Houston Rockets (@HoustonRockets) February 24, 2019
Two bigs
He's now found minutes next to both Clint Capela and Nene during the last couple of games. Houston has used the two-big lineup in the first half of the Lakers game when they held a big lead and occasionally throughout the night against the Warriors yesterday.
Clint Capela is liking the new combination, per Alykhan Bijani of the Athletic:
.@CapelaClint on playing w/ @KennethFaried35: "It's different. When I run, I see another Big running. When I jump for the rebound, I always see him behind me. I feel like there's two of me on the court. It's funny sometimes. I think especially on the rebounding, it's huge."
— Alykhan Bijani (@Rockets_Insider) February 24, 2019
That added rebounding is something that Rockets have missed all season long. Can the combination of two bigs help solve that problem? We'll have to see if this adjustment to the offense of the Rockets is something that is sustainable. If so, Kenneth Faried should be in the plans of the team for years to come.