Houston Rockets will sign Terrence Jones to another 10 day contract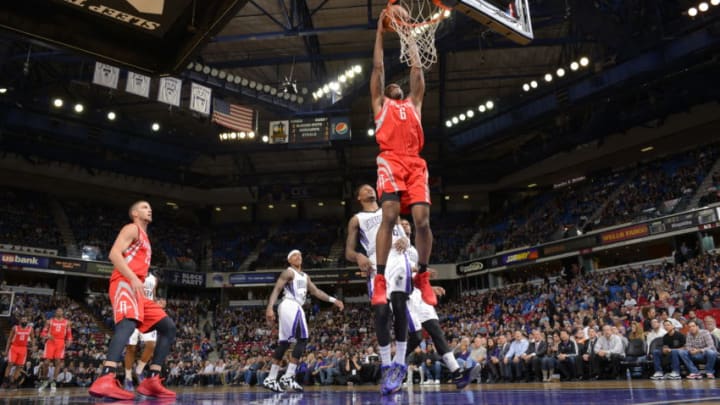 Terrance Jones #6 of the Houston Rockets dunks the ball against the Sacramento Kings (Photo by Rocky Widner/NBAE via Getty Images) /
The Houston Rockets plan to bring back Terrence Jones on another 10-day contract as the forward tries to lock down a spot on the final roster.
Houston Rockets GM Daryl Morey is always scanning the buyout market for a player that could help improve the team's depth.
He has already struck gold this season, signing Kenneth Faried and Austin Rivers, who stepped up when Clint Capela and Chris Paul were out with injuries and have played well in the second unit.
Since the Rockets are nearly back at full health and are playing well, it appeared as if Houston was finished with the buyout market. However, Morey signed Terrrence Jones to a 10-day contract back on Feb. 22.
The Rockets took Jones with the 18th overall pick back in the 2012 NBA Draft. Terrence Jones spent four years in Houston, averaging 10.4 points and 5.7 rebounds in his stint with the Rockets.
The former University of Kentucky star hadn't played in the NBA since the 2016-17 season. This season, Jones spent most of his time playing for the Erie Bayhawks in the G-League, where he averaged 23.5 points and 9.4 rebounds.
Jones played just 78 seconds in a game against Charlotte last Wednesday. He missed his only shot and failed to record any other stats and the Rockets were out scored by a staggering 8 points in Jones' short time on the floor.
However, the Rockets will sign Jones to a second 10-day contract, according to the Houston Chronicle's Jonathan Feigen.
Rockets to sign Terrence Jones to a second 10-day contract tomorrow, a person with knowledge of the move said. Rockets do not have to re-sign Jones and Chiozza for two weeks to meet the roster requirement, but will keep Jones around.
— Jonathan Feigen (@Jonathan_Feigen) March 4, 2019
P.J. Tucker is second on the team in minutes per game as Houston's starting power forward and Clint Capela is right behind him as the starting center. Kenneth Faried will get some minutes after he returns from injury and Nene will likely get short runs in favorable matchups as well.
That will likely leave Terrence Jones on the outside of Houston's rotation, assuming he gets signed for the rest of the season. Mike D'Antoni rarely plays more than nine guys on a given night and he will likely cut his rotation again when the postseason starts.
Terrence Jones won't see regular minutes for the Rockets, but he is good injury insurance, especially since he is already familiar with James Harden and Houston's system.