Houston Rockets sign Daryl Morey to a five-year extension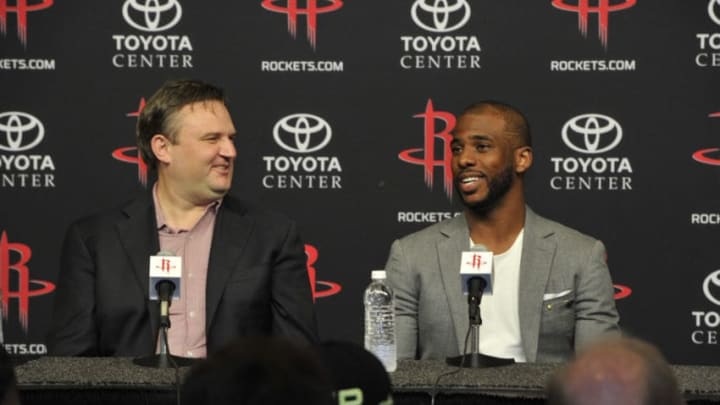 General Manager Daryl Morey of the Houston Rockets introduces Chris Paul as he speaks to the media during a press conference on July 14, 2017 at the Toyota Center in Houston, Texas. NOTE TO USER: User expressly acknowledges and agrees that, by downloading and/or using this photograph, user is consenting to the terms and conditions of the Getty Images License Agreement. Mandatory Copyright Notice: Copyright 2017 NBAE (Photo by Bill Baptist/NBAE via Getty Images) /
The Houston Rockets will be locked in with their general manager for quite some time. They agreed to a five-year extension this morning in a great move for the franchise.
The Houston Rockets have had an above-average product on the court practically every season in this century. A huge part of that success is the consistency and genius of general manager Daryl Morey.
Morey has been a huge proponent of bringing analytical thinking and playing into basketball, and that shows to this very day with the style of play the Rockets have. Houston has never been under .500 since he joined the team in 2006-07 and have been to the playoffs in six straight seasons (looking like seven this year).
As a reward for all the hard work and success, the Rockets have signed him to a five-year extension, according to Jonathan Feigen of the Houston Chronicle.
This deal will also make him one of the wealthiest GMs in the league. While the details haven't been/won't be released, here's what Feigen also had to say about the money aspect of it.
Fertitta did not go into details, but he did make one point clear: "This makes Daryl one of the highest paid general manager in the league, which he rightfully deserves."
— Jonathan Feigen (@Jonathan_Feigen) March 13, 2019
This year
Like the rest of the aspects of the season for the Houston Rockets this year, it's been a rollercoaster for Morey in 2018-19. Despite a rough offseason where most of the role players signed didn't pan out, he's recovered and is putting together a fantastic year.
Midseason additions of Danuel House Jr., Austin Rivers and Kenneth Faried have brought a spark to the team and helped them win games. Iman Shumpert is still someone that has the potential to contribute, as well. These additions, along with the greatness of James Harden, definitely fueled the turnaround that the Rockets had to be in such a good position right now (No. 3 seed in the West).
Daryl Morey caught a lot of flack from the media and fans after the failed signings of Carmelo Anthony and Michael-Carter Williams, along with letting go Trevor Ariza and Luc Mbah a Moute. However, it's looking like that was for the better as this team right now is extremely dangerous.