Chris Paul says he never requested a trade from the Rockets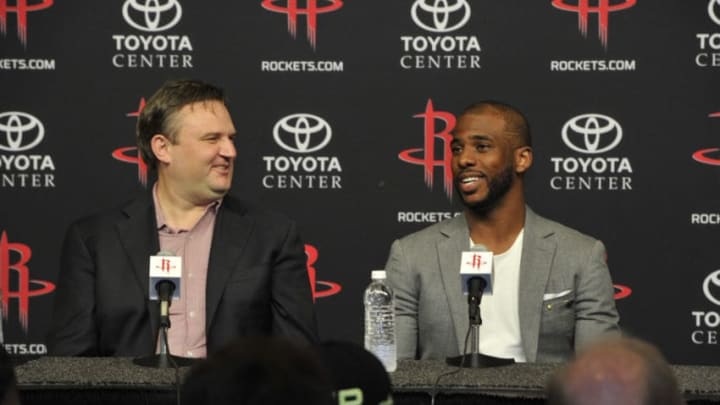 General Manager Daryl Morey of the Houston Rockets introduces Chris Paul as he speaks to the media during a press conference on July 14, 2017 at the Toyota Center in Houston, Texas. NOTE TO USER: User expressly acknowledges and agrees that, by downloading and/or using this photograph, user is consenting to the terms and conditions of the Getty Images License Agreement. Mandatory Copyright Notice: Copyright 2017 NBAE (Photo by Bill Baptist/NBAE via Getty Images) /
Chris Paul refutes recent reports about him wanting out of Houston, telling reporters that he never requested a trade and that he's happy to play for the Rockets.
The Houston Rockets and Chris Paul have each been in the news recently for various reasons.
Last week, rumors surfaced that Chris Paul wanted out of Houston. Another report described a fractured relationship between James Harden and Paul, signaling that this current era would soon come to an end. Another report even claimed that the Rockets tried and failed to make a deal with the New York Knicks involving Chris Paul.
Chris Paul set the record straight during a recent interview, telling the Houston Chronicle's Jonathan Feigen that he never demanded a trade from the Rockets and that he felt happy to be in Houston.
The Rockets should also be happy about being re-united with Paul for several reasons.
For starters, the Golden State Warriors, who have won the last five Western Conference Finals and ended the Rockets season four of the last five years will certainly not look the same. Both Kevin Durant and Klay Thompson will both miss significant time while recovering from an Achilles injury and an ACL injury, and they are both set to become free agents within a week. There's no guarantee either of them will be the same player post-injury or if either of them will even re-sign.
There are also questions on whether DeMarcus Cousins will return for another season, as he initially signed for the mid-level exception while recovering from an injury of his own. Cousins will likely be able to land a larger contract of his own after flashing glimpses of his normal self.
In addition, Chris Paul, who is known to be an immense competitor, is coming off arguably the worst season of his career and will certainly be out to prove he still is capable of playing at an elite level. Not to mention the fact that his name has been mentioned as someone who the Rockets were open to moving, I would certainly expect Chris Paul to come back with a vengeance.
On top of this, the Rockets will likely be wanting to play for coach Mike D'Antoni, who is a player's coach, depending on how his contract situation plays out. When you throw in the fact that the Rockets are seeking to add an additional star, such as Jimmy Butler, there are plenty of reasons for Rockets fans to be excited next season.