Houston Rockets: How Westbrook is already proving doubters wrong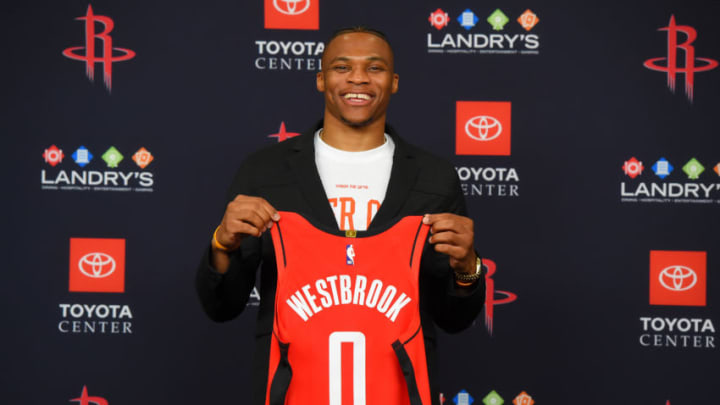 Russell Westbrook #0 of the Houston Rockets (Photo by Bill Baptist/NBAE via Getty Images) /
Immediately after the Houston Rockets landed Westbrook, the doubters arose out of the ashes. Here's how he's already begun to silence the critics.
By now you know the Houston Rockets have acquired former MVP Russell Westbrook. The Rockets officially introduced him on Friday, July 26th, which officially meant the Rockets organization was permitted to speak about Westbrook and the trade more. They spoke about the trade when it was still unofficial and were fined with tampering.
But as someone who watched the entire press conference, I found myself impressed with Westbrook already. Sure, there hasn't been a single game played yet, but Westbrook's attitude and mentality are what stood out to me the most.
The hate
After the trade was agreed upon, the wave of doubters and critics came pouring in. None more than Jason Whitlock of Fox Sports on his show Speak for Yourself. Whitlock cited the trade as being dumb due to the ball neediness of Westbrook and Harden and their lack of interest in sharing the ball. He also labeled the pair as being stubborn and labeled Westbrook a narcissist.
Westbrook essentially put this to bed during his presser, stating how he knows you have to be willing to sacrifice in order to win a championship. He also spoke about not needing to touch the ball to impact the game, which spoke even louder to his willingness to not have the ball in his hands. He also re-lived the Oklahoma City days when he and Harden were teammates and Harden would close the game out or be the primary ball-handler, adding that he is totally okay with that. Westbrook closed the presser out referencing his desire to constantly improve his game and add more to his craft, which speaks to his willingness to get better.
But I thought Westbrook was a selfish player right? How could it be possible that he's willing to not be the closer? Or better yet, Westbrook was stubborn right? If that's the case, how is it possible that an 8-time All-Star is constantly seeking ways to improve? Or what about him being a narcissist? How could he be that when his focus is on helping the team get better and delivering a championship to the city of Houston?
Westbrook put this to bed in his presser, and although I know there haven't been any games yet, I was happy to see Westbrook already begin to prove his doubters wrong.