Houston Rockets: Will P.J. Tucker ever get the extension he desires?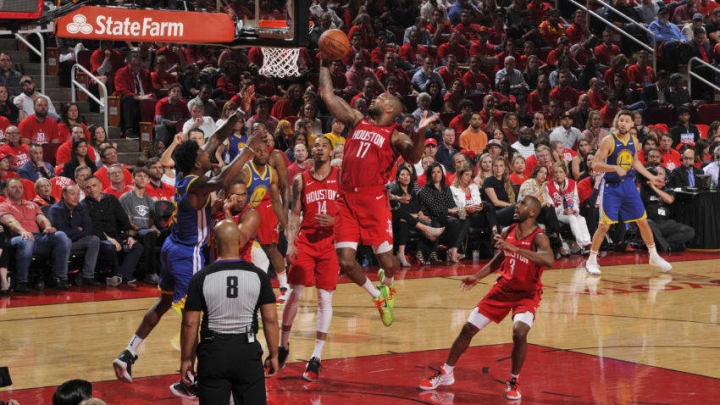 PJ Tucker #17 of the Houston Rockets grabs the rebound against the Golden State Warriors (Photo by Bill Baptist/NBAE via Getty Images) /
Houston Rockets' forward P.J. Tucker deserves an extension, but with 2 years left on his deal, the timing and cap space isn't there.
P.J. Tucker has turned himself into one of the best "3-and-D" players in the NBA. It should come as no surprise for him to want an extension, as he definitely deserves one. Unfortunately for Tucker, with the Rockets signing Eric Gordon for at least 4 more years, the Rockets now have 4 max contracts for the next 4 years.
Tucker clearly has outplayed his 4-year, $32 million extension signed in the summer of 2017. After a lackluster postseason in 2017 with the Raptors, the then 32-year-old wasn't a hot ticket that summer. But the past two years in Houston have been terrific, including two playoff seasons shooting over 45% from three.
Tucker's calling card however is defense. He is legitimately the only "lockdown defender" on the Rockets. With Kawhi Leonard joining the Western Conference, Tucker's hustle and grit will show every time these teams meet. His defense will be important against LeBron James and Paul George also, increasing his value.
Owner Tilman Fertitta has been smoke and mirrors about his willingness to spend money on luxury tax. So Rockets fans shouldn't be shocked if they let Tucker walk in two years.
With James Harden and Russell Westbrook in the fold for the long-term, the Rockets still have flexibility, albeit little with contracts in the future. Clint Capela and Gordon have big seasons coming up. If Capela is unplayable again in the playoffs, especially vs the Warriors, he has to be on the trade block.
The same with EG. Gordon just needs to stay consistent and provide spacing. Occasionally drive to the rim. If his shooting percentages decline, he may be trade bait, although his value on the market could be lower since he'll be 31 making big money for a while.
Capela provides far more trade value because he's still only 25 years old. The Rockets need a center for now but his lack of offensive ability really shows. Lots of other contenders in the NBA have a role player starting at center, such as JaVale McGee/Dwight Howard or Kevon Looney. Looney, who outplayed Capela in the playoffs, resigned with the Warriors, making less than $5 million this season, a stark contrast to Capela's $14 million.
The Rockets will most likely wait at least a year before making any changes. If Capela or Gordon regress, try to flip them while you can. If they don't, you keep them and figure Tucker's contract out later. The Rockets shouldn't even consider trading him. He means too much to this team. Hopefully, if a 36-year-old Tucker is still playing at the level he is now in 2021, he'll be willing to take the veterans minimum.