Can Russell Westbrook be a defensive stopper for the Houston Rockets?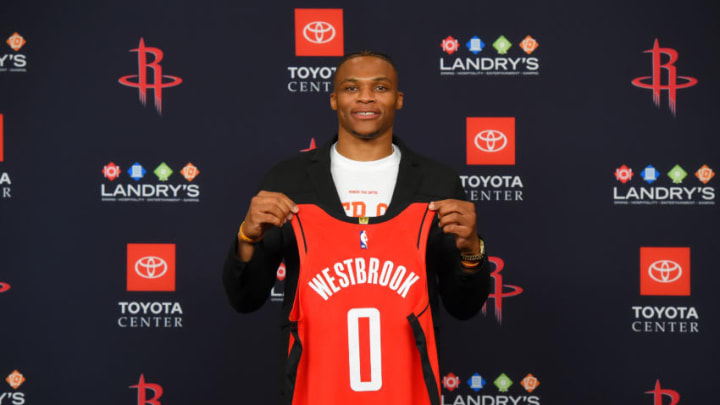 Russell Westbrook Houston Rockets (Photo by Bill Baptist/NBAE via Getty Images) /
While everyone tends to focus on Russell Westbrook's amazing athleticism and impressive offensive game, it's his defense that could make the biggest jump this year for the Houston Rockets.
When the trade for Russell Westbrook was announced this past offseason, the normal narratives surrounded the former MVP. The three straight seasons averaging a triple-double, amazing athleticism, and legendary intensity Russell plays with are all well-known. One aspect of Westbrook's game that has not been discussed enough is his potential on defense.
NBA All-Defensive Team Potential
At UCLA, Westbrook was named Pac-10 Defensive Player of the Year in his sophomore season. At 6-3 and 200 pounds, Russell possesses the lateral quickness and fast hands needed to stay with any point guard in the NBA. The fact that the eight-time NBA All-Star finished tied for fourth in the league in steals (1.9) last season proves he has the ability to excel at playing the passing lanes.
One thing that has been a problem in the last few years for Westbrook has been the offensive workload he has had to carry in the past. Since he has had to push himself so much on that end of the floor, Russell often doesn't have the energy to defend as well as he's capable of. Now paired with another former NBA MVP in James Harden, there will be less of a burden on Westbrook to make everything happen on his own on offense. This should lead to a more committed effort from Westbrook on the defensive side of the ball.
Former NBA player and head coach Earl Watson agrees with Westbrook benefitting from a more balanced offense, as he recently discussed in an interview on the Maybe I'm Crazy podcast with Joy Taylor (defensive comments start at 2:05.)
https://twitter.com/maybeimcrazypod/status/1159490444343955456?s=20
Russell Westbrook's defensive fit with the Rockets
Two years ago, the Rockets finished tied for sixth in the NBA in defensive rating, which led to a franchise-best 65 wins. Last year, the defense slipped, pushing the Rockets to the middle of the pack. Chris Paul, even at his age, was still a decent defender and his void must be filled. Even with Harden's improved defense, he will never be known as an elite one-on-one defender, so Westbrook must improve his overall defense in order to pick up some of the slack.
The Rockets are generally a team that switches often on defense, even though they did it less on average last year. Great athleticism and physicality should help Westbrook adapt to playing better defense quickly. Also, with Oklahoma City playing a similar style of defense the last few years, there shouldn't be much of a learning curve.
What to expect from Russell Westbrook
In Westbrook, the Rockets are getting a dynamic triple-double machine who can take over a game by himself, which will undoubtedly make Harden's job much easier on the offensive end. The question that remains is if Russell Westbrook can return to the defensive form that won him Pac-10 Defensive Player of the Year in college. If he's able to do that, the Rockets will be getting the most complete Russell Westbrook anyone has ever seen.
This could be the year that Westbrook becomes one of the best two-way players in the NBA.