Has Ben McLemore earned a spot in the Houston Rockets' starting lineup?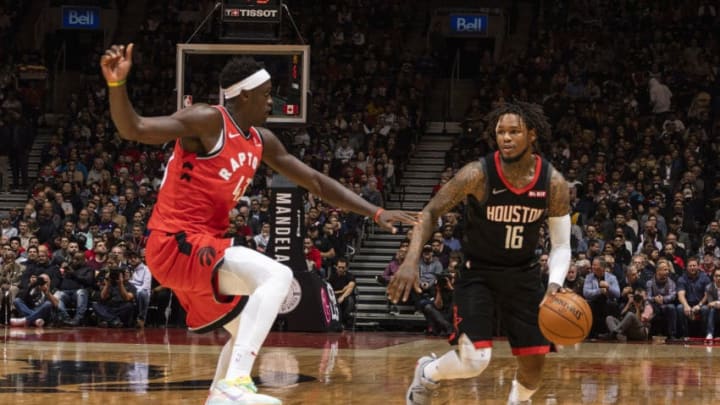 Houston Rockets Ben McLemore (Photo by Mark Blinch/NBAE via Getty Images) /
Houston Rockets reserve forward Ben McLemore has been on a tear lately, which begs the question of whether he should be starting. Here's why he deserves to be considered!
In past years, the Houston Rockets have lacked bench depth, which has contributed to coach Mike D'Antoni's rotations, as he constantly opts to play the same six players essentially all game. This year has been a bit of a different story, as the Rockets have found bench depth in the unlikeliest of places: Ben McLemore.
McLemore who was once a lottery pick and essentially found himself out of the league after six seasons. Prior to this season, the 26-year-old had seemingly run out of options, as the Rockets were one of the few teams who called and inquired about the former Kansas Jayhawk's services.
Prior to the first game of the 2019-20 season, McLemore became the beneficiary of the Rockets' team injuries as Anthony Bennett was released due to knee surgery and Gerald Green was ruled out for the entirety of the regular season due to a broken foot. As if that weren't enough, Eric Gordon played nine games before opting for knee surgery, which has kept him out for a significant amount of time as well.
This has led to an uptick in minutes for McLemore, as he's currently averaging 21.9 minutes per game, which are more than each of his last four years in the league. McLemore got off to a rough start to the year, as he averaged 5.4 points on 33 percent from the field and 31.5 percent from deep over the course of his first 11 games of the season.
But McLemore has been inserted into the starting lineup due to Danuel House's health battles of his own, which has caused McLemore to start seven games in his absence. During the seven games in which McLemore started, the Rockets went 5-2, which is a great sign. Even better, the former Jayhawk has averaged 18 points on 46.6 percent from the field and 40.2 percent from 3-point range during that span.
More from Space City Scoop
Over the course of the last seven games, McLemore has averaged 16.1 points on 43.3 percent from the field and 37 percent from downtown, which has been a huge plus for a Rockets team which has been playing without Danuel House. McLemore even had a double-double against the Atlanta Hawks, as he had 24 points and a team-high 13 rebounds. McLemore's 28 points against the Toronto Raptors were a Rockets' team-high, which is impressive considering that he only had 18 shots. Not only that, McLemore hasn't missed a free throw in the last ten games.
During Saturday's victory over the Phoenix Suns, McLemore had 27 points, which were second-best on the Rockets, and he did it on only 15 shots. Not only that, McLemore played 29 minutes compared to starter Danuel House who played 30 minutes and had only two points. During that same game, McLemore made five 3-pointers, which were a game-high as well.
All in all, it's a great problem for the Houston Rockets to have, as they could either start McLemore or House, but House is the much better defender. However, Eric Gordon will be returning from injury soon and he will surely end up returning to the starting lineup, which will leave the Rockets with a bench of House, McLemore, Austin Rivers and Chris Clemons. This will be a much deeper lineup than the Houston Rockets have had in recent years, and it will surely give Russell Westbrook a plethora of shooters to feed.
In the meantime, the Rockets should consider starting McLemore but if he continues this level of play, he may end up forcing them to make that move.