Should the Houston Rockets really want to end the Westbrook experiment?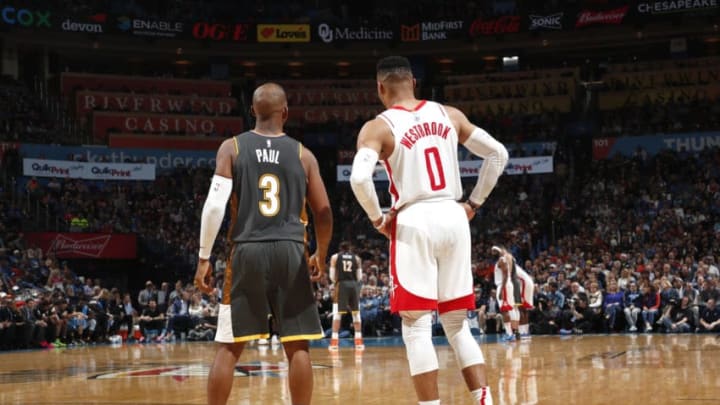 Chris Paul Russell Westbrook(Photo by Jeff Haynes/NBAE via Getty Images) /
With rumors swirling regarding Houston Rockets General Manager Daryl Morey wanting to trade Russell Westbrook, let's delve into why this would be a bad idea.
Heading into the 2019-20 NBA season, the Houston Rockets knew it was going to take time for the Russell Westbrook experiment to flourish. Through the 32 games in which Westbrook has played, there have been positives and negatives of having the 2017 MVP on the roster, as the Rockets have seemingly won games because of Russ and lost games in part due to Russ's propensity of taking 3-pointers.
But should the Rockets already want to abort the mission on the Westbrook experiment? The question is raised only because of the recent rumors of Russ being available on the trade block, which was first mentioned by Ryen Russilo of The Ringer, which was explained on his podcast.
Russilo's specific comments on Russ being available are below:
"Of course, Daryl Morey would trade anyone if he thought it made his team better. Of course, he would trade Westbrook if he could get off of that long-term money, if he thought the assets, the sum of the parts was better than having somebody that's considered a top-10 player….But there are people who believe Westbrook is available and that Daryl knows, 'I've got to figure something out here.'"
That's a lot to digest and according to Alykhan Bijani of The Athletic, the reports aren't true, but let's play devil's advocate and pretend the rumors are true. Would it be wise for Rockets General Manager Daryl Morey to send Westbrook packing?
We'd first have to ask the question of what exactly have the Rockets seen out of Russ that they shouldn't have expected? We all knew he was a great player but just a bad shooter, which is exactly what we've seen. Over the course of Russ's time with the Thunder, he had a career true shooting percentage of 52.9 percent, which is slightly better than the 50.6 percent he's had during the 2019-20 season. Despite that, Westbrook has been the other half that James Harden has never had in Houston, which is evident by their historical scoring numbers, which is part of why Morey made the decision to trade for him in the first place.
Granted, Westbrook isn't efficient, but that also shouldn't have been a surprise either, if we were factoring in his previous 11 seasons with the Thunder. The Rockets have actually gotten a better version of Westbrook than the Thunder got last season, as his scoring and his true shooting percentage have both increased year-over-year, not to mention his free throw shooting, which was a big concern heading into the season.
The issue is the fact that everyone is comparing Westbrook to former Houston Rockets guard Chris Paul, which is ludicrous considering how they are incredibly different players. We all knew CP3 was a more efficient shooter, which is evident in his true shooting percentage (59.9 percent compared to Russ's 50.6 percent) and 3-point percentage (37.5 percent compared to Russ's 23.2 percent) being immensely higher than Westbrook's, but that doesn't mean Westbrook can't provide value to the Houston Rockets, which is evident in how Westbrook is the first Houston Rockets' player besides James Harden to score 40 points since Harden was acquired.
Westbrook plays a large part in the Rockets' playing with the second-fastest pace in the league this season, which Houston Rockets' owner Tilman Fertitta spoke about on ESPN's First Take prior to the start of the season. No matter what, Rockets' Nation will always compare Westbrook to Chris Paul, seeing as both players were traded for one another, and CP3's play this season is the cause for so many people being unhappy with the trade.
The truth is, CP3 is having a season that he didn't even have in Houston, as his field-goal percentage is better and his turnover numbers are lower than they were in either of his two seasons with the Houston Rockets. But beyond the CP3 comparisons, who can the Rockets realistically expect to bring in to play alongside Harden, if not Russ? It's well known that Harden is a volume shooter, and not everyone would be okay with that, including Chris Paul.
In addition, the chances of success drop significantly when you acquire a star player midway through the season, which is exactly what the Rockets would be doing if they moved Westbrook now.
Russilo mentioned Westbrook's massive contract being a point of concern for Morey, but what former MVP doesn't have a hefty salary? There were the exact same complaints about Chris Paul's contract from Rockets' fans just last season, so how is this any different?
At the end of the day, there are numbers that justify the Westbrook trade and there are CP3's current numbers that justify that the Rockets should never have made the trade. But if people are using CP3's play this season as proof that the Rockets need to end the Westbrook experiment, that's a significantly flawed argument.
And if people are thinking the Rockets will be better by trading Westbrook mid-season, that's also incredibly erroneous. Fortunately Russilo's speculation isn't true.