Rockets praise Chris Paul's leadership, role in NBA's return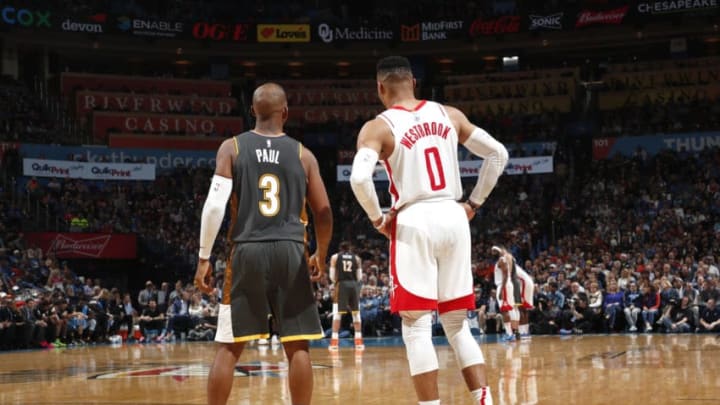 Chris Paul Russell Westbrook(Photo by Jeff Haynes/NBAE via Getty Images) /
Chris Paul #3 of the Oklahoma City Thunder and Russell Westbrook #0 of the Houston Rockets (Photo by Jeff Haynes/NBAE via Getty Images) /
The Houston Rockets' alumni offered praise to former Rockets guard Chris Paul's role in the NBA's return to the season in spite of the COVID-19 pandemic.
Former Houston Rockets guard Chris Paul had a successful run in the Space City, as he nearly lifted the Rockets to the NBA Finals during the 2017-18 season. CP3's injury is undoubtedly one of the biggest what-if moments in franchise history, as the Rockets were well on their way to beating the superteam Golden State Warriors during that postseason.
Prior to the 2019-20 season, The Point God was dealt to the Oklahoma City Thunder in exchange for Russell Westbrook, and many in the national media believed OKC wasn't going to make the playoffs with CP3. This wasn't exactly a terrible take, considering how the Thunder parted ways with Westbrook and Paul George, who had both been MVP candidates at one point or another.
But OKC finished with the fifth seed in the Western Conference, as they went 40-24 with the Point God. This season, CP3's leadership has been on display more than ever, as he was the only All-Star on a Thunder roster that was said to be rebuilding.
But Paul's leadership also extends off the court, as he's the President of the NBA Player's Association, which makes him the voice for the players across the league. Paul's success in this role has been on display during the NBA's hiatus, as he played a part in the league returning to the court following the hiatus.
Next: Bullard praises CP3