Rockets: Why Russell Westbrook for Chris Paul was a disaster from the start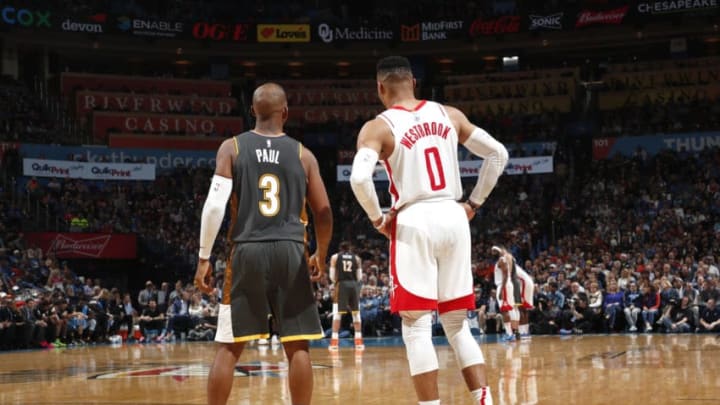 Chris Paul Russell Westbrook(Photo by Jeff Haynes/NBAE via Getty Images) /
Russell Westbrook and Chris Paul (Photo by Ethan Miller/Getty Images) /
The Houston Rockets trade of Chris Paul for Russell Westbrook was doomed from the beginning, as Paul is simply a better player than Westbrook.
The Houston Rockets walked off the court once again short of their championship aspirations, but the 2019-20 season was supposed to be different. In a last-ditch effort to finally surround James Harden with enough talent to snag that elusive championship, the Rockets traded Chris Paul, along with a cachet of assets to the Oklahoma City Thunder for Russell Westbrook. The idea of a dual MVP backcourt powering the Rockets to glory was certainly seductive, but has proven to not be enough.
The narrative at the time of the trade was that the Houston Rockets had upgraded their roster. At the conclusion of the regular season, the Rockets held a 61.1 win-percentage, down from last year's 64.6 win-percentage. The Rockets once again made it to the second round of the playoffs, only to be eliminated by a title favorite.
A season after trading for Russell Westbrook, it's not clear the Rockets are any better and they're arguably worse. The Rockets were on the cusp of greatness and tried to push just a little bit higher, and just like Icarus, they may have cost themselves the glory they covet so desperately.
Next: Chris Paul, an all-time great
Chris Paul (Photo by Kim Klement-Pool/Getty Images) /
Russell Westbrook was never even in Chris Paul's league
First things first, Chris Paul is better at basketball than Russell Westbrook. This may be a hot take for some but the gulf in production leans staggeringly in favor of Paul.
He holds a statistical edge in almost every phase of the game over Westbrook. The only areas where Westbrook bests Paul are in usage percentage and total rebounding percentage, and usage percentage is not exactly a metric that portents skill.
Games    TS%     AST%     REB%     STL%     TOV%    USG%     WS       WS/48
Paul:               1020    58.2%   45.6%    7.5%      3.3%      13.2%    23.9%   180.3     .243
Westbrook:   878      53%      42.3%    11.3%    2.5%      15.7%    32.7%   101.1     .160
Paul's superiority is in his efficiency, while Westbrook's is in his volume. Westbrook commands much more of the ball, which explains the massive edge in usage percentage and has led to him having better counting stats than Paul.
Nowhere is this more apparent than in points per game. Westbrook has a career average of 23.2 PPG compared to Paul's 18.5 PPG, but that's on the back of 18.8 field goal attempts per game to Paul's 13.7. On a point per field goal attempt basis, Paul once again bests Westbrook 1.34 to 1.23. In short, for every 100 shots these two take, Paul is winning 134 to 123.
While Chris Paul's Hall of Fame credentials are unassailable, at 34 years old he is on the back half of his career. Westbrook, meanwhile is only 31, and the conventional wisdom is that he has more high-value seasons left in the tank.
Many treat mid-30's NBA superstars like it's Logan's Run, but the reality is that most players, barring serious injury, have steady declines. Paul and Westbrook are not likely headed for dramatic turns for the worse.
What is more likely is a gradual degradation in production. So while Westbrook almost certainly has more remaining seasons, there is no certainty that they will be more productive ones.
Next: Who's better going forward?
Russell Westbrook (Photo by Michael Reaves/Getty Images) /
Westbrook vs. CP3: Past and present
Russell Westbrook and Chris Paul, conveniently, entered the league at their age 20 seasons. Paul hit the ground running and performed at an All-Star level as a rookie before blossoming into an MVP-caliber player at age 22 and maintaining that form for the next decade, before starting a slow decline.
Westbrook, conversely, started slowly but like Paul, made his first All-Star game in his age 22 season. Westbrook continued to play at a similar level from 22 to 26, before jump-starting a run of three consecutive MVP caliber seasons in 2014-15.
While Paul is definitely in decline, so is Westbrook, and more concerning, Westbrook's decline started much earlier in his career than Paul's. When their win shares are compared, on a year-to-year basis, Paul has been the superior player at every stage and staved off decline in ways Westbrook hasn't.
AGE                   Paul Win Shares (seasons)  Westbrook Win Shares (seasons)
20-22                     37 (05-08)                                 17.5 (08-11)
23-25                    39.5 (08-11)                              24.8 (11-14)
26-28                    38.8 (11-14)                              37.8 (14-17)
29-31                    39.4 (14-17)                              21 (17-20)
32-34                    25.7 (17-20)                              TBD (20-23)
It should be noted how good both Westbrook and Paul have been throughout their careers. Both have spent the majority of their careers producing like a top-10 player, but Paul has spent much more time flirting with the best of the best than Westbrook.
If Russell Westbrook ages like Chris Paul, he'll see his production continue to decline from where he was the last few seasons. The problem for the Rockets is that Paul has been a better player over the last three seasons.
During Paul's two year stint with the Houston Rockets, he produced 16.8 win shares in 116 games, while Westbrook, over the same period, produced 16.9 win shares in 153 games. Paul has shown that when on the court he is still a better player than Westbrook, even at a more advanced age.
His win shares per 48 minutes have outpaced Westbrook every season, and while his availability has waned in recent years, his efficiency more than makes up for it.
AGE               Paul Win Shares/48     Westbrook Win Share/48 20-22                    .217                                   .101 23-25                    .250                                   .180 26-28                    .278                                   .231 29-31                    .263                                   .133 32-34                    .209                                    TBD
Paul, for his career, has averaged .243 win shares per 48 minutes. Westbrook's single best season, 2015-16, was .245 win shares per 48 minutes. Paul, by starting higher, has much more room to fall. Paul won't be an MVP in the 2020s, but Westbrook won't be either, and over the next three seasons, it's likely Paul will be the better of the two.
When looking back at Paul's tenure in Houston, he averaged .218 win shares per 48 minutes. Over that same period, Westbrook averaged .146 win shares per 48 minutes. To make matters even starker is how the 2019-20 season played out.
Paul saw his production rebound from 2018-19, while Westbrook saw his crater. Paul's true shooting percentage increased from 56 percent to 61 percent and his win shares per 48 minutes increase from .172 to .193.
Meanwhile, Westbrook saw his WS/48 drop from .124 to .098. The difference this season between Paul and Westbrook was essentially the difference between Joel Embiid and Jae Crowder. From a production standpoint, this trade hasn't been an upgrade for Houston. However, production, in the NBA, is relative to cost.
Next: The money and draft capital lost
Adam Silver (Photo by Sarah Stier/Getty Images) /
Comparing Contracts
The most defensible component of the trade centered on Paul's contract. Owed almost $80 million over the next two seasons (2019-20 & 2020-21) with a $44 million player option for the 2021-22 season, when he would be 37 years old, you can see why the Rockets would explore trading Paul.
The only problem is that Westbrook is owed almost the exact same amount of money over the same two seasons but with an additional year before he has a player option of $46 million for the 2022-23 season.
The Rockets went from potentially owing a 34-year-old player $124 million over three years to definitely owing a 31 year old $123 million over three years, with a likely fourth year at $46 million. In terms of money, Houston made out worse, and that's even before draft capital is taken into account.
The draft capital surrendered
In order to get Westbrook from the Thunder, the Rockets had to not only surrender Chris Paul but also first-round picks in 2024 and 2026 as well as the right to swap picks in 2021 and 2025. While there are some protections on the picks, that is an awful lot to give up for a player that is neither better nor cheaper. One could argue that 2024 and 2026 are a long way away, and they would be right, but draft picks can easily be used to get things for today.
Whatever marginal upgrade the Houston Rockets felt Westbrook and his contract gave them over Paul can easily be offset by what losing those picks as trade assets costed them. Houston's trade of Paul for Westbrook, on its own, doesn't look good for Houston, but neither Paul nor Westbrook are what make Houston go.
That distinction belongs to James Harden and say what you will about Chris Paul, Rusell Westbrook doesn't make James Harden a better player.
Next: Westbrook never fit next to Harden
James Harden Russell Westbrook (Photo by Tim Warner/Getty Images) /
How Westbrook and Paul fit next to Harden
Harden is possibly the best player in the league and has been for some stretch. He has led the league in scoring the past three seasons and win shares five of the past six. The only players in history to lead the league in win shares in five different seasons are Harden, LeBron James, Michael Jordan, Kareem Abdul-Jabbar, Wilt Chamberlain, and Neil Johnston.
Harden is an iso-heavy usage monster that produces on offense like Michael Jordan (seriously they have the same career offensive rating per 100 possessions at 118). He is the ultimate offensive force and should have the ball in his hands as much as possible, which made the acquisition of Westbrook all the more baffling a decision by the Rockets.
Over the past few seasons, James Harden and Russell Westbrook have been pushing the outer limits of usage for an NBA player. Both have led the league in the metric and been mainstays in the top 10.
Just to hammer home the point, the pair own the two highest single-season usage rates in NBA history. Meanwhile, Paul owns a career usage rate of 23.9 percent, well below both Westbrook at 32.7 percent and Harden at 30.7 percent. An NBA team having two high usage players is not a death sentence, but when both players are at their best when sporting a high usage rate, it is not the most thoughtful roster construction.
During Paul's two seasons with the Houston Rockets, they won 65 and 53 games. While they didn't find postseason success, that had more to do with the Golden State Warriors dynastic run than with their team. Following injuries to Klay Thompson and the departure of Kevin Durant from Golden State, the Rockets' main adversary, at least temporarily, had been vanquished from within. The Rockets had a roster that had almost broken through but instead decided to break it all up.
Next: It didn't have to end like this
James Harden, Chris Paul (Photo by Ezra Shaw/Getty Images) /
The Houston Rockets were still title contenders
The Rockets could have reasonably decided to run it back one more time with Chris Paul in the fold and tried to make a push for a championship just as they had done the previous two years. The addition of Westbrook has not spurned the Rockets to perform any better.
They had a slightly worse winning percentage this year (.611) compared to last (.646), and in a last-ditch effort to maximize their roster traded Clint Capela, Nene, Gerald Green, and their 2020 first-round pick for Robert Covington. That's coupled with Westbrook having his worst season since he was a rookie and Paul bouncing back into the periphery of the top 10.
In the summer of 2012, Houston kicked open a championship window when they acquired James Harden from Oklahoma City in a deal that looked an absolute heist at the time and has proven to be even greater. The Thunder's ill-advised trade propelled the Houston Rockets to the stars and, ironically, it may be another ill-advised trade with the Thunder that will see the Rockets come back to Earth.
Houston got the bad end of the Westbrook for Paul trade in just about every way. They gave up picks and the better player to get a worse player on a worse contract.
The Houston Rockets will tell themselves their championship window is still open, but Harden and Westbrook are 30 and 31 and have logged an incredible amount of minutes. With no draft capital, the Rockets have little ability to add talent.
They are not good enough to win a championship now and need to desperately pursue every possible avenue to improve. The Houston Rockets missed their chance at a championship with Chris Paul, but his departure may mean they'll miss it with Harden too.
Paul for Westbrook was a disaster from the beginning and now the Rockets find themselves like the band on a Titanic. They'll continue to play on, even as a disaster of their own creation envelopes them whole.