3 reasons why the Rockets lost the Russell Westbrook trade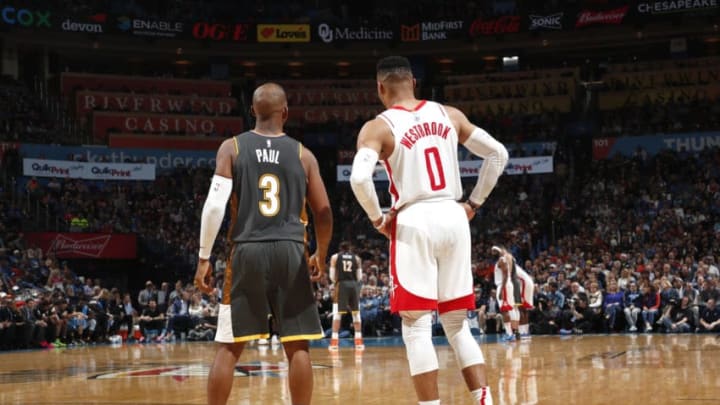 Chris Paul Russell Westbrook(Photo by Jeff Haynes/NBAE via Getty Images) /
James Harden #13 and Russell Westbrook #0 of the Houston Rockets (Photo by Mike Ehrmann/Getty Images) /
1. The Houston Rockets' asset-well is dry as a result
The Rockets loss in this trade may have been more disputable or at the very least, not looked quite as drastic had they only done a straight swap of Paul for Westbrook. However, they lost more than just the Point-God in the deal.
In addition to Chris Paul, the Rockets tacked on their 2024 and 2026 first-round picks as well as pick-swaps in 2021 and 2025. That is quite the haul for a player that did not bring vast improvements in the end.
It also means that acquiring pieces to surround James Harden going forward is considerably more difficult, especially considering Westbrook's gargantuan contract and diminished value in the league. If the Rockets decide to trade Harden as well, they could possibly make up for some of these losses.
But as it stands now, the Rockets have expressed no interest in trading Harden and reports claim that Harden remains committed to the team for this upcoming season. Additionally, even if trading Harden did occur and did result in regaining some assets, that does not speak to the result of the Westbrook-Paul trade.
Not only did the Houston Rockets fall substantially short of their goals in the trade, but they also shot themselves in the foot as far as draft assets are concerned.
There really is no reasonable ground on which to argue that the Houston Rockets won the Westbrook-Paul trade, or even that it was a win for both sides. The Thunder had a competitive season that highly exceeded expectations and have set themselves up for an impressive rebuild.
Meanwhile, the Rockets had a disappointing season, made future pursuits incredibly difficult, and will never see what remained of the potential benefits of the trade come to fruition.
Many fans said it the day the trade happened, but it is time to officially pound the gavel: the Rockets definitively lost this one.