Houston Rockets: After one game John Wall has proved that he's back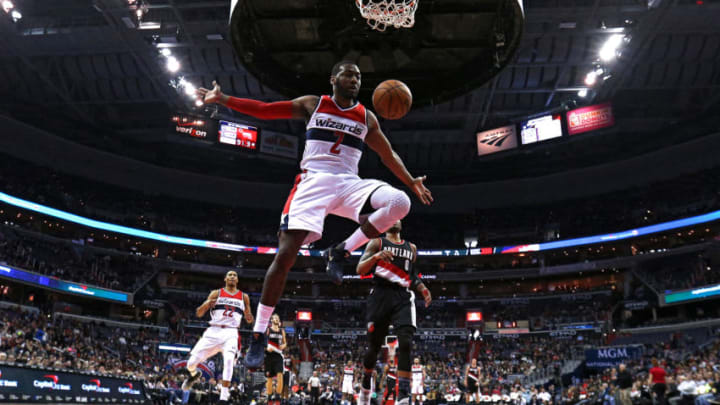 John Wall of the Washington Wizards (Photo by Patrick Smith/Getty Images) /
John Wall of the Washington Wizards (Photo by Win McNamee/Getty Images) /
After one preseason game, the Houston Rockets have to be ecstatic with what they've seen out of John Wall. Here's what he can bring to the table.
After 19 minutes of preseason action the Houston Rockets' newest addition, John Wall, looks primed to regain his All-NBA form. It has been nearly 24 months since Wall last played but the former All-NBA guard looks to be in midseason form.
Wall has endured an injury-plagued spell since signing a max extension with the Washington WiIzards in the summer of 2017. In the three seasons since Wall has played a total of 73 games and missed all of last season recovering from an Achilles injury.
Before Wall found himself spending more time in the training room than on the court he was one of the NBA's most dynamic young point guards. From the 2013-14 season through the 2016-17 season Wall averaged 20 points and 9.9 assists a game while making four All-Star teams.
As he entered his age 27 season, most players prime years, Wall looked poised to contend for multiple All-NBA teams and possibly join the MVP conversation. However, Wall's body began to break down and his play, as well as his reputation, suffered.
The four-year $170 million extension meant to make Wall a Wizard for life became one of the league's worst contracts and made his exit appear to be in the best interest of the franchise. When the Rockets swapped him for Russell Westbrook, fresh off an All-NBA selection, they were largely ridiculed.
With James Harden's trade request his exit appears to be imminent and the franchise is now squarely in Wall's court. One pre-season game is not much, but the Rockets' future, now in Wall's hands, looks to be better than anyone could have expected.
The takeaway from one game shows a player poised for a serious comeback. Here's what a healthy and productive Wall can provide the Rockets.
Next: Remembering John Wall