Houston Rockets: After one game John Wall has proved that he's back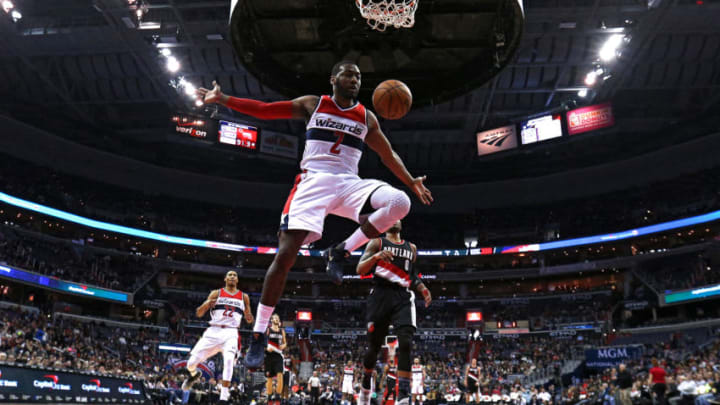 John Wall of the Washington Wizards (Photo by Patrick Smith/Getty Images) /
John Wall of the Washington Wizards (Photo by Rob Carr/Getty Images) /
John Wall was one of the best in the business
Even though injuries sapped Wall of his effectiveness over the course of the 2017-18 and 2018-19 seasons he still managed to average 20 points and 9.4 assists a game. Those numbers are nearly identical to what he managed over the previous four but it was on the defensive side where he suffered most.
In 2014-15 Wall made the NBA All-Defensive team when he posted a career-best 102 defensive rating per 100 possessions. Over the four-season stretch from 2013-14 to 2016-17 he posted a 105 defensive rating per 100 possessions but in his ensuing two seasons, 2017-18 and 2018-19, that number grew to 111.
At his best, Wall was a two-way force that could lead an offense and shut down an opposing team's most dangerous scorer. At 30-years-old Wall may never be the lockdown defender he once was but he should provide much more resistance than he has shown recently.
The Rockets will need Wall to regain his playmaking mojo if they are going to weather the departures of both Russell Westbrook and James Harden. However, if Harden sticks around to shoulder a large offensive load, then Wall could enjoy a defensive renaissance.
It has been almost two years since Wall last suited up for an NBA game and in that time people have forgotten just how good he can be. From the moment he walked into the league he has been a threat to go for 20 points and 10 assists every game while providing excellent on-ball defense.
If John Wall is all the way back from his Achilles injury it shouldn't surprise anyone if he picks up right where he left off. The concern with any player coming off of an injury is that they'll never be the same physically.
After a single game, it appears that Wall is back to peak performance and could be ready for a career year. Injuries robbed Wall of his prime, but healthy and only 30-years-old he has a chance at a second act just as brilliant as the first.
Next: Wall back in action