Houston Rockets: After one game John Wall has proved that he's back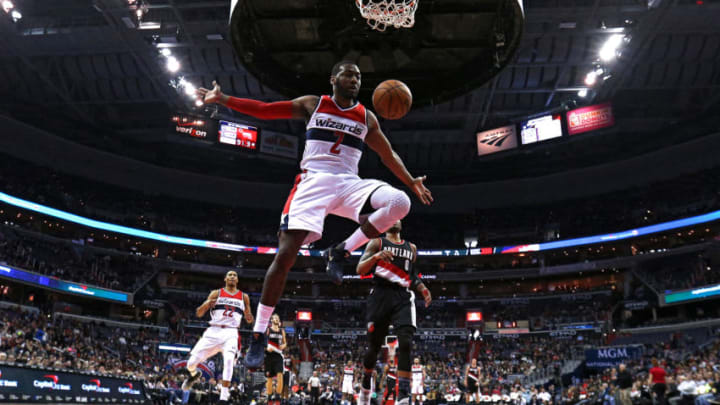 John Wall of the Washington Wizards (Photo by Patrick Smith/Getty Images) /
John Wall #2 of the Washington Wizards (Photo by Patrick Smith/Getty Images) /
After one game the Wall of old looks back
In John Wall's first time back on an NBA court, he showed that he still has what it takes to be an elite NBA player. His speed and burst, always his trademark, looked unchanged from his days in Washington.
While it was just a preseason game against the Chicago Bulls, Wall looks healthy for the first time in years and appears determined to reclaim his status as one of the league's best point guards. It can be dangerous to make too much of one game but the athleticism that Wall showed doesn't go through slumps.
In only 19 minutes of action, Wall posted an impressive stat line of 13 points, 9 assists, 5 rebounds, 2 steals, and only 2 turnovers. On a per 36 minutes basis, that translates to 24.6 points, 17.1 assists, 9.5 rebounds, and 3.8 steals.
Wall won't post numbers like this every night, no one does, but it is an incredibly positive development for a team that has endured an offseason that has veered from one calamity to another. John Wall won't erase the James Harden sized hole in the lineup but he appears more than capable of steering the ship in his absence.
The Rockets only managed 2 points from fast breaks against Chicago which is a very positive development from a team that just dropped 125 points. Stephen Silas will be pleased with how well the Rockets' halfcourt offense worked and they still haven't fully unleashed Wall on the break.
In Wall's last healthy season, 2016-17, he finished second in the league in transition possessions per game at 5.7. If the Rockets can meld their halfcourt success with Wall's ability to generate points through transition then their offense will have a chance to remain elite.
The true test for Wall and the Rockets is how his body will hold up over the course of a full minutes load. NBA players don't go full throttle every possession and it remains to be seen how much Wall's body can handle.
However, Wall is almost two years removed from his injury which means his body has had plenty of time to recuperate. The Rockets would be wise to manage his minutes in the early going and have him skip some back to backs, but from the looks of it, he'll be able to consistently lead the Rockets' backcourt as they make a push for the postseason.
It's one game and a preseason game at that, but Wall looks healthy and effective. James Harden wants to go to a contender but if that's the John Wall he'd be playing next to then he won't need to leave the city of Houston to find one.