Is Rockets' James Harden being taken for granted?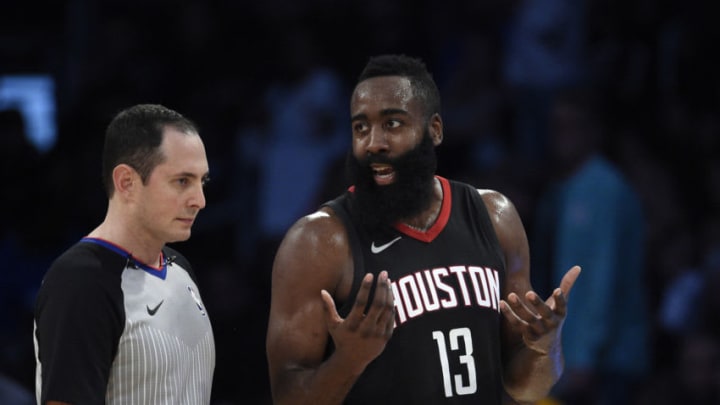 James Harden of the Houston Rockets (Photo by Kevork Djansezian/Getty Images) /
Although Houston Rockets superstar James Harden has been unstoppable during his tenure with the Rockets, his greatness has gone undermined time and time again.
James Harden has morphed into one of the most dominant forces in the NBA since he arrived on the Houston Rockets' roster in 2012, as he's led the league in scoring and assists, while also becoming an MVP winner and MVP finalist on five different occasions. Harden has guaranteed 50 wins and a postseason berth for the Rockets, in light of the roster not being as stacked as the superteams of the past decade.
Harden has proven to be unstoppable for each coach he's played under in Houston, as he's thrived under Kevin McHale, J.B. Bickerstaff, Mike D'Antoni, and Stephen Silas (although the latter has only been in effect for one game).
Despite Harden's unquestioned brilliance, he doesn't always get the respect and credibility across the league, as many NBA fans and insiders have taken him for granted, as explained by Jonathan Feigen of the Houston Chronicle, who was speaking on the matter on Texas Sports Nation.
Is Houston Rockets star James Harden being taken for granted?
"I think alot of people have started to take him for granted. There's things he's done in this league. It's not just leading the league in scoring, it's not just doing that after the season he led the league in assists.
No one has ever averaged the number of assists that he does while scoring 34 or more per game. No one. And he's done it for the last two years.
He's done alot of things that are unprecedented. No one has as many 40-point double-doubles since the merger.
There's just all of these things. But because of the other stuff, whether it's missing training camp, wanting to be traded, the style of play, the dribble dribble dribble thing, he has become polarizing.
And that has led people to forget, yeah but he is really that good. To be able to play that way, after the week that preceeded is just incredible.
It was an incredible game for anybody to play. To do that after all of this, it shows why the Rockets value him so much."
Feigen mentions several potential reasons why Harden may not get his due praise, including the dislike that many have for his penchant for getting to the free throw line, in addition to the current ongoing drama regarding his desire to leave the Houston Rockets.
Perhaps a good example of how Harden has been taken for granted is how well he performed during the 2015-16 season. During that year, Harden accomplished the following:
1st in total points
1st in free throws made
1st in minutes played
3rd in 3-pointers made
3rd in offensive win shares
6th in assists
Harden carried a dismal Rockets team into the playoffs and wasn't even named to an All-NBA team, despite bridging the gap between two different coaches mid-season.
Harden has also had 50-point and 60-point triple-doubles, and has become one of the best defenders in the league, which is a long way from where he started in his earlier Houston Rockets days, and provides further context into the unprecedented talent that he is.