Stephen A. Smith gives the take of his life regarding Rockets' Jalen Green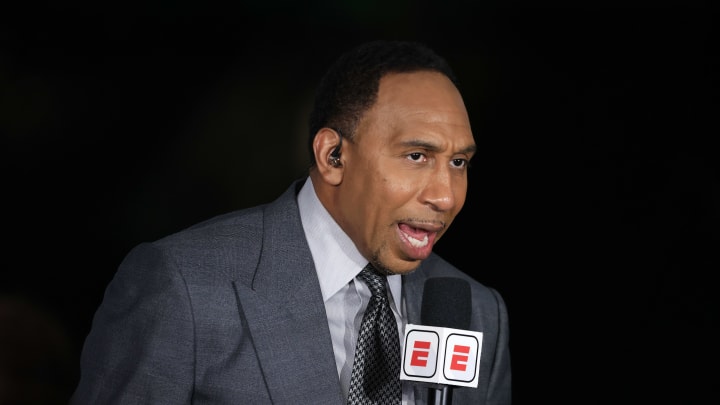 2021 NBA Finals - Game Three / Justin Casterline/Getty Images
Although ESPN's Stephen A. Smith doesn't cover the Houston Rockets specifically, he certainly has relationships within the franchise, and enjoys talking about the team. Smith has had Rockets owner Tilman Fertitta and even Rockets coach Stephen Silas join the set of his famed First Take morning show, and has even had Rockets point guard John Wall join the show, when Wall was a member of the Washington Wizards. 
Smith has come a long way from his humble beginnings in the media industry and the days in which he was a sports insider to now, where he pulls in a cool $12 million annually, while simultaneously developing a reputation as one of the most loquacious talking heads in sports media. Smith has frequently spewed out questionable takes and tends to go viral for the wrong reasons, more often than not. 
For example, Smith recently referred to Utah Jazz star Donovan Mitchell as the best player in franchise history, as if John Stockton and Karl Malone don't exist.
Smith also appeared to be too mighty to give 2016-17 MVP Russell Westbrook his credit after a monster statline of 35 points, 21 assists, and 14 rebounds this past season, which seems bizarre, as Westbrook made history by becoming the first player in league history to score 35 points, while dishing out at least 20 assists. Smith stated that the feat wasn't impressive, because Westbrook doesn't have a championship, as if that can even be changed with one regular season game.
Smith also stated that Kevin Durant is the greatest player in the history of New York, after just one season on the court for the Brooklyn Nets.
I could go on, but I think you get the point: Stephen A. tends to have takes that aren't well thought out, but rather ones that will get him an abundance of clicks and mentions on social media. Many have written him off for this very thing, as he tends to promote narratives, rather than give sports takes that can be backed up with analysis and logic.
ESPN's Stephen A. Smith gives the best take of his life regarding Houston Rockets' Jalen Green
This is why Smith's comments on why he would choose Jalen Green over Cade Cunningham were so eye-opening, as he gave objective, detailed analysis that didn't involve bashing either of the two.
Smith had the following to say about Green:
"I'm a Jalen Green dude. I'm watching this dude that the Houston Rockets drafted, he just looks like buckets. This brother has range, he can get to the basket, he definitely has hops, he can finish at the basket.

He ain't scared, he has a nice handle, he has some passing ability as well. This brother looks like he has some big-time talent and I would keep my eyes on him. I like what I'm seeing.

I look for 3 things. Obviously I'm looking for your size and athleticism. I'm looking for whether or not you have a perimeter shot, because in today's game that truly does matter.

The other thing I'm looking for is a want it, a go-get-it mentality. I look at Jalen Green, when he gets on the court and competes, I see a guy that seems to have a little something extra that you don't teach.

Not just talent-wise but he wants it bad. And he doesn't want to just be good and win. He wants to be the reason you win.

He wants to be a star. We hear alot of people say that, but we don't see it when we watch them. I see that when I watch Jalen Green."
As Smith mentions, Green has the ability to score on all three levels, which is why he's drawn comparisons to Bradley Beal and Zach LaVine. Smith went on to elaborate on the mentality of Green, which is every bit as important as the physical ability.
"What you should really appreciate about Jalen Green. He's in Houston. Who was in Houston wreaking havoc for years? That would be James Harden. 

He seems to know that and as a result is hell-bent on inching towards that. Okay he's gone, it's a new era and I want it.

When you're evaluating talent, your mindset is a huge deal. How bad do you want it? Jalen Green seems to be that kind of guy and that's what I'm noticing."
Smith could have easily gravitated towards the narratives that have already stated to circulate regarding Green, which are that he's going to get empty stats and/or better numbers, while Cade Cunningham is going to contribute more to wins (which is beyond a lazy take).
So while you may have grown weary of Stephen A's cries for attention and relevance, this take regarding the Houston Rockets rookie proved that he actually can give well-formulated thoughts and ideas, without always pushing a narrative and/or promoting an agenda.
Well done, Stephen A. Smith. Well done.