Houston Rockets: Season End SCS Round Table : Part 1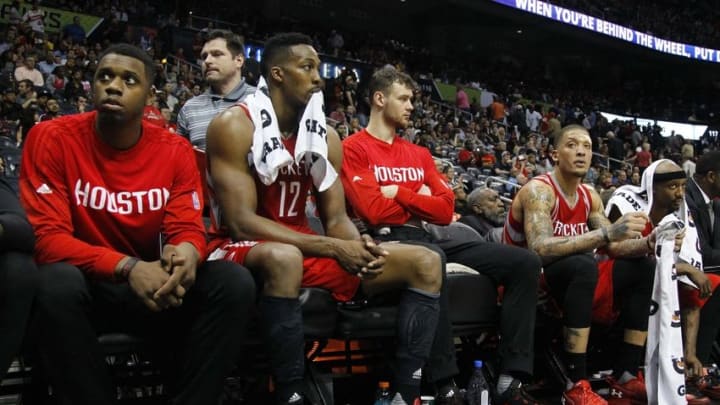 Mar 19, 2016; Atlanta, GA, USA; Houston Rockets forward Terrence Jones (6) and center Dwight Howard (12) and forward Donatas Motiejunas (20) and forward Michael Beasley (8) and guard Jason Terry (31) react on the bench against the Atlanta Hawks in the fourth quarter at Philips Arena. The Hawks defeated the Rockets 109-97. Mandatory Credit: Brett Davis-USA TODAY Sports /
As the Houston Rockets prepare for Round 1, Game 1 of the NBA playoffs most of the SCS staff got together for a round table session. It's a three part series featuring 15 questions in which the team opine on individual players, management, playoff specifics, and we even broach free agency.
Suffice to say the piece is far reaching and offers various opinions from the many writers on the Space City Scoop staff. Thanks to those who took time out of their busy schedules to participate. And, as a side note we all send our best wishes to Curt Low who is in the hospital recovering: Get well soon Curt!
In part one the SCS team discuss whether the Houston Rockets should have tanked, who the staff would rather have met in round one, how the teams stars will and should be used, and if the team should make Donatas Motiejunas a big part of the Rockets future.
Round Table Part 1
1. The Rockets performance last season combined with the off season additions had expectations high to begin this year. With the team falling well below expectations should the Rockets have tried to tank in an effort to retain their draft pick?
Tamberlyn Richardson: Here's the thing: the Rockets are definitely not a typical eight seed! That said, if you've been following us, you're well aware the SCS staff was relentless in our wishes (READ: begging) for Houston to seize their opportunities to move up. With a few weeks left in the season Memphis was in free fall, to the point I thought they might plummet out of the playoffs! Utah and Dallas had brief losing streaks as well, and unfortunately for the Jazz their losing streak/injury bug hit at precisely the wrong time. With a couple weeks remaining the Rockets had a real opportunity to go on a run and move all the way up to fifth….
But, I've referred to the Rockets all season as the most consistently inconsistent team in the Association! Do they have the goods to compete? Sure. However, there are two specific problems:
During the season teams develop habits. The problem is the Rockets habit is to be inconsistent. Expecting the Rockets to suddenly bring consistent defense is unrealistic
They are playing the best regular season team ever – – Need I say more?
From my perspective the fact the Rockets didn't seize their opportunities to move up when they could ruined a chance for a long post season run.  Though some will argue making the playoffs makes them a more attractive destination this summer, I'm not buying that line of thinking. Until they fix the chemistry issues it doesn't matter if they finish 30th or with home court advantage. Take LaMarcus Aldridge for example, he chose to go to a franchise with a history of  winning, but also one built on character!  Bottom line: Houston would have been better served to miss the post season and retain their pick, in my opinion.
Andre Cantalogo: I may be a dissonant voice, but after the Mavericks game I absolutely felt the best thing was to just tank it and get a nice draft pick. My feeling was that unless the Rockets had a shot on reaching the 5th or 6th spot to face the Clippers or Thunder than it was just better to leave it. It may be tough but the hard truth was that the Rockets simply didn't deserve the playoffs this year and they were probably better to start building for next season. The Rockets may go all the way and win it (as it's the same team that reached the WCF last year) but it's highly unlikely. I sure hope so, though!
Anthony Nguyen: Tanking to retain the draft pick would've been the worst way to end the season. If the Rockets were to tank after having a chance to make the playoffs, Houston would've been a very unattractive market for players testing the free agency this off season. To make the playoffs gives at least a little bit of hope and a fighting chance.
Ben Casey: From a technical standpoint yes, tanking would have been the most viable option. It'll hurt giving that pick to Denver and I don't think anybody has realistic expectations of the Rockets advancing. Theoretically, the best option would have been to tank and throw in the towel on a season that's shot anyway. As an emotional fan, however, I want to see the Rockets go as far as possible, no matter the consequences. Additionally, a team that lost in the playoffs to the eventual champions looks a lot more appealing as a destination than a team in the lottery (cough, cough Kevin Durant).
Coty Davis: Yes! Especially with the countless rumors that Dwight Howard will not return to the team next season. A high lottery pick could have opened the door for a blockbuster trade. Perhaps a deal with the Kings for DeMarcus Cousins, or any other unhappy all-star around the league. Losing this pick will hurt the Rockets in due time.
Joshua Van Horn: The Rockets were better off not tanking for two reasons. First, believing for most of the season that they were capable of making the playoffs, when it became a possibility that they might not make the playoffs, it was too late to tank in hopes of landing a legitimate shot at a draft pick that would be worth tanking for.
Second, the Rockets needed to land a playoff spot in order to have credibility when pursuing free agents this summer.
Quoc Thai: Yes, they should have tanked.
Next: Weary Harden?
Mar 23, 2016; Houston, TX, USA; Houston Rockets guard James Harden (13) reacts after a play during the fourth quarter against the Utah Jazz at Toyota Center. The Jazz won 89-87. Mandatory Credit: Troy Taormina-USA TODAY Sports /
Mar 23, 2016; Houston, TX, USA; Houston Rockets guard James Harden (13) reacts after a play during the fourth quarter against the Utah Jazz at Toyota Center. The Jazz won 89-87. Mandatory Credit: Troy Taormina-USA TODAY Sports
2. Given the usage rate of James Harden do you anticipate he'll be at 100% through the first round? What should his expected production be for the series?
Andre Cantalogo: I believe that James Harden will go into the first round with a chip on his shoulder, something to prove against the Warriors and Stephen Curry. And while he was unable to do it during the season I genuinely believe he will go "all in" against the Warriors. He will probably go bonkers, 32 ppg most likely – at a minimum.
Anthony Nguyen: No player is ever at 100% in the NBA. The grueling grind of an 82 game season is too much for even the world's top athletes to stay in perfect shape. Given that, Harden I believe is a player that doesn't get enough credit for being the iron man that he is. He's expected to carry the offensive workload 90 percent of every game on top of having to maneuver around defensive game plans specified to stop him. Harden's body will be good to go, I think the better question is will he be there mentally? To be honest, I can't tell you 100% that he is.
Ben Casey: I think the Beard will be at 100% for the playoffs. He has a lot to prove considering the fact that he has no chance at MVP this season, just one year removed from the season where he believed he deserved it. I've hated watching him play entire second halves just as much as the next guy, but I'm a lot more worried about what this is doing to him long-term than I am about how tired he's getting right now.
Coty Davis: Statistically, I expect James Harden to put up some phenomenal numbers against the Warriors. So look for his production to be the same as the regular season. However, depending on the length of the series, fatigue may play a factor in his postseason performance. There were a few games down the stretch where Harden looked physically and mentally tired.
Joshua Van Horn: I believe Harden will be close to 100%, and that his numbers will be similar to what they have been all season at the very least. For the Rockets to have any kind of chance, he'll have to improve his numbers, and transform into the "playoff" Harden that we have yet to see.
Quoc Thai: He might be out of gas one game in the series. But, he has been on fire lately, there is no sign of stopping.
Tamberlyn Richardson: James Harden led the NBA in minutes per game with 38.9 mpg, and he played all 82 games. Consider that for a minute and ask yourself how it couldn't effect him when he's going up against the man he lost MVP to last season who also sat 19 fourth quarters this season! Who do you think is fresher heading into the playoffs? Still, Harden is a bit of an iron man and still young having not entered what is typically considered his prime yet.
I know some fans don't like comparing last season to this year, however if you'll give me a bit of leeway, I'll point to the amazing game 6 versus the Clippers last year as the example. Harden sat on the bench for the entirety of the come back. That was the point it became clear to many the bearded man was feeling the wear and tear of the season (or from a counter point, with him in the game the offense was too obvious).
Another major factor is James Harden, while a franchise talent has yet to raise his game to another level in the post season. I'm not saying he doesn't put up major scoring, but in terms of leading his team to a championship. Looking back at the trade that sent Harden to Houston it seemed off the Thunder's Sam Presti was quick to part with him. An odd choice given his ability to gauge long term ability. His performance in the finals vs the Heat (a measly 12.4 ppg) was perhaps the catalyst. It's also rumored the Beard spent his nights partying in South Beach which Presti and his cohorts weren't happy about.
Unfortunately, it won't matter whether Harden is tired or not, since he'll have to be able to recovery in short order, given the series will be over quickly.
Next: Ideal opponent?
Sep 28, 2015; Oklahoma City, OK, USA; Oklahoma City Thunder forward Kevin Durant (35), Oklahoma City Thunder forward Serge Ibaka (9) and Oklahoma City Thunder guard Russell Westbrook (0) pose for photos during media day at Chesapeake Energy Arena. Mandatory Credit: Mark D. Smith-USA TODAY Sports /
Sep 28, 2015; Oklahoma City, OK, USA; Oklahoma City Thunder forward Kevin Durant (35), Oklahoma City Thunder forward Serge Ibaka (9) and Oklahoma City Thunder guard Russell Westbrook (0) pose for photos during media day at Chesapeake Energy Arena. Mandatory Credit: Mark D. Smith-USA TODAY Sports
3. Would you have preferred the Spurs or Thunder over the Warriors? Why or why not?
Anthony Nguyen: Definitely the Thunder, solely because of the fact that this is Billy Donovan's first go around in the post season. Theirs not a lot of difference between Donovan's Thunder and Scott Brook's Thunder in terms of offensive and defensive schemes. Defensively they allow so much dribble penetration and Houston has shown to taken advantage of this in the past. In a 7 game series, it's tough to completely dismantle a team if the offense is literally placing the ball in perhaps 2 of the NBA's top 5 players and letting them go to work.
Ben Casey: I wouldn't have rather faced the Spurs, that's for sure. The last person on the planet I want guarding James Harden is Kawhi Leonard, so I'd take the Warriors' machine-like offense over that nightmare any day. I think I'd rather them play the Thunder than the Warriors, but primarily because they have such a tendency to blow fourth quarter leads.
Coty Davis: I prefer a first round match up with the Thunder any day! No disrespect to the Thunder's organization but they are not on the same level as the Spurs and Warriors. Just take their regular season series as an example. Against San Antonio, the Rockets only won one game. As for Golden State, Houston was swept 3-0 in their regular season match-up. At least the Rockets managed to split the season series against OKC.
Joshua Van Horn: The Thunder were definitely my first preference because we have proven we can beat them.
I imagine I'm in the minority with this opinion, but my second preference out of the three was Golden State. We don't stand a chance against either team, but playoff Spurs are scarier to me than playoff Warriors.
Quoc Thai: I would prefer the Thunder. Even though they have big talent, they have the two biggest weaknesses among the top teams in the west. Their defense is atrocious and they lack the necessary intangibles.
Tamberlyn Richardson: Unlike my counterparts here at SCS I think the Thunder are entering the post season with a ton to prove and a chip on their shoulders. Russell Westbrook's 18 triple-doubles in any other season would have made him a slam dunk to win MVP. Kevin Durant's ridiculous consecutive record of 20-point scoring is beyond fathomable and yet neither of these milestones tops the pundits talking points entering the post season.
I'd agree the Spurs would have been almost worse  given it would have pitted the ever consistent Popovich crew against the most inconsistent Rockets squad. Perhaps you see where I'm headed then.. (and it's likely no surprise if you've read my power ranking articles) I would have preferred the Rockets had seized the moment late March and early April when their counterparts in the lower half of the bracket were struggling to move up to the five seed.
I'm not convinced the Clippers could have handled either Harden or Howard and all it would have taken is the Rockets winning Game 1 to get in to the Clippers heads.  I just envisioned Patrick Beverley whispering into Chris Paul's ear.. "remember last year… it's gonna happen again!"
Andre Cantalogo: I'd love to get the Thunder. The Rockets can compete with the Thunder. Whether at home or away it was always a tough game between the two teams this season. Against the Warriors the Rockets simply don't match-up well. And it really seems that Curry & Co. have Houston's number as do the Spurs.
Next: Is Clark Kent in the house?
Mar 23, 2016; Houston, TX, USA; Houston Rockets center Dwight Howard (12) reacts after a play during the third quarter against the Utah Jazz at Toyota Center. The Jazz won 89-87. Mandatory Credit: Troy Taormina-USA TODAY Sports /
Mar 23, 2016; Houston, TX, USA; Houston Rockets center Dwight Howard (12) reacts after a play during the third quarter against the Utah Jazz at Toyota Center. The Jazz won 89-87. Mandatory Credit: Troy Taormina-USA TODAY Sports
4. Dwight Howard has received limited minutes down the stretch, but it didn't appear they were meant for rest. How big of a factor do you think he'll be in the post season? (i.e. will he receive extended minutes or will this down sizing continue?)
Ben Casey: First of all, predicting Bickerstaff's rotation decisions is a lot like life, which is a lot like a box of chocolates; you just never know what you're gonna get. That being said, I think Dwight will get his fair share of floor time. The last thing the Rockets should do is try to beat GS at the small ball game, so I expect to see Dwight Howard and Clint Capela both get big minutes.
Coty Davis: Unless J.B. Bickerstaff finds a way to give Dwight Howard more touches on offense, D12 will not be a huge factor this postseason. I do not think Bickerstaff is smart enough to change his game plan. So expect Howard to have the same impact on the postseason he had down the stretch of the regular season.
Joshua Van Horn: The amount of minutes Howard plays will depend on his production. During his time with the Rockets, Howard has shown up big during the playoffs. If he is able to play like that this postseason, expect to see Howard's minutes increased. If he continues to play at the same level he has played all season, look for Howard to play similar minutes to what he has during the final stretch of the regular season.
Quoc Thai: He will receive good minutes vs. the Golden State Warriors. But as soon as the Warriors start hacking he might lose that valuable playing time.
Tamberlyn Richardson: I remember years of Andrew Bogut killing teams in the East when he was a Buck with his adeptness and skills in the post. In my opinion he's been one of the most under rated bigs in the league for years. Sure, he's lost a step and the copious injuries have taken a toll, but much like no one seems to be able to stop Zach Randolph from going left or out rebound him (even though I'm not sure he has a vertical of about 2 inches), Bogut is just as difficult to move out of the paint or out position for rebounds.
So, let's say Howard is tasked with an even scarier proposition and has to guard Draymond Green.. can you envision Howard being drawn out to the 3-point line, keeping up with Green running the transition or clogging his passing lanes? Um … no. That said, Bickerstaff at the very least should try to incorporate Howard early and force Bogut and Green to have to defend him and possibly get into foul trouble. It's a stretch, but the Rockets have nothing to lose given everyone (including yours truly) doesn't believe they can exert 48 minutes of consistent effort to garner 4 wins let alone 1.
I do expect Howard will bring intensity because let's face it, this is his audition for free agency. But unless we see glimmers of a blue suit beneath his jersey with hints of an "S" on it, even his best won't move the needle.
Finally, let's assume the Warriors have an off shooting night – – you know darn well Kerr will send Howard repeatedly to the free throw line. Keep a close eye on his minute usage, because if the Rockets determine this is a no win situation Bickerstaff may be told to play Capella and Motiejunas additional minutes (playoff experience). I bring this up because that act would surely indicate Houston's off season plans will be to not bring back Howard and to re-sign D-Mo.
Andre Cantalogo: If the Rockets are to compete with the Warriors they need Dwight Howard to be at his best. Capela is still a work in progress therefore not yet ready for big minutes in such huge games. As we've seen in the past years Dwight enters beast mode come playoff time. I expect the same this time around: he will get more minutes and produce at a high level.
Anthony Nguyen: Of course there's the narrative of "Playoff Dwight" but than again, Dwight has shown to struggle against Bogut. The limited minutes down the stretch were definitely because Capela was way more productive on the court. In a series against Golden State I believe we won't see much of Howard because of Golden State's ability to drag him out on the perimeter through high ball screen action. Clint Capela has shown that he does a better job of switching onto guards when put in this situation because of his flexibility, mobility and length. Offensively, Dwight is still stuck in the mentality that he's a post up threat and those just don't exist around the league anymore unless you're Zach Randolph or Boris Diaw. Capela has grown into the mentality that a center in today's league is expected to dive to the rim and to keep his activity level extremely high for second chance opportunities.
Next: Oh my aching back!
Mar 6, 2016; Toronto, Ontario, CAN; Hoouston Rockets forward Donatas Motiejunas (20) grabs a rebound next to Toronto Raptors center Jonas Valiencunas (17) in the first quarter at Air Canada Centre. Mandatory Credit: Dan Hamilton-USA TODAY Sports /
Mar 6, 2016; Toronto, Ontario, CAN; Hoouston Rockets forward Donatas Motiejunas (20) grabs a rebound next to Toronto Raptors center Jonas Valiencunas (17) in the first quarter at Air Canada Centre. Mandatory Credit: Dan Hamilton-USA TODAY Sports
5. Donatas Motiejunas is a restricted free agent this summer. As per Hoops Rumors:
". "Donatas Motiejunas started Sunday's game for the Rockets, his 20th of the season and 82nd since the start of 2014/15, enough to trigger the NBA's starter criteria, as we explained Friday. That means the Rockets will have to make a qualifying offer worth $4,433,683 instead of just $3,278,998 by June 30th to retain the right to match competing bids for the power forward, who's headed into free agency"
Should the Rockets make the offer? Explain what he needs to do in the post season that would change your opinion one way or another.
Coty Davis: If they can retain him at a reasonable price, why not bring D-Mo back to Clutch City? Now I have to admit. I am not the biggest Motiejunas fan, yet I cannot deny his value to Houston. This postseason, expect Motiejunas to continue doing the little things that made him an effective player. His scoring, hustle, and high basketball IQ are traits that make him a good player.
Joshua Van Horn: I think it will depend on the coaching personnel the Rockets bring in during the Summer, and what happens to Dwight Howard. I don't think Bickerstaff has utilized Motiejunas to his full potential. If the Rockets' new coaching staff– assuming that the Rockets hire a new coach– makes it a point to capitalize on Motiejunas' talent, I think the Rockets should make the offer. Also, with the possibility of Howard leaving, the Rockets will need a low post presence they can feed the ball to.
Quoc Thai: I absolutely believe that we need to keep D-Mo. If Beasley is indeed the future starting PF, D-Mo would be the sixth man for the Rockets. With the imminent departure of Dwight, he could even be a good backup C for Capela. With the new salary cap, $4,433,683 is pretty cheap. With his health history, other teams might not be interested. Specifically if the stunt the Pistons pulled after the trade deadline rejecting the trade might actually serve to help the Rockets retain D-Mo
Tamberlyn Richardson: I'm a big Motiejunas fan and hope the Rockets retain him (which seems to be the way they are leaning). The fact is with the new TV advertising money due to kick in, drafted players will be a commodity not to be wasted. Given teams get to keep bird rights for these players and their salaries are so much less than free agent players resigning rookie extensions (read: much more reasonable contracts) will be the most cost effective on the roster.
As per the back issue and Detroit rejecting the trade, I suspect that had more to do with the acquisition of Marcus Morris and Tobias Harris than the health of Motiejunas back.  D-Mo offers offensive versatility not seen in many of his counterparts. His ability to play both in the paint plus stretch the floor and his capable passing skills are talents most teams desire especially from a power forward who can also play at center. I think they'll be a lot of teams looking at him this summer. Sure they'll want their own medical staff to look at him, but I can't imagine Houston would be playing him extended minutes if it was endangering his long term health.
Andre Cantalogo: Absolutely the Rockets should retain Motiejunas' services. He'll have a lot of suitors so the price must be right. But for me it's a no-brainer. He's still fairly young at 25 and looks to have completely overcame his back injuries. The only thing that would make me change my opinion is yet another back injury.
More from Space City Scoop
Anthony Nguyen: It would be a shame if Houston didn't keep D-Mo. It would fall under the narrative of Morey valuing these players as assets rather than being apart of the culture of this organization. D-Mo is one of the few players who's been a Rocket for more than 3 years which is insane. Take a look at the Warriors and Spurs. How many players on their roster have been there for a majority of their career?
Ben Casey: I like D-Mo and I'd like to see him return for next year. If he were set to make big bucks this summer I'd say it may not be worth it, but the cancelled trade to Detroit should ensure that isn't the case. With the salary cap set to increase soon, the extra million they have to offer him won't end up mattering much, so unless he sustains a career-ending injury or publicly asks to play somewhere else, I say keep D-Mo in Houston.
Part2 of the Round Table can be linked to here
Part 3 of the Round Table can be linked to here
Next: Keys for Rockets vs Warriors
Next: Rockets Round 1 Playoff Schedule
Next: NBA Playoffs The Ferrell Way
Next: Bickerstaff's Puzzling Rotations
Next: 5 Players Rockets Should Target
Space City Scoop is always looking to add new talent to our writing team. Currently we're looking for individuals with a specialized focus. The first area of focus is perfect for someone who is constantly surfing the web for breaking news on injuries, trades, insider info etc. This individual would select the top news items and provide timely quick hits to keep SCS readers in the loop.
The other area of focus is someone who possesses a strong social media background who likes to interact with Clutch City Fans. You'll promote SCS team content on facebook and twitter while also making sure to promote the best content coming from H-Town fans. If you have this capability and are interested check out this link and fill out an application.