Daily Rocket Science: Hold off on hiring a coach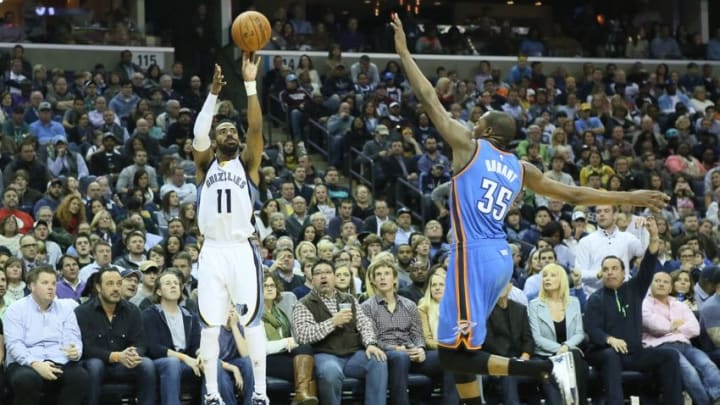 Jan 31, 2015; Memphis, TN, USA; Memphis Grizzlies guard Mike Conley (11) attempts a shot during the second quarter defended by Oklahoma City Thunder forward Kevin Durant (35) at FedExForum. Mandatory Credit: Nelson Chenault-USA TODAY Sports /
The Rockets' quest for a head coach has been headline news, but it may be beneficial for the team to hold off on a decision.
There have been multiple reports of different interviews taking place, and so many names have been thrown around that it's near impossible to keep up. With all the noise that's been surrounding the search, it is expected that the Houston Rockets will pull the trigger sooner rather than later.
However, it could be a better option to wait and make other offseason decisions before hiring somebody for the head coach position.
Houston Rockets news and notes from around the web
Despite what the media tries to say about the Rockets, Houston should be a top destination for a myriad of free agents. They'll have plenty of cap space and will likely be just a piece or two away from being a top team, not to mention the lack of income tax and mild winters. James D'Elia of House of Houston argues that holding off on hiring a coach would make the Rockets be an even more desirable team to sign with, allowing newcomers to have a slight say in who the team eventually hires for the position.
"It is expected that this roster will undergo a huge make over, with around half the squad expected to be moved on through free agency or trades. The Rockets should not hide this fact, rather embrace it and use it as part of their pitch to free agents this summer. A roster with around $40M in cap space with a young MVP runner-up, a (what will be) young core of players, and the real kicker – an opportunity to have input on your new head coach."
Another reason to hold off on hiring a head coach is the fact that the Rockets' entire system may be in need of some redefining. Space City Scoop's Tamberlyn Richardson questions Daryl Morey's strategy, considering the plethora of former Rockets that are still in the playoffs right now. There's no doubt that Morey has made the right decision over and over again from a statistical standpoint, but it may be that there's more to the formula than, well, formulas.
"Perhaps owner Leslie Alexander might want to be sitting down Daryl Morey prior to the head coach search to ensure he's on board with the strategy moving forward. Obviously Morey has an eye for talent, but the issue seems to be his inability to spot intangibles like character that allows a team to gel into a trusting group with chemistry. This past season there was more than ample talent in place, the problem was the character of the team and its leaders."
More from Space City Scoop
Like I said yesterday, the new guy will have a daunting task ahead of him in dealing with James Harden. The Beard has proven to be tough to work with, and the success of the head coach will be judged in large part by what he can get out of him, argues Tim Bontemps of The Washington Post. Whether it comes as a product of his own motivation or from the influence of a coach, Harden upping his game next season would earn high praise for the Rockets' hiring staff.
After watching the Rockets implode this season, this much is clear: whoever Houston hires, that coach needs to have the ability to discipline Harden, and hold him accountable – particularly on defense.
The expectation of many around the NBA is that the next coach of the Rockets will be a prior one – ESPN analyst Jeff Van Gundy. It likely will take someone of Van Gundy's stature to have the gravitas to take on Harden's massive personality in Houston's locker room.
Whether the Rockets hire a coach before or after they throw themselves at various free agents, this summer should be filled with interesting developments. Stay tuned to Space City Scoop for the latest updates and details on what goes down in H-town.
Send our Editor any Rockets-related article/video/tweet/gram/vine that we may have missed via Twitter direct message to @TTOTambz.
Next: Houston Rockets Should Give Frank Vogel Serious Consideration
Space City Scoop is always looking to add new talent to our writing team. Currently we're looking for individuals with a specialized focus. The first area of focus is perfect for someone who is constantly surfing the web for breaking news on injuries, trades, insider info, etc. This individual would select the top news items and provide timely quick hits to keep SCS readers in the loop.
The other area of focus is someone who possesses a strong social media background who likes to interact with Clutch City Fans. This person would promote SCS team content on Facebook and Twitter while also making sure to promote the best content coming from H-Town fans. If you have this capability and are interested then check out this link and fill out an application.