2016 Houston Rockets Draft Prospect Series: Rade Zagorac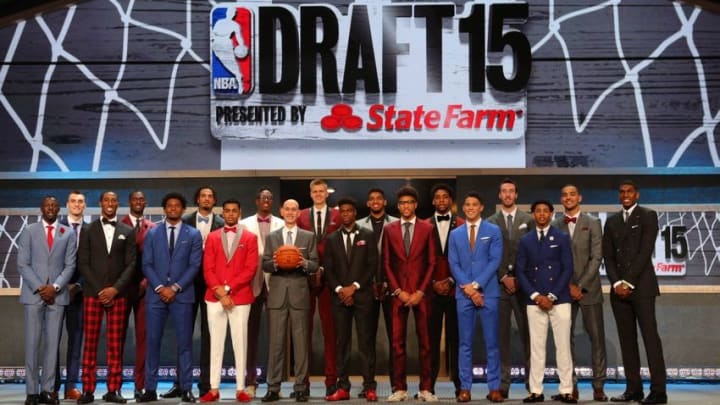 Jun 25, 2015; Brooklyn, NY, USA; Prospects pose for a group picture with NBA commissioner Adam Silver (holding basketball) before the start of the 2015 NBA Draft at Barclays Center. Mandatory Credit: Brad Penner-USA TODAY Sports /
he 2016 NBA Draft will take place on Thursday June 23rd with the Houston Rockets selecting 37th and 43rd. While the Rockets are without a first round pick given GM Daryl Morey's tendency to orchestrate trades it would be unwise to count him out of making a deal to move up. With that Space City Scoop is featuring a Draft Prospect Series covering 60 of the top ranked prospects. Next up is Rade Zagorac
Draft Prospect:
Specifics:
Height: 6'9″
Weight:205 lbs
Country: Belgrade, Serbia
Position: Small Forward
Age: 20.8
College or Pro League: Another of the young talents from Mega Leks
Stat line: 26 Games, 13.9  Points Per Game, 6.0 Rebounds Per Game, 2.7 Assists Per Game
Current Rank:
Please note, the rankings below come from the most up to date versions as the time of writing. That said not all the mock drafts provide second round ranks or updates often only extend to the end of the first round.
Therefore, if you check a ranking and note the number has changed it's likely due to updates and a shift in the rankings.
ESPN Chad Ford: 45
Draft Express: 37
NBA Scott Howard Cooper: 44
Bleacher Report: 45
The Skills:
The offensive versatility and ever improving array of talents the young  Zagorac showcases makes him a very likeable commodity.
Factor in his motor and commitment to constant improvement and you can see why clubs would find him an interesting prospect. Not only has his shot improved each year but he's demonstrated deftness at leaping and quick movements to drive the ball and move easily past his defenders.
As a small forward his 6'9″ size is extremely likeable for clubs leaning to small ball as larger wings make that the system work best.
He'll fall in the category of grab and stash for a club who wants him to continue to develop and a club who can afford to keep the youngster overseas to work on specific areas of his game.
Weaknesses:
The main area  Zagorac needs to address is on the defensive end of the court.  Though he shows a willingness to excel and commits through his athleticism and effort he needs to develop his lateral quickness and make choices based on systems as opposed to instincts.
Since he is so young some of his gains should be experienced as he adds size to his frame. It should also be noted the kid is feisty given he broke his arm in a game and finished the game!
With his high motor and commitment to constant improvement he should naturally improve as he adds strength to his frame.
Honors and Awards:
As per Wikipedia:
The Fit:
More from Space City Scoop
Like the other small forward discussed in this area of the draft (Zipser) Zagorac may fall to the Rockets with their first selection. The difference in this case is Zagorac won't be ready to contribute this season. Rather he'll be a grab and stash prospect.
With owner Leslie Alexander stating the goal of the Houston Rockets is to to compete for the title it's hard to believe GM Daryl Morey would select Zagorac.  Considering Trevor Ariza is on the squad and the Rockets still have Sam Dekker and under utilized K.J. McDaniels it's natural to assume the only way the rockets would draft a small forward would be if there are plans to trade one of these talents with the goal of replacing them with an immediate contributor. Zagorac is not that (yet).
Next: Draft Prospect Guerschon Yabusele
Next: Draft Prospect Chinanu Onuaku
Next: Draft Prospect Demetrius Jackson
Space City Scoop is always looking to add new talent to our writing team. Currently we're looking for individuals with a specialized focus. The first area of focus is perfect for someone who is constantly surfing the web for breaking news on injuries, trades, insider info etc. This individual would select the top news items and provide timely quick hits to keep SCS readers in the loop.
The other area of focus is someone who possesses a strong social media background who likes to interact with Clutch City Fans. You'll promote SCS team content on facebook and twitter while also making sure to promote the best content coming from H-Town fans. If you have this capability and are interested check out this link and fill out an application.