Houston Rockets Twitter List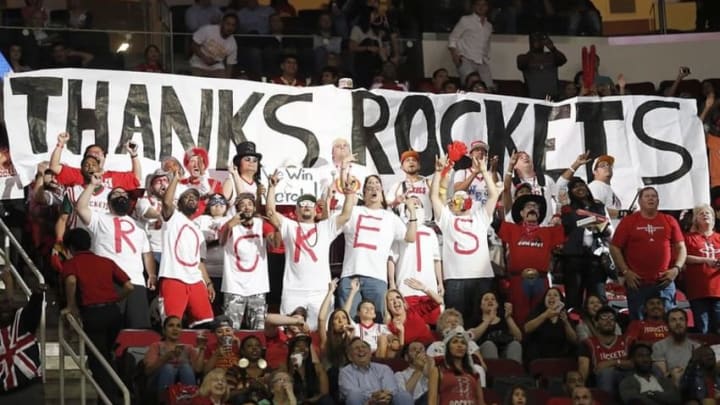 Apr 13, 2016; Houston, TX, USA; The Houston Rockets fans thank the Rocket for the season while the Rockets play the Sacramento Kings in the second half at Toyota Center. Rockets won 116 to 81. Mandatory Credit: Thomas B. Shea-USA TODAY Sports /
With the Houston Rockets less than a month away from tipping off their 2016-17 campaign it's time to get ready for the season.
One way for fans to stay in touch with the Houston Rockets and their players is to follow them on Twitter. To that end, SCS compiled as many players twitter accounts as available so fans could have them all in one location. The following is the current list of players twitter addresses, along with some former players and relevant team addresses.
Current Players:
Eric Gordon:  @TheofficialEG10
Ryan Anderson:  @TheofficialEG10
Clint Capela: @CapelaClint
Trevor Ariza: @TrevorAriza
Patrick Beverley:  @patbev21
Nene Hilario:   @NeneHilario42
Corey Brewer:  @CoreyBrewer13
Donatas Motiejunas:  @DonatasMot
K.J. McDaniels:  @KJMcDaniels
Tyler Ennis:  @tdot_ennis
Mar 9, 2016; Philadelphia, PA, USA; Houston Rockets guard James Harden (13) and forward Clint Capela (15) talk during a break in the second half against the Philadelphia 76ers at Wells Fargo Center. The Houston Rockets won 118-104. Mandatory Credit: Bill Streicher-USA TODAY Sports
Montrezl Harrell:  @MONSTATREZZ
Sam Dekker: @dekker
Pablo Prigioni:  @PPrigioni9
Gary Payton II: none available, but his father's twitter is: @GaryPayton_20
Isaiah Taylor: @Zay_Ctmd11
Kyle Wiltjer: @kwiltj
Chinanu Onuaku
Zhou Qi: none available
Bobby Brown: @BBROWNLAU
P.J. Hairston: @hairston_pj
Team Related:
Houston Rockets: @HoustonRockets
Daryl Morey: @dmorey
Rio Grande Valley Vipers: @RGVVipers
Clutch the Bear: @clutchthebear
Former Players:
Dwight Howard: @DwightHoward  
Mar 25, 2015; Toronto, Ontario, CAN; Toronto Raptors center Chuck Hayes (left) and Toronto Raptors guard Kyle Lowry (right) on the bench against the Chicago Bulls at the Air Canada Centre. Chicago defeated Toronto 116-103. Mandatory Credit: John E. Sokolowski-USA TODAY Sports
Jason Terry:  @jasonterry31
Michael Beasley: @easyst0
Marcus Thornton:  @OfficialMT23
Ty Lawson: @TyLawson3
Josh Smith:  @TooSmoove5
Terrence Jones: @TerrenceJones1
Andrew Goudelock  @3goudelock
Chuck Hayes: @c_hayes44
Troy Daniels:  @MrSuPeRsTar_30
Jeremy Lin:   @JLin7
Omri Casspi: @Casspi18
Chandler Parsons:  @ChandlerParsons
Isaiah Canaan:  @SiP03
Aaron Brooks: @Thirty2zero
Robert Covington: @Holla_At_Rob33
Jordan Hamilton:  @J_Goin_HAM
Greg Smith: @Ju_Smith4
Cole Aldrich: @colea45
Carlos Delfino: @cabezadelfino
Marcus Morris: @MookMorris2
Patrick Patterson: @pdpatt
Thomas Robinson: @Trobinson0
Luis Scola:  @LScola4
Kyle Lowry: @Klow7
Chase Budinger: @CBudinger 
Dec 17, 2014; Raleigh, NC, USA; ESPN commentator Shane Battier prior to a game between the North Carolina State Wolfpack and Tennessee Volunteers at PNC Arena. Mandatory Credit: Rob Kinnan-USA TODAY Sports
Goran Dragic: @Goran_Dragic
Jonny Flynn: @J_Flynn
Hasheem Thabeet: @HasheemTheDream
Courtney Lee: @CourtneyLee2211
DeMarre Carroll: @DeMarreCarroll1
Carl Landry: @CarlLandry24
Metta World Peace: @MettaWorldPeace
Steve Novak: @stevenovak20
John Lucas III: @Luke1luk
Retired Players:
Hakeem Olajuwon: @DR34M
Tracy McGrady: @Real_T_Mac
Kenny Smith: @TheJetOnTNT
Chucky Brown: @ChuckyBrown52
Robert Horry: @RKHorry
Mario Elie: @marioelie1
Tracy Murray: @RealTracyMurray
Marcus Camby: @MarcusCamby23
Samuel Dalembert: @sammyd76erz
Shane Battier: @ShaneBattier
Nov 25, 2015; Houston, TX, USA; Broadcaster and hall of fame player Calvin Murphy before a game between the Houston Rockets and the Memphis Grizzlies at Toyota Center. Mandatory Credit: Troy Taormina-USA TODAY Sports
More from Space City Scoop
Brent Barry: @Barryathree
Yao Ming: @YaoMing
Dikembe Mutombo: @officialmutombo
Matt Bullard: @bull50
Cuttino Mobley: @CuttinosLife
Mark Jackson: @JacksonMark13
Moochie Norris: @iMoochieNorris
David Wesley:@SrDavidwesley4
Charles Oakley: @CharlesOakley34
Bonzi Wells: @BonziWells
Steve Francis: @SteveFranchise3
Bobby Jackson; @TheBobbyJackson
Mike James:  @mikejames7
Calvin Murphy:@CalvinMurphyRS
Vernon Maxwell: @VernonMaxwell11
Ronnie Brewer: @RonnieBrewerJr
Want your voice heard? Join the Space City Scoop team!
Next: Jame Harden Media Day Interview
SCS found almost everyone from the 2016-17 squad and also managed to locate some of Clutch City's favorite former players. Now all you have to do is add them to your Twitter list.