Houston Rockets twitter fans from around the world turn out en masse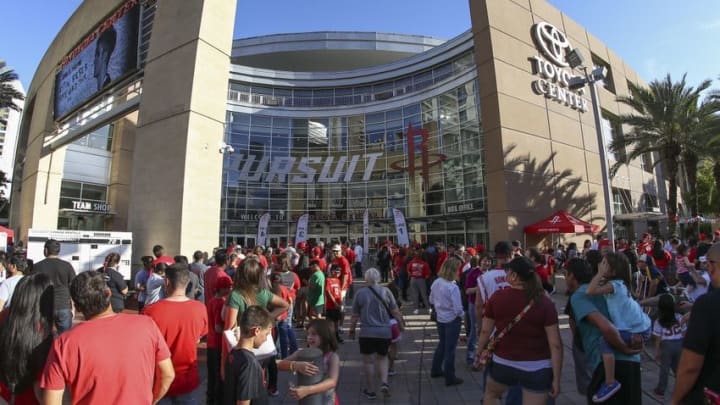 Mar 14, 2016; Houston, TX, USA; Fans arrive at Toyota Center before a game between the Houston Rockets and the Memphis Grizzlies. Mandatory Credit: Troy Taormina-USA TODAY Sports /
During the Houston Rockets game versus the Spurs Friday the teams' fans from around the world  tweeted their support.
One thing became abundantly clear during the Houston Rockets game versus the San Antonio Spurs on Friday night.  The Rockets fan base is strong.
Living in Toronto I've become accustom to seeing fans from all over the world who love basketball and have adopted certain teams as their favorite.
"Jan /
In fact, I was shocked in the recent GM survey when the Raptors weren't top 4 for best home court given Jurassic Park and all. But, I digress…
I've noticed fans who live outside North America aren't limited to fans who have moved to another country. Rather, they are NBA fans, who like many of us have always followed and supported a specific team.
In some cases fans happened to become major supporters because of a certain player on the team. Whether it was Yao Ming, Hakeem Olajuwon or James Harden. Or in some cases fans become excited by a style of play. Whatever the reason a fan falls in love with a team the fan support for the Rockets is strong.
Covering the Houston Rockets I've become acquainted with some loyal fans who follow Red Nation in China, Australia and Brazil.
Friday, Rockets fans all over the world (and in one case another planet) showed up in droves on Twitter.
Here's an example of the tweets which made the telecast:
Iceland:
Leggggoo pic.twitter.com/OCSls8dzTO
— kenny chacko (@hotchackolate) October 22, 2016
England:
https://twitter.com/Heightz_/status/789644830150369280
India (who consequently is also a BIG Harden fan based on his twitter handle):
@ROOTSPORTSSW @bull50 huge Rockets fan from India here!!
— Pepe Harden (@PepeHarden) October 22, 2016
Tunisia:
@ROOTSPORTSSW @bull50 watching from tunisia!!!! All the way in Africa!!!!!
— curly tsunami (@tsunamicurly) October 22, 2016
Antarctica:
https://twitter.com/rayan_a_raissi/status/789647156537733120
Italy:
@ROOTSPORTSSW @bull50 Watching from Italy. I love this game.
— YT Primo (@YTprimissimo) October 22, 2016
Brazil:
@ROOTSPORTSSW @bull50 watching it from Brazil. Been a Rockets and a Nenê fan for a long time. Match made in heaven for me. #Rockets
— Eduardo Hoff (@eduardo_hoff1) October 22, 2016
#ROOTSPORTSSW Watching from Brasil! #Rockets #GoNenê
— Mateus Ferreira (@Mateus66716) October 22, 2016
Canada (no… it's not me):
@ROOTSPORTSSW watching the game from Montreal Canada
— Shiraz30 (@shiraz302) October 22, 2016
China:
https://twitter.com/spurs_bullyweak/status/789650911542910976
Turkey:
@ROOTSPORTSSW watching my Rockets take on the Spurs all the way from Turkey!! #Rockets
— dane (@iamdaneroy) October 22, 2016
Australia:
@ROOTSPORTSSW biggest Houston Rockets fan in Australia here!!!! Go Rockets!!!!
— Sidonio Barcelos (@Arigulis) October 22, 2016
Watching NBA @ROOTSPORTSSW from Australia!! Nené getting buckets! #GoRockets
— Jas Grewal (@jasgrwal) October 22, 2016
@ROOTSPORTSSW go rockets!!die-hard rockets fan from China living in AUS
— Lawrence Hsu (@XYM86010) October 22, 2016
New Zealand:
@ROOTSPORTSSW dont forget about the fans in New Zealand! Lets go #Rednation !!
— Adam Sipeli (@Grizzly_Shark) October 22, 2016
@ROOTSPORTSSW #gorockets From New Zealand
— Mikal (@Zoom_KBK) October 22, 2016
Of course the loyal local fans in Texas:
https://twitter.com/rockets11213/status/787450206317006849
More from Space City Scoop
Argentina:
FOTO HISTÓTICA!!!4 argentos en un partido NBA!! Y ahi estuvimos para tomar esta imagen. @manuginobili @PPrigioni9 @nicolapro7 @patitogarino pic.twitter.com/z7TWzvZhIF
— InfoManu (@InfoManu) October 22, 2016
Philippines:
@rootsportssw watching spurs vs rockets. Give your Philippines fans some love, Matt Bullard!!! =)
— Ryan Supersticioso (@YesImRyanS) October 22, 2016
Columbia:
@ROOTSPORTSSW from Colombia supporting our favorite team ROCKETS. Vamos ROCKETS!!!!
— YENNY RANGEL (@yrangelalvarez) October 22, 2016
Other worldly : 
https://twitter.com/pixelblogspot/status/789646026223128577
But, by far my favorite of the night which elicited a laugh out loud moment  came from:
Tweets from all over the world appeared on #ROOTSPORTSSW during Rockets game – then this came up & made us giggle #Rockets pic.twitter.com/qYYXKLFDiD
— Space City Scoop (@SpaceCity_Scoop) October 22, 2016
Suffice to say Red Nation extends to all corners of the globe. Including (if you believe it) other planets. Or just like most of us in North America, simply on our couches.  Despite James Harden, Trevor Ariza, Eric Gordon and Clint Capela resting, Rockets fans were still hoping for the victory.
In the end, it was the Spurs night, but these preseason games are meant as a primer to the real games which start next week.
To that end, this season there is plenty to look forward to. High scoring offense of the Rockets is just the tipping point.  Will James Harden return to the MVP conversation? Can the Rockets be the top offense in the NBA? And, can Houston reclaim a top seed in the West?
Just 4 more sleeps until those questions begin to be answered.
Next: 2016-17 Player Preview: Trevor Ariza
Want your voice heard? Join the Space City Scoop team!
The only question remaining is are you as excited as the team at Space City Scoop?