Rockets or Spurs: Who wins more games next season?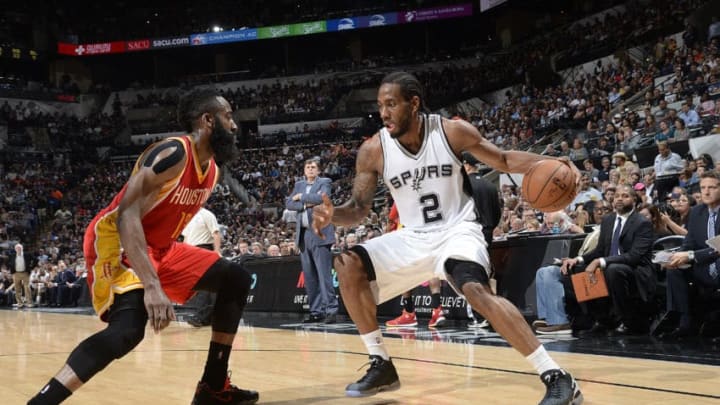 SAN ANTONIO, TX - APRIL 8: Kawhi Leonard #2 of the San Antonio Spurs handles the ball against James Harden #13 of the Houston Rockets on April 8, 2015 at the AT&T Center in San Antonio, Texas. NOTE TO USER: User expressly acknowledges and agrees that, by downloading and or using this photograph, user is consenting to the terms and conditions of the Getty Images License Agreement. Mandatory Copyright Notice: Copyright 2015 NBAE (Photos by D. Clarke Evans/NBAE via Getty Images) /
The Houston Rockets and San Antonio Spurs are the closest teams to the Golden State Warriors. Which franchise will snag the second spot next year?
Last season, the Western Conference was very stacked. The Warriors, Spurs and Rockets won more games than any team in the East.
Next year, the win columns may be even more skewed towards the Western Conference. Jimmy Butler, Paul George and Paul Millsap made new homes in the West. The Minnesota Timberwolves and Denver Nuggets will likely compete for playoff spots next year with their newly acquired stars.
DeMarcus Cousins and Anthony Davis have had more time to gel and the Pelicans may sneak into the playoffs too. The Lakers traded for Brook Lopez who gives them a low-post presence, and Lonzo Ball and Brandon Ingram aren't going anywhere anytime soon. Oh, and don't forget about the Clippers, Thunder and Trail Blazers either. The Western Conference is loaded with talent, and those last few playoff spots will be decided by only a few games.
The good news for Houston is, the top three spots in the West should remain the same from last season. Sure, Oklahoma City added Paul George and there is a ton of young talent in Minnesota, but those teams will have to wait their turn.
The Warriors will likely finish atop the NBA again. They've got more weapons than an armory and the second best defense in the league. Unless Houston gets Carmelo Anthony, they're unlikely to close the gap on Golden State.
Related Story: Carmelo Anthony still prefers Rockets over Cavaliers
Last season, the Spurs won 61 games to Houston's 55. Although, Houston has improved both offensively and defensively in the offseason. The Rockets traded for future Hall of Famer Chris Paul and signed two defensive specialist in Luc Mbah a Moute and P.J. Tucker. Will it be enough to surpass San Antonio in the standings? Lets find out.
Houston vs. San Antonio
The Houston Rockets had a great offseason. Chris Paul, P.J. Tucker, Luc Mbah a Moute and Tarik Black were great additions to the team. James Harden is only 27 years old and will likely have another MVP caliber season, and Clint Capela should show progress in his fourth season.
Related Story: Why Clint Capela will have a breakout season
The San Antonio Spurs didn't make a ton of moves during the offseason. Jonathan Simmons caught a lot of people's attention with his performances last year. The walk on averaged 15.3 points and 3.3 assists in San Antonio's playoff series against Golden State. Although, the Spurs lost him in free agency to the Orlando Magic. The Spurs did sign Rudy Gay, but the 11-year pro suffered a torn left achilles last season.
On paper, the Rockets are the better team. The question is, can Chris Paul and James Harden be effective on the floor together? Paul and Harden are two of the smartest players in the league. Not to mention, the space-and-pace offenses of todays NBA are a flashback of what Mike D'Antoni's Phoenix Suns were running a decade ago.
Many high usage duos in the past have succeeded – Kobe Bryant and Shaquille O'Neal, LeBron James and Dwyane Wade, Kevin Durant and Stephen Curry – so why can't Paul and Harden? We've never seen two point guards this talented play together, but that doesn't mean the duo won't flourish. Harden and CP3 are both capable of dropping 25 points or dishing out 10 assists on a given night. They have a great feel for the game and are confident that their partnership will end in triumph.
More from Space City Scoop
As for the Spurs, they didn't really improve in the offseason. They brought back mostly the same players. The problem for San Antonio is, they're aging. Manu Ginobili is 39, Pau Gasol is 37 and Tony Parker just turned 35. LaMarcus Aldridge, Joel Anthony and Danny Green are all 30 or older. Rudy Gay was a great pickup, but he's 30 years old too. How much athleticism did he lose from his achilles tear?  Kobe Bryant was never the same after his torn achilles in 2013.
With San Antonio's age and lack of offseason moves, they are unlikely to win at least 61 games for a consecutive season.
All things considered, I think Houston wins 58 to 60 games next season and San Antonio wins 54 to 56. The second seed is Houston's for the taking.