The Houston Rockets are a Texas-sized Value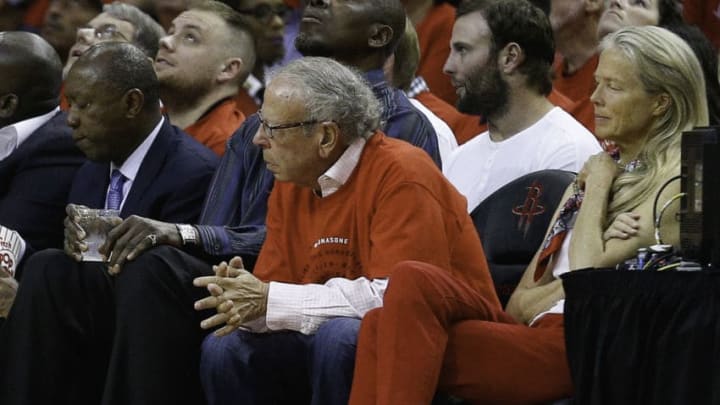 HOUSTON, TX - APRIL 25: Houston Rockets owner Les Alexander looks on during Game Five of the Western Conference Quarterfinals game of the 2017 NBA Playoffs at Toyota Center on April 25, 2017 in Houston, Texas. NOTE TO USER: User expressly acknowledges and agrees that, by downloading and/or using this photograph, user is consenting to the terms and conditions of the Getty Images License Agreement. (Photo by Bob Levey/Getty Images) /
If recent NBA franchise sales are any indication, Leslie Alexander will profit at least a billion dollars from selling the Houston Rockets
The NBA universe converged in a weird way in 1993. On July 23rd, James Jordan, father of Chicago Bulls star Michael Jordan, was murdered in an attempted carjacking at a rest stop in North Carolina. A week later, and a world away, a business man named Leslie Alexander purchased the Houston Rockets for $85 million.
As fate would have it, Michael Jordan retired for the first time that October. The Rockets would go on to win the NBA championship the following spring, defeating the New York Knicks in an NBA Finals that included the infamous O.J. Simpson Bronco chase during Game 5.
It was a successful, and as Bulls fans still argue, fortuitous, first year of ownership for Alexander.
Now, nearly 25 years later, the Rockets are back on the market. Forbes.com recently ranked Houston as the 8th most valuable NBA franchise at a valuation of $1.65 billion.
Related Story: Dikembe Mutombo interested in buying the Houston Rockets
It goes without saying that Alexander's investment has appreciated nicely since 1993. But the question for the next owner is: are the Rockets worth a billion dollars?
NBA teams are increasing in value
Recent franchise sales seem to be a good sign. In 2013, the Maloof family sold the Sacramento Kings for a then record $535 million to Vivek Ranadive, only to have that purchase price eclipsed by billionaires Wes Edens and Marc Lasry when they purchased a majority stake in the Milwaukee Bucks for $550 million in April 2014.
Just a month later, former Microsoft CEO Steve Ballmer laid down $2.15 billion for the Los Angeles Clippers, or roughly twice the purchase price of the Kings and Bucks combined!
So, this is good news for Alexander, right? Well, maybe.
It is important to remember that Ballmer's bid was the NBA version of a corporate bear hug that was meant to dissuade any other suitors from engaging in a bidding war. Ballmer paid that much because a) he really wanted an NBA team and b) he had the cash to do so.
To expect a buyer to spend north of $2 billion for an NBA team not named the Lakers, Knicks or Celtics might be asking a lot. But that doesn't mean the Rockets are not a bargain buy at $1.65 billion.
The Houston Rockets are an attractive investment.
On the court, they have some attractive assets.
They have secured MVP candidate James Harden for the future, signing the all-star guard to a four-year, $228 million extension that will keep Harden in a Rockets jersey through the 2022-2023 season. Rockets GM Daryl Morey also made significant transactions this summer to improve the roster, highlighted by the acquisition of point guard Chris Paul who will pair with Harden in the Rockets backcourt.
Texas enjoys no state income tax, which in addition to the legendary Houston nightlife, makes H-Town a destination city for free agents. In fact, as great as Harden and Paul are on the court, the biggest closer for potential buyers may be the Lone Star State itself.
More from Space City Scoop
In 2016, CNBC ranked Texas as the second-best state for business. Houston has hosted the NBA All-Star Game, NCAA Final Four and Super Bowl to generally favorable reviews, making it a repeat destination for these sporting events.
And, as the franchise that drafted Yao Ming, the Rockets are one of the most popular teams in China, home to over a billion potential Red Rowdies.
With superstar players on the court, and business opportunities off it, the new Rockets owner should see a return on his investment in short order. And if the first year of ownership ends like Alexander's did in 1993, it will be money well spent.