Rockets News
Nene excited to play with Chris Paul and James Harden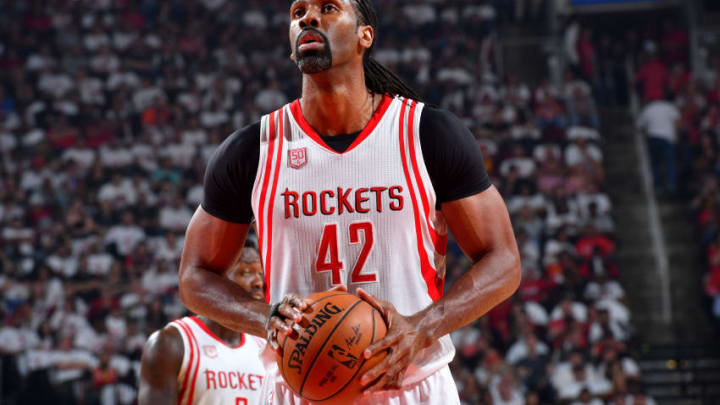 Photos by Jesse D. Garrabrant/NBAE via Getty Images
Nene talks about how Houston's newest roster additions will help the team and how excited he is for next season.
Despite playing just 17.9 minutes per game, the 34-year-old Nene Hilario has proven that he still has a lot left in the tank.
Nene averaged 9.1 points and 4.2 rebounds on a career-high 61.7 percent shooting from the floor last season. He also ranked fourth in Defensive Real Plus-Minus (3.62) among centers and fourth in points per possession (1.25) as the roll man among players with at least 100 pick-and-roll possessions.
After lengthy stints in Denver and Washington, Nene played his first year in Houston during the 2016-17 season.
Nene didn't have a desire to play anywhere else after a successful season as a Rocket, via Alex Kennedy of HoopsHype.
"I love the city of Houston, the entire organization and my teammates. I got healthy here and I feel younger. It's a blessing to be a Rocket."
There is a lot to love about Houston, but the Rockets' new bolstered roster factored into Nene's decision to return as well. The big man can't wait to play with Chris Paul, who he considers one of the best point guards ever, via HoopsHype.
"I am so excited to play with Chris Paul. In my opinion, he is one of the best point guards [of all-time] and he's been one of the best all-around players in the game over the last 10 years. I've also gotten to know him a little better, and he is great guy as well."
Just like Eric Gordon, Nene thinks that Chris Paul and James Harden will form into a cohesive duo on the court. They'll take pressure off of each other, and make everyone else's job a lot easier.
Related Story: Eric Gordon talks weight loss and the addition of Chris Paul
"They'll be great together. It will be an unbelievable experience to play with James and Chris. James is the best offensive player in the game and Chris is an amazing ball player as well. They can score from anywhere on the court and they both have a basketball IQ that's off the charts. When they have the ball, nobody will know what they're going to do. That just makes my job, and my teammates' jobs, a lot easier."
Chris Paul was obviously the Rockets' biggest acquisition of the offseason, and maybe the biggest of the entire league. But after loosing Lou Williams in the Paul trade, Houston lost a bit of depth.
So Daryl Morey signed P.J. Tucker, Luc Mbah a Moute and Tarik Black to strengthen the Rockets' bench. Tucker is a terrific perimeter defender, who can cover offensive powerhouses from the likes of LeBron James to Kawhi Leonard. Nene believes that Tucker will bring toughness and grit to the roster, which will help the Rockets win close games.
"PJ will help the team in a lot of ways. He is a great player who plays with a lot of enthusiasm and physicality. He will help us grind our way to wins."
Defense has been an achilles heal for the Rockets in recent years. Houston finished 18th in defensive rating last year, a far cry from the stingy defenses of San Antonio (1st) and Golden State (2nd). The Rockets understand that if they want to have a legitimate chance at winning a title, they need a top 10 defense.
Related Story: Can the Houston Rockets Have a Top 10 Defense Next Year?