Rockets News
Houston Rockets: Ryan Anderson wasn't bothered by the trade rumors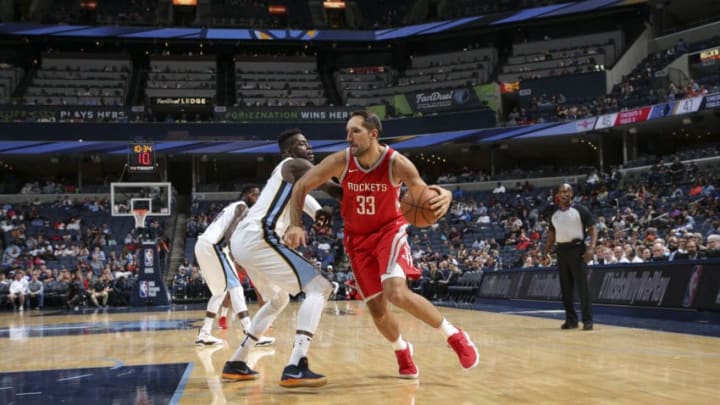 Photo by Joe Murphy/NBAE via Getty Images
Houston Rockets forward Ryan Anderson remained unfazed by the constant trade rumors over the offseason.
There were trade rumors swirling around all summer long for the Houston Rockets, and particularly for Ryan Anderson.
After shipping off a good portion of the roster to acquire Chris Paul, Houston then turned its attention to Carmelo Anthony. Anthony was being pushed out of New York by then president Phil Jackson, who wasn't afraid to voice his discontent with the star's on-court performance.
Carmelo had a no-trade clause in his contract, meaning that the Knicks couldn't trade him without his permission. For a large part of the ordeal, Anthony's preferred destination was the Rockets, and the Rockets only. In order for Houston to take on Carmelo and his contract, they would need to move some sizable cap space, and this is where Ryan Anderson comes into play.
The Rockets and the Knicks went back-and-forth in negotiations, but New York refused to accept Anderson in a deal for Melo. The Rockets tried to include a third team in the trade, but that seemed to make a possible deal even more complicated.
More from Space City Scoop
The NBA is a business first and foremost, and everyone from the owners to the water boy understands that. But having your name constantly thrown around in trade rumors often leaves players pondering about the uncertainty of their future. But for Anderson, a 10-year veteran, it was business as usual, via Nicholas Parco of the New York Daily News.
"It's something I didn't even think about until I came here and people wanted to talk to me about it. It was just rumors. It was sparked by Carmelo. He put out on Twitter what he wanted and the media sort of took control of that."
Mike D'Antoni says that trade rumors are something that virtually every player has to go through if they've been in the league long enough, via the Nicholas Parco.
"It happens. I'm sure it's not pleasant for him, but it's part of the business. If you're in the league long enough, you'll hear subsequent rumors. Players have to get through it."
Ryan Anderson continued his hot shooting on the road, scoring 21 points with no turnovers in 30 minutes of play. Anderson made just two 3-pointers in the game, proving that he's more than just a stretch-4.
Next: The Rockets and Clippers considered a center swap last year
Ryan Anderson has one of the most puzzling home-road splits of any player in the NBA. The forward is currently averaging 16.8 points on 46.5 percent shooting from the field and 41.4 percent shooting from the 3-point line on the road. But at home, he is averaging just 6.3 points on 31.8 percent from the field and 23.5 percent from downtown. Role players almost always play better at home than on the road, so this sort of drastic dichotomy is hard to explain. The Rockets play the Hawks in Atlanta on Friday, so hopefully Anderson's hot streak on the road continues.