Rumor: The Houston Rockets supposedly have interest in George Hill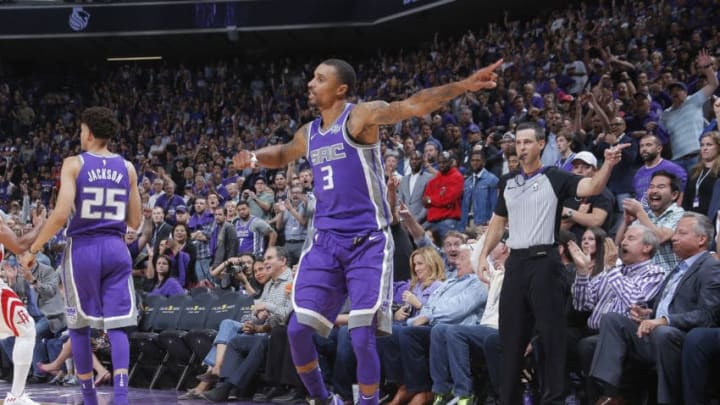 SACRAMENTO, CA - OCTOBER 18: George Hill /
According to the Sacramento Bee, the Rockets supposedly have interest in a point guard.
The Houston Rockets will not go quietly at the trade deadline, apparently. It was said that the team is interested in point guard George Hill of the Kings.
Jason Jones, a beat writer for the Sacramento Kings, first broke the news. Here is the article. He said that the Cleveland Cavaliers are primarily interested in Hill with the Rockets also showing interest.
This is interesting news considering that the Rockets have one of the best combinations of guards in the league. Chris Paul and James Harden along with Eric Gordon are all spectacular players for the team.
George Hill has disappointed this season in Sacramento after signing a 3-year, $57 million contract during the offseason. He is averaging just 10.3 points per game this year after putting up near 17 a game last season. However, his 3-point shooting has been fantastic. Hill has shot 45.3% from deep on 3 attempts per game.
How the trade would work
Ryan Anderson would be the main piece to come from Houston, according to the Sacramento Bee. A one-for-one swap could be what it takes to make this deal happen.
The Kings, reportedly, do not want to take on another massive contract, though. Ryan Anderson's over-$40 million guaranteed left on his deal is likely not ideal for Sacramento.
If they change their mind, this deal could be sweetened if the Rockets include a future first-round pick. The Kings are still in a rebuild mode, so any first-round draft picks would be great for them. Still, they probably do not want to take on the big Ryno contract. I don't blame them.
Hill's fit
George Hill would certainly be an interesting fit in Houston. He would be yet another playmaker for the Rockets to utilize off the bench. He also is shooting insanely well from deep, so he could play the shooting guard in some bench lineups.
Think of this potential bench lineup: Chris Paul, George Hill, Eric Gordon, P.J. Tucker, Nene.
That is a second-unit that could run everyone off the court with shooting and defense. With Luc Mbah a Moute likely moving to the starting 5 if Ryno is traded, this trade could really do wonders for the already-great bench.
Overall, Hill isn't really a necessary trade for the Rockets, but it could be quite fun. We'll see if Daryl Morey wants to shake up the second-place Houston Rockets, though.