The Houston Rockets have added a couple more players to the roster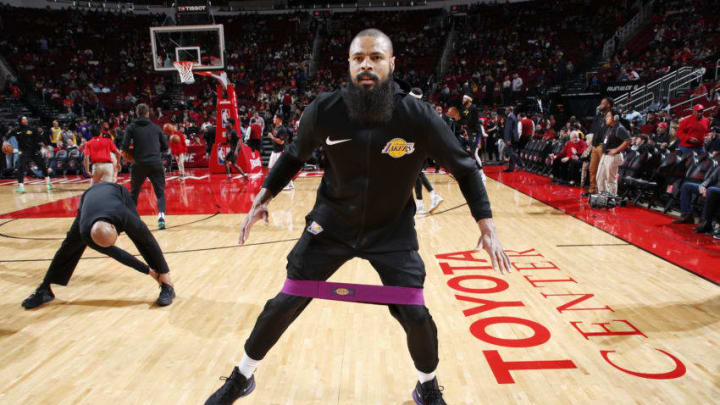 HOUSTON, TX - JANUARY 19 : Tyson Chandler #5 of the Los Angeles Lakers warms up prior to the game against the Houston Rockets on January 19, 2019 at the Toyota Center in Houston, Texas. NOTE TO USER: User expressly acknowledges and agrees that, by downloading and or using this photograph, User is consenting to the terms and conditions of the Getty Images License Agreement. Mandatory Copyright Notice: Copyright 2019 NBAE (Photo by Jeff Haynes/NBAE via Getty Images) /
The Houston Rockets have made several moves after trading for star point guard Westbrook. Here are a few of them listed below.
The Houston Rockets made a huge splash the other day, trading for Russell Westbrook and giving up Chris Paul in return. There have been a couple more moves after that, though, that are also interesting for the team.
The Rockets had been in need of a veteran big in light of Nene declining his player option and opting for free agency instead. The Rockets finally got their guy in Tyson Chandler, as they agreed to terms with Tyson Chandler on a one year minimum deal.
Tyson Chandler
Although Chandler is turning 37 in October, he still can play valuable minutes. He played 16.4 minutes per night and is still a good defender and rebounder, as he averaged 12.4 rebounds per 36 minutes. In addition, he shot 61% from the field and brings championship experience, having won a title with the Dallas Mavericks in 2011.
In addition, he has been named to three All-Defense teams and is also a former Defensive Player of the Year. The Rockets could certainly use Chandler's rebounding, as that is an area they've gotten pounded in. The Rockets played Nene 13 minutes per night last season and will likely give Chandler around the same number of minutes.
Anthony Bennett
The Rockets have also added former number one overall pick Anthony Bennett, according to Shams Charania of the Athletic.  Bennett has been offered a non-guaranteed contract, which makes sense from the Rockets standpoint. They essentially can kick the tires on a former top pick and waive him if for some reason it doesn't work out. Despite being the first overall pick in the 2013 NBA Draft, Bennett found himself out of the NBA after playing only 4 years.
Bennett has been playing in the G-League for the past 2 full seasons, shooting 44.2% and 45.3% from distance, which is likely why the Rockets want Bennett. The Rockets have made no secret of the fact that they love firing it up from deep and also like taking a flyer on a player they can always get rid of, a la Michael Carter-Williams. Bennett is also fairly young at only 26 years old.
These are likely the types of moves the Rockets will continue to make to round out their roster.